4 Tech Stock Stories for Investors to Scan
Facebook (NASDAQ:FB): Current price $32.47
In a switch, Facebook's mobile unit is more and more regarded as possessing the potential to deliver impresscve strength for the company, as was evident when the analyst Aaron Kessler at Raymond James elevated his rating on Monday for shares to Outperform from Market Perform, citing "expectation for increasing monetization driven by mobile, new ad formats, and international." Facebook is set to post fourth-quarter financial results after the close on Wednesday. Meanwhile, analyst Arvind Bhatia at Sterne Agee reaffirmed a Buy.

Markets are at 5-year highs! Discover the best stocks to own. Click here for our fresh Feature Stock Pick now!
Powerwave Technologies (NASDAQ:PWAV): Closing price $0.08
The manufacturer of antennas and amplifiers for wireless communications, filed for bankruptcy protection following the loss of revenue in four of the past five years. The firm listed a debt of $396 million and assets of $213 million in a Chapter 11 petition filed Monday in Wilmington, Delaware, in which the board said that bankruptcy is "in the best interest of the company, its creditors and other parties."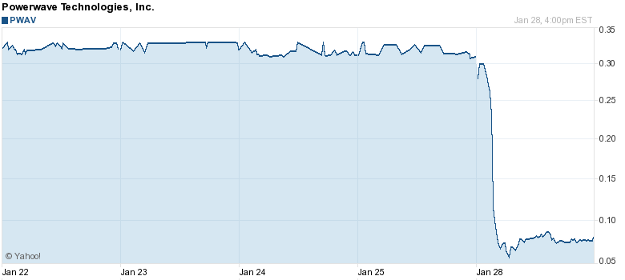 Youku.com (NYSE:YOKU): Closing price $24.39
Share coverage of Youku are begun at Deutsche Bank with a Buy, and a price target of $29.56. The company's response was, in part, "We expect pricing disparity between online video and offline TV stations, along with multiple other drivers, will drive top-line to grow 50 percent CAGR from 2012-2015 with consistent margin improvement. Given the current cost structure and market dynamic, we expect 43ppt margin improvement over the next three years with GM to reach 53 percent and non-GAAP OM to hit 22 percent in 2015."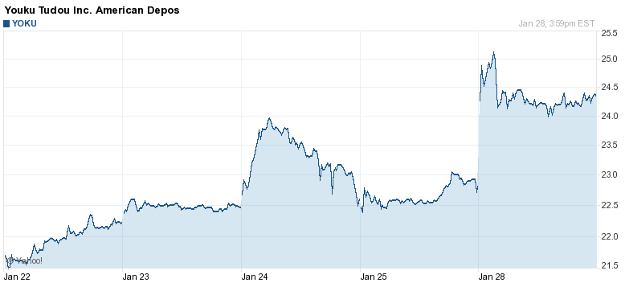 General Electric Company (NYSE:GE): Current price $22.50
GE Capital, Healthcare Financial Services is serving as sole lender and administrative agent on $12 million in senior secured credit facilities for SIGA Technologies (NASDAQ:SIGA), which are comprised of a $5 million term loan and a $7 million revolving line of credit.
Don't Miss: Full Steam Ahead for Facebook Bulls.