4 Tech Stock Stories for Scanning by Investors
Google (NASDAQ:GOOG): Current price $757.39
Last week, Google submitted an application to the FCC, requesting an experimental license through which to create an "experimental radio service" within a radius of two miles, which would cover its headquarters in Mountain View. The firm wants to create an experimental wireless network, which some analysts believe could be a harbinger of the creation of dense and superfast Google wireless networks elsewhere that would permit people to connect to the Web employing their mobile devices.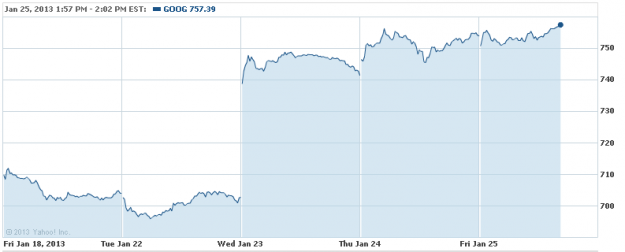 Are these stocks a buy or sell? Let us help you decide. Check out our Stock Picker Newsletter now.
Sony Corporation (NYSE:SNE): Current price $14.39
Sony has been penalized £250,000 by United Kingdom regulators for failing to stop a 2011 cyberattack on its PlayStation Network which placed personal information, including  birth dates, names, addresses, and account passwords of millions of users at risk. The Information Commissioner's Office said on Thursday that security measures in place at that time "were simply not good enough," and that the attack could have been prevented if the software had been current, while passwords were also unsecure.

General Motors Company (NYSE:GM): Current price $29.10
Peugeot Citroen Chief Executive Philippe Varin and Opel Chairman Steve Girsky of GM announced Thursday that they will build all three planned joint vehicle programs on the former's tech platforms. Details of the move were released at a press conference in Brussels, adding that a future generation of small cars like GM's Opel Corsa and Citroen C3 will be based on a Peugeot vehicle platform

Hewlett-Packard Company (NYSE:HPQ): Current price $17.09
Hewlett-Packard has said that Madrilena Red de Gas of Spain has signed a four-year contract for HP to manage its environment running SAP (NYSE:SAP) solutions, thus enabling it to enhance customer service while concurrently improving efficiency. Through the terms, HP will help Madrilena Red de Gas more closely line its SAP solution-based environment up with business objectives, permitting it to support priorities, customer service improvement goals and growth as it reduces complexity and costs.

Investing Insights: Microsoft's Stock Is Boring Yet Tempting.