4 Tech Stock Stories for Thursday Download
Dell (NASDAQ:DELL): Current price $13.79
Analysts still seem to think that the leveraged buyout of Dell can make a go if it, even if certain shareholder groups are not happy with the $13.65 per share bid. On Wednesday, Toni Sacconaghi at Bernstein Research lowered his rating from Outperform to Market Perform, but he did keep his $15 price target, noting that "Ultimately, we believe that the company's proposed MBO will likely be successful (at or modestly above the current offer of $13.65 a share). We note that a small risk exists that shareholders will not approve the deal, which would likely create material near-term downside for the stock, but overall, we see the risk-reward for the stock as being largely in balance."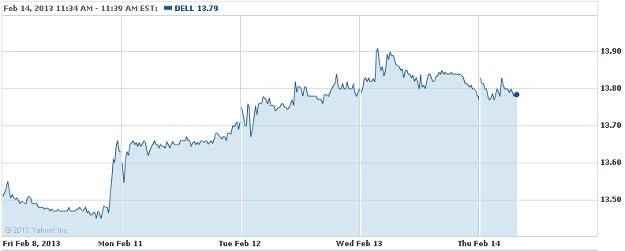 Apple (NASDAQ:AAPL): Current price $468.95
Heavens to Dick Tracy, Batman! Two insider sources are adding to chatter that the company has a team of around 100 product designers working on the development of a wristwatch-like device that could perform some of the tasks now done by the iPhone and iPad. If the estimate of 100 desginers is accurate, it woud imply that Apple is now past the experimental phase of the device's progress, according to the same sources. Chief Executive Tim Cook is getting heat from shareholders who have seen the stock slide in excess of 30 percent since its September high, during slowing sales growth and competition from rivals such as Samsung Electronics Co. The situation would seem to require a revolutionary new gadget that can get a higher price to assuage investors who are concerned about falling margins and increased competition.
Are these stocks a buy or sell? Let us help you decide. Check out our Stock Picker Newsletter now.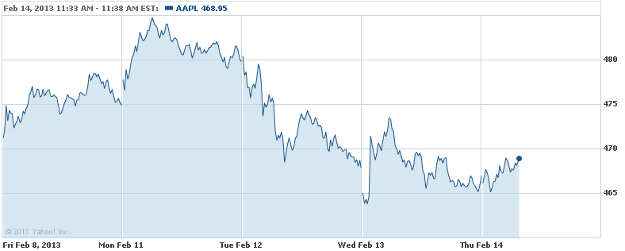 BlackBerry (NASDAQ:BBRY): Current price $14.41
On Wednesday, Kris Thompson at National Bank Financial reiterated an Underperform on the shares, along with a $10 price target, while noting that the recently introduced Z10 and Q10 BlackBerry smartphones, which run the firm's new BB10 operating system, will not be sufficient to revive the fortunes of its hardware business. In addition, Thompson loweed his estimates for revenue and profit in the fiscal year that begins in March to $13.75 billion and a loss of 63 cents from a prior $14.36 billion and a 1-cent profit, on sales of 35.5 million handsets, the latter being higher than what he projects as 28 million for the past year.

Microsoft Corporation (NASDAQ:MSFT): Current price $27.89
Yahoo! (NASDAQ:YHOO) Chief Executive Marissa Mayer says that her firm's search arrangement with Microsoft is underperforming, and thus has not delivered the expected market share gains or revenue boost, according to TechCrunch, citing comments heard at the Goldman Sachs Technology and Internet Conference.

Don't Miss: Are Apple's Retail Stores Still Thriving?