4 Tech Stock Stories for Tuesday Inspection
Facebook (NASDAQ:FB): Current price $30.18
Mark Zuckerberg just unveiled Facebook's new beta service called Graph Search, which is essentially a method to navigate the Internet through the data his company owns. Graph Search enables the user to search across different friends' Timelines without the necessity of going to each individual profile to see if they like a specific place or thing. ABC News characterized the new service as, "turning some of the personal information people have shared on Facebook into a powerful searchable database."

Are these stocks a buy or sell? Let us help you decide. Check out our Stock Picker Newsletter now.
Amazon.com (NASDAQ:AMZN): Current price $270.56
Amazon is challenging in court its $234 million United States tax bill, protesting Internal Revenue Service tax calculations for cash transfers between it and its subsidiaries in Europe, says a court filing. The crux of the matter is the pricing of payments, transfer prices, among company divisions, which is an issue on which the government has lost some multi-million dollar cases against large firms. Amazon was advised of the tax deficiency by the IRS back in November and the agency is also contesting taxes on the firm's net operating losses, as well as other items, according to the December 28th court filing.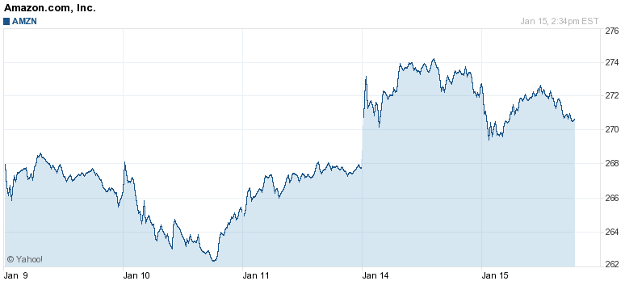 Juniper Networks (NYSE:JNPR): Current price $20.82
On Tuesday at its annual Global Partner Conference, Juniper launched the most comprehensive vision in the industry to transition enterprises and service providers from traditional network infrastructures to software-defined networks and also described its strategy to lead the SDN market. The firm's SDN strategy will permit companies to quicken the design and delivery of new services, reduce the cost of network operation, and provide a clear path to implementation.
Research In Motion Limited (NASDAQ:RIMM): Current price $14.51
On Tuesday morning, RIM was upgraded from Underperform to Buy at Charter Equity. Analyst Ed Snyder said in a note to that  the "curb appeal" of the new BlackBerry 10 operating system which is expected in the coming weeks "could help investors look past Network pricing issues." Pointing to his "preliminary review" of the new operating system, he added that with "a compelling user interface, 70,000 applications and RIM's hallmark QWERTY keyboard included in the SKU line-up, we believe the BB10 platform will appeal to a healthy percentage of the company's 80,000 subscribers, driving an upgrade cycle."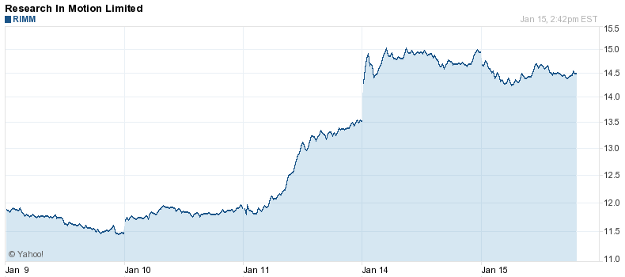 Don't Miss: Can Amazon Shake Off These Allegations?