4 Tech Stock Stories Making Waves On Monday
Facebook (NASDAQ:FB): Closing price $23.93
Knowledgeable sources say that the social network behemoth has been quietly developing a service, internally referred to as Reader, which displays content from Facebook users and publishers in a new visual format designed for mobile devices. The sources also said that Facebook has been working on the project over more that a year, and that it is designed to highlight news content in particular, and that late versions of Reader remind one of Flipboard, which is a smartphone and tablet app that draws together stories from multiple sources and allows users to swipe to flip through articles. It is said to be uncertain when Facebook will be ready to uncover the product, if ever, but the Reader project is an indication that Facebook is endeavoring to get users to spend more time with it on mobile devices, and of course to see more ads.
Are these stocks a buy or sell? Let us help you decide.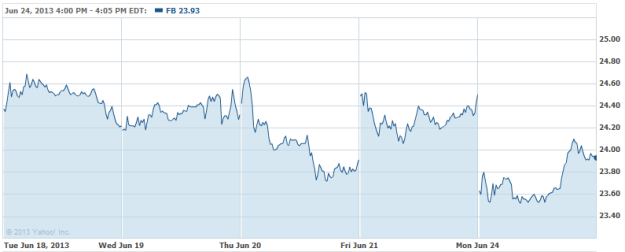 Google (NASDAQ:GOOG): Closing price $869.79
On Monday, Google said in a blog post that it did a "pretty good job" answering European antitrust authorities regarding fears that it puts its own content before competitors' content in search results. Further, Google says that the proposed concessions it submitted two months ago to the European Commission's antitrust watchdog are "meaningful and  comprehensive." The firm says that it remains in talks with the EC concerning ending the almost three-year investigation, but it also suggested that it does not want to extend further concessions.
Are these stocks a buy or sell? Let us help you decide.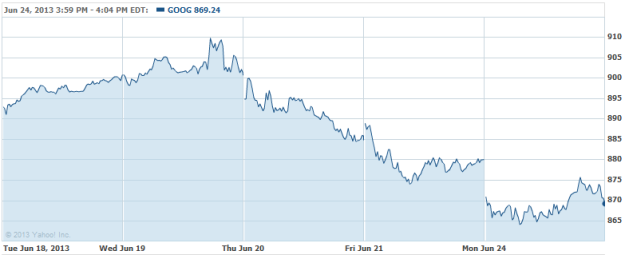 United States Cellular Corporation (NYSE: USM): Closing price $32.62
The carrier announced Monday that its board has named Kenneth R. Meyers to be president and chief executive, effective June 22nd. Meyers has served as executive vice president and chief financial officer of Telephone and Data Systems, which is the majority owner of U.S. Cellular. Meyers is a director of U.S. Cellular and TDS, and brings almost three decades of experience with TDS and U.S. Cellular to the chief executive position.
Are these stocks a buy or sell? Let us help you decide.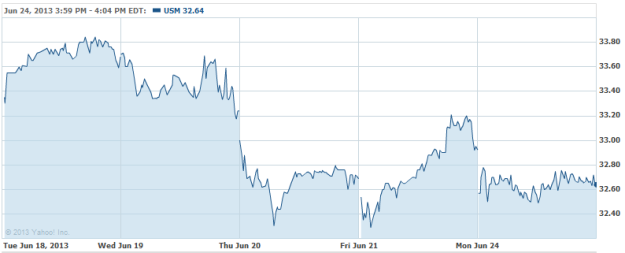 Telefonica (NYSE:TEF): Closing price $12.60
The billionaire Li Ka-shing's Hutchison Whampoa will acquire Telefonica's Irish division for up to 850 million euros, or $1.1 billion, a year after failing to buy out Ireland's former phone monopoly Eircom Group. Hutchison's Three Ireland will pay 780 million euros in cash plus an additional 70 million euros upon attaining certain performance targets, the parties said on Monday. The merger with Ireland's No. 2 mobile operator, Telefonica's O2, will increase Hutchison's customers to roughly 2 million, and its wireless market share to 37.5 percent, said Hutchison Whampoa.
Are these stocks a buy or sell? Let us help you decide.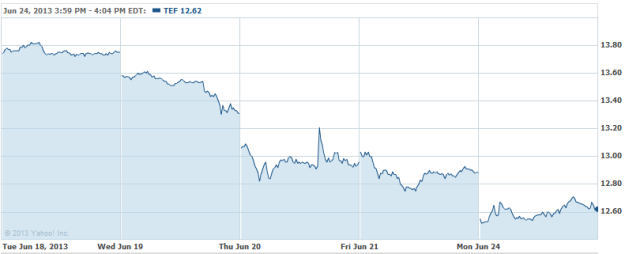 Don't Miss: Can Bing Successfully Wage Battle With Google?