4 Tech Stock Stories Ready for a Thursday Download
BlackBerry Ltd. (NASDAQ:BBRY): Closing price $8.20
It was reported last week that Rogers would not carry the BlackBerry Z30, and now Rogers customers seem to have made a statement. Late Wednesday, the company released a statement to advise the public that it will now indeed be carrying the Z30, "[in] response to customers' feedback and excitement about the device." Some observers doubt that the word "excitement" might be the most appropriate to describe BlackBerry's current situation, but it seems that the Canadian BlackBerry fans are decidedly not among that group.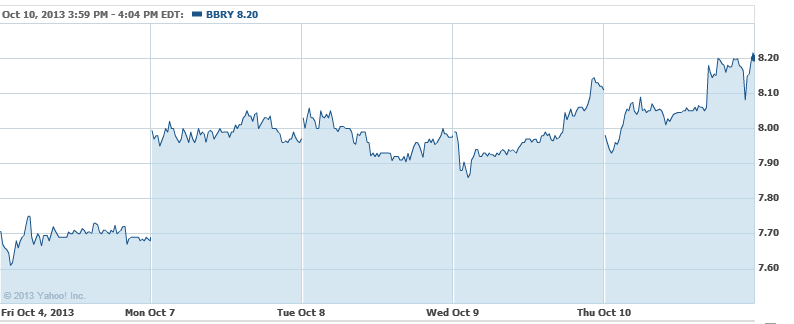 Google Inc. (NASDAQ:GOOG): Closing price $868.24
On Thursday, Silver Ridge Power, LLC  formerly known as AES Solar, and Google said that the latter will became a partner and also invest roughly $103 million in Silver Ridge Power's 265.7 MW Mount Signal Solar project. This project, also called Imperial Valley Solar 1, is a utility-scale solar photovoltaic generating plant being built in Imperial County, California. Mount Signal Solar is anticipated to be fully operational next year, and will sell its output to the San Diego Gas & Electric Company through a long-term power purchase agreement.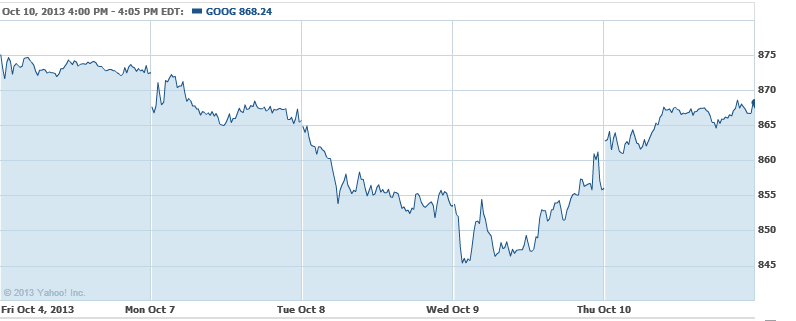 Microsoft Corp. (NASDAQ:MSFT): Closing price $33.79
Knowledgeable sources say that Microsoft's board is wants to have Chief Executive Steve Ballmer's successor to in place by the end of 2013, and is trimming down a list of candidates amid preliminary interviews. Two persons added that some candidates do not wish to be considered, including EBay Inc. Chief Executive John Donahoe. Other sources said that the board has also solicited advice from Silicon Valley veterans like the former Cisco Systems Inc. executive Charles Giancarlo, who now is a managing director at private-equity firm Silver Lake.

Activision Blizzard Inc. (NASDAQ:ATVI) Current price $17.07
The Delaware Supreme Court ruled Thursday that Activision Blizzard can go forward with its $5.83-billion share repurchase, and the planned acquisition of $2.34 billion in company stock by insiders. Activision was appealing the fairness of Delaware Chancery Court Judge J. Travis Laster's September 18 order that it must conduct a shareholder vote on the sale of the $8.2 billion in stock, all of it by parent Vivendi SA. Chief Justice Myron Steele wrote for the court in a one-page order, "There is no reasonable possibility of success on the merits. The Stock Purchase Agreement here contested is not a merger, business combination or similar transaction."

Don't Miss: Meg Whitman's 6 Steps to an HP Turnaround.