4 Tech Stock Stories Ready for Your Friday Updates
LinkedIn Corp. (NYSE:LNKD): Closing price $215.05
On Thursday, LinkedIn Chief Executive Jeff Weiner ushered in his firm's inaugural "Bring In Your Parents" day with his parents sitting in the audience. This new event, which drew 118 parents of 68 employees to LinkedIn's New York office in the Empire State Building, and was created to close a generational gap in the workplace. According to the company's data, one-third of parents do not understand what their child do for a living. LinkedIn is following Google, which initiated its own "Take Your Parents To Work Day" in 2012, and has encouraged other top firms, including Deutsche Bank and Mindjet, to host like events.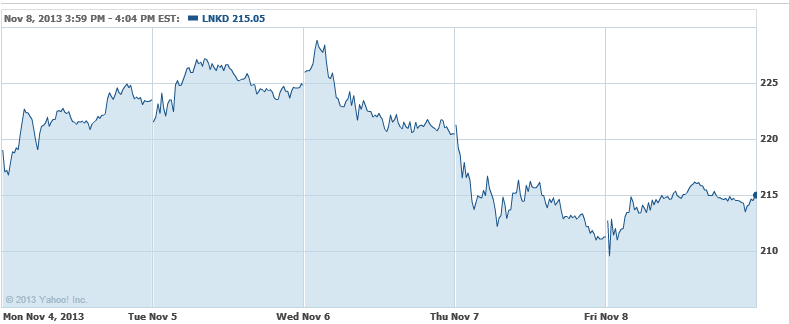 Google Inc. (NASDAQ:GOOG): Closing price $1015.31
It was reported by the media on Friday that Google will include about a dozen massive sails on its four-story barge that is under construction in the middle of the San Francisco Bay, thus creating a floating artistic structure the Internet behemoth promises will "stand out." Following some weeks of speculation that barge would become "a party boat," a data storage center, and/or a store in which to sell its Internet-connected glasses, Google revealed on Wednesday that it will use the vessel as an "interactive space where people can learn about new technology."

3D Systems Corp. (NYSE:DDD): Closing price $70.19
3D Systems announced Friday the immediate availability of its Sense 3D scanner, which is the first 3D scanner created for the consumer, and optimized for 3D printing.  The Sense is the only 3D scanner to feature precise instant physical photography, so that anyone can "capture his or her scanable moments." Sense contains flexible scan size and can capture everything including a full-body selfie, processing data in seconds for an instantly 3D printable file.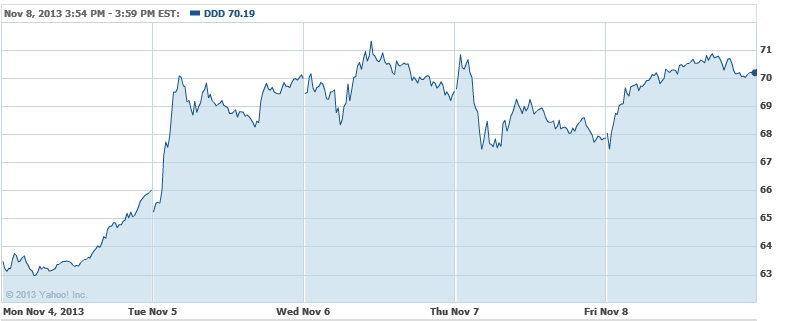 YOU On Demand Holdings Inc. (NASDAQ: YOD): Closing price $2.91
The mobile entertainment and Video On Demand platform in China, YOU On Demand, has announced a distribution accord with Huawei, the number-three world smartphone maker, to offer feature films via YOU On Demand's newly introduced mobile application, YOU Cinema. Beginning on Monday, the YOU Cinema App will come preloaded on Huawei Mate smartphones, and will feature recently issued and library movie titles from YOU On Demand content partners, including Paramount Pictures.

Don't Miss: BlackBerry Calls Chen in From the Bullpen, Discloses Bond Investors.