4 Tech Stock Stories Rocking Wednesday Headlines
Yahoo Inc. (NASDAQ:YHOO): Closing price $32.88
Yahoo on Wednesday introduced an updated Yahoo Finance application for iPhone and iPad, representing an entirely redesigned experience to help users follow the stocks and firms in which they are most interested. Yahoo Finance includes a reconfigured interactive stock charts through which to track historical changes and compare performance so as to identify trends, according to the company. Also, the firm has added push notifications to the app.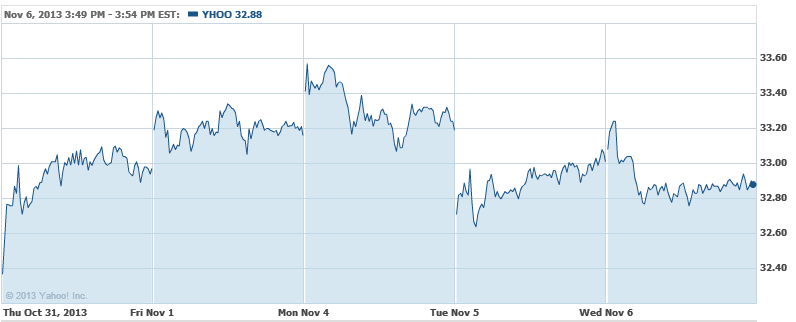 Google Inc. (NASDAQ:GOOG): Closing price $1022.75
A Google employee involved with the company's security systems has publicly responded to the National Security Agency, accusing the organization of subverting the law by intercepting communications on cables that connect Google's various data centers. Google engineer Mike Hearn said that no one at the U.S. agency or the British intelligence agency "will ever stand before a judge and answer for this industrial-scale subversion of the judicial process," on his personal Google+ page on Tuesday.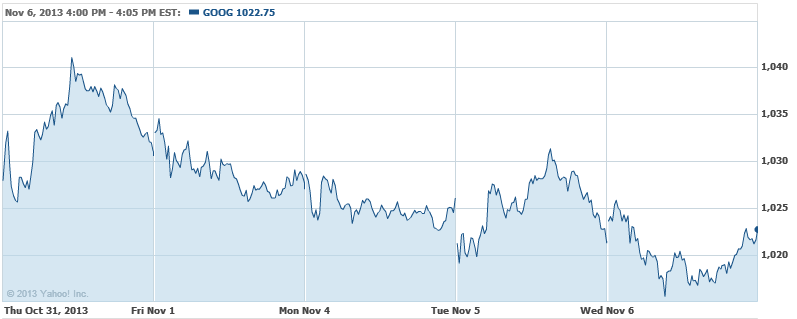 NQ Mobile Inc. (NYSE:NQ): Closing price $11.18
NQ Mobile shares closed up 17.54 percent on Wednesday after the provider of mobile Internet services upheld its pledge to transfer cash funds to its account at Standard Chartered Bank. The firm now has a cash balance of around $103 million in its Standard Chartered account while also maintaining its existing account with Standard Chartered Bank and HSBC in Hong Kong, where the proceeds of the recent convertible bond offering, totaling about $166 million, will continue to reside.

Nielsen Holdings N.V. (NYSE:NLSN): Closing price $39.70
Nielsen said Wednesday that effective on January 1, Dwight "Mitch" Barns will take over for CEO David Calhoun, reporting to the board of directors. Barns is a 28-year marketing veteran who has spent the last 16 years at Nielsen, building broad experience leading the firm's core businesses on a worldwide basis, regionally, and in the United States. Calhoun will also become executive chairman of the board, at which time Nielsen's current chairman of the board, James M. Kilts, will step down, but will remain a board member.

Don't Miss: Will Sony's PS4 or Microsoft's Xbox One Win the Holiday Sales Game?