4 Tech Stock Stories Sparking Chatter on Tuesday
Amazon.com (NASDAQ:AMZN): Closing price $270.19
On Tuesday, Amazon launched its new In-App Purchasing service that permits developers to allow customers to use their Amazon accounts to buy virtual goods and currencies from within PC , Mac, and Web-based games. Presently, Amazon provides In-App Purchasing services for Mac, PC and Web, Android and Kindle Fire developers, empowering them to offer Amazon's millions of customers a convenient, trusted and secure buying process.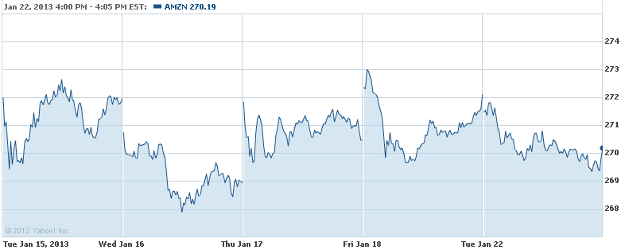 Are these stocks a buy or sell? Let us help you decide. Check out our Stock Picker Newsletter now.
Facebook (NASDAQ:FB): Closing price $30.73
ITG Research is predicting a solid fourth quarter for Facebook due to its accelerating trends. The firm anticipates that Facebook's quarterly North American revenue should be between $780 million and $800 million, which is above a Street consensus of $771 million.

Microsoft Corporation (NASDAQ:MSFT): Closing price $27.14
The former Microsoft senior executive Joachim Kempin says that the current Chief Executive Steve Ballmer is not the right leader for the firm but he holds his grip on it by systematically forcing out any rising manager who challenges his authority, according to a Reuters report.

Akamai Technologies (NASDAQ:AKAM): Closing price $39.93
The Web optimization firm Akamai is looking to create a TV tech that can detect what a person is watching and stream secondary content to a smartphone or tablet in near-real time. The firm says that the purpose is to take today's rapidly-growing but chaotic landscape of television "companion" applications, like the ones delivering athlete statistics to those watching the Olympics, and make it easier to create and see such additional content.

Don't Miss: Can Mozilla, RIM, and Microsoft Drag Apple Down?