4 Tech Stock Stories to Amaze and Amuse
Google (NASDAQ:GOOG): Closing price $900.62
Google's mergers and acquisitions chief Don Harrison says that his company is actively searching for acquisitions, employing what it calls the "toothbrush test" to decide whether a potential target supplies a service that is used once or twice a day. In a televised interview at the Bloomberg Next Big Thing Summit in Half Moon Bay, California, Harrison said, "Right now we're at a rate where we're closing a transaction every two weeks. We apply something called the toothbrush test, which is we ask ourselves, 'Is this something people use once or twice a day and does it solve a problem.'" Presently, Google is using purchases to add products that may induce users to stick to its online services. Earlier in June, Google bought Waze for $1.1 billion, through which it obtained tech that builds on user input to make maps more accurate.
Are these stocks a buy or sell? Let us help you decide.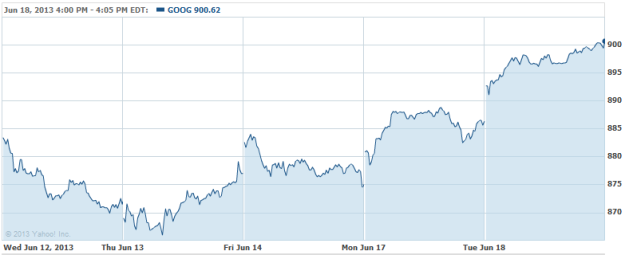 Yahoo! (NASDAQ:YHOO): Closing price $26.66
Chief Executive Marissa Mayer and General Counsel Ron Bell are reporting the number of requests for user data Yahoo! received from United States law enforcement agencies, as have several other Internet company representatives, saying in a Tumblr post on Monday that Yahoo! "received between 12,000 and 13,000 requests, inclusive of criminal, Foreign Intelligence Surveillance Act, and other requests" for the period between Dec. 1, 2012, and May 31, 2013. According to the post, most data requests Yahoo! received were connected to inquiries of fraud, homicides, kidnappings, and "other criminal investigations." Similar to the situation of other firms in the industry that have recently released data transparency figures, Yahoo! says that it can not lawfully disclose figures specific to FISA data requests. Responding to the FISA data disclosure limitations imposed by the government, Mayer and Bell remarked that "we strongly urge the federal government to reconsider its stance on this issue." The company intends to issue its first worldwide "transparency report" later in the summer covering the first half of this year, and will update its report twice annually afterwards.
Are these stocks a buy or sell? Let us help you decide.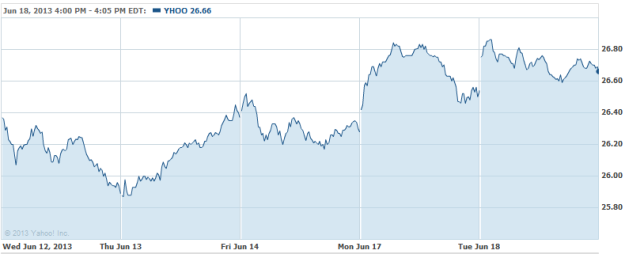 Vodafone Group (NASDAQ:VOD): Closing price $28.71
Vodafone has upped its preliminary bid to acquire Kabel Deutschland Holding to about 7.5 billion euros, so as to persuade Germany's number-one cable company to enter into discussions, according to inside sources, also said that this week, Vodafone advised Kabel Deutschland that it would be willing to pay 85 euros per share, versus the offer of between 80 and 82 euros that the company initially turned aside. The sources reported that Vodafone is now in talks with Kabel Deutschland and is conducting du diligence before it presents an official offer in the coming weeks. A new proposal might set the groundwork for a bidding war with John Malone's Liberty Global, which had tendered its own preliminary bid that also was said to be valued at 85 euros per share.
Are these stocks a buy or sell? Let us help you decide.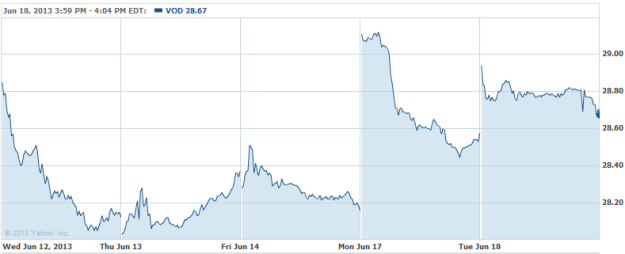 Apple (NASDAQ:AAPL): Closing  price $431.77
Observers expecting the next big product from Apple point to the rumored 'iWatch,' which would comprise a powerful wristwatch-like computer/phone device.  However, the analyst Peter Misek at Jefferies opines that the project is not more than a "hobby." In a Tuesday research report, Misek commented that "We believe iWatch will more likely be a hobby for Apple than a major new product line." The analyst foresees the iWatch landing in the mid segment of the $50-billion global watch market, or a price point between $50 and $300.
Are these stocks a buy or sell? Let us help you decide. Check out our Stock Picker Newsletter now.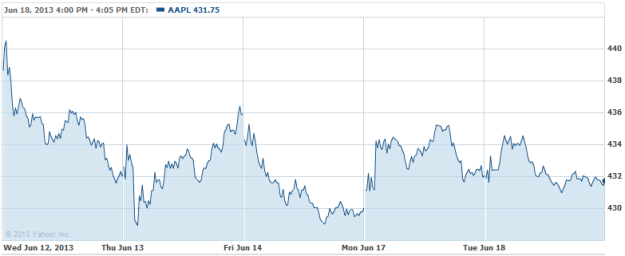 Don't Miss: Should You Add Amazon To Your Portfolio?