4 Tech Stock Stories to Produce Chatter
Microsoft Corporation (NASDAQ:MSFT): Current price $28.03
At the D: Dive into Media conference Tuesday, Microsoft executives Nancy Tellem and Yusuf Mehdi described their company's endeavors to create new, original video content that will "hopefully" be launched in 2013. All this comes from the new Xbox Entertainment Studios in Los Angeles with more than 150 employees led by Tellem. In order to create its own original content, the firm is bringing back the concept of adding "interactivity" to traditional viewing experiences, but in this case, the company might actually have the features, infrastructure, and partners to make it work. Microsoft is not trying to replace video partners like Netflix, but the firm says, "We will be the most friendly player in the industry in that space."
Are these stocks a buy or sell? Let us help you decide. Check out our Stock Picker Newsletter now.

Intel Corporation (NASDAQ:INTC): Current price $21.24
General Manager of Intel Media, Erik Huggers, affirmed that the firm is indeed working to develop television over the Internet, which it intends to accomplish using new consumer hardware that he characterized as something with "beautiful industrial design." The executive added that the service will be relatively full-featured with live television, catch-up television, on-demand, and a set of applications.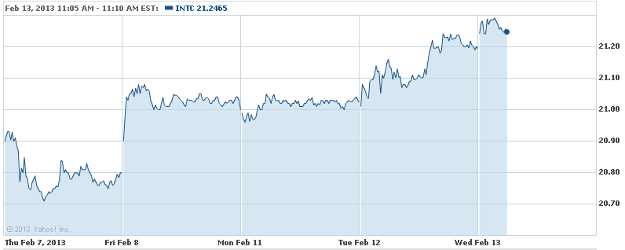 Telefónica (NYSE: TEF): Current price $13.48
The network operator and Infinera, a provider of digital optical network solutions, announced Tuesday the successful completion of a joint Terabit Technology Showcase which demonstrates pioneering implementations of advanced technologies that should to increase the capacity of future optical networks. One of several highlights of the Showcase demonstrations include 10 Terabit per second of super-channel capacity based on Infinera FlexCoherent tech to realize QPSK and 16 QAM super-channels to extend fiber capacity and signal reach.

Advanced Micro Devices (NYSE:AMD): Current price $2.80
AMD has announced that Livestream, a firm that connects millions of people over the Internet to live events, has deployed its SeaMicro SM15000 server with SeaMicro Freedom Fabric Storage as the core platform through which to provide live video and collaboration services. The SeaMicro SM15000 server was chosen by Livestream since it supplies the high performance computing needed for live video transcoding and doubles computing density while lowering power consumption. The additional resources allow Livestream ample capacity for expansion.

Don't Miss: Can Yahoo Transform Into a Mobile Company?