4 Tech Stock Stories To Start Off the Trading Week
Intel Corporation (NASDAQ:INTC): Current price $21.51
After its engineers, Intel's most important asset is its fabrication facilities, or fabs. These cost billions to build, populate, operate and maintain, and  a fab does not generate revenue when it's idle, but rather burns it. Jim McGregor, president of Tirias Research, and a semiconductor analyst based in Phoenix, says that Intel's fabs could be at their lowest rates of utilization ever seen, and in retrospect, might have been the early warning that the PC industry was in deep trouble, which only now is coming out with the ominous PC sales figures from Gartner and IDC.
Are these stocks a buy or sell? Let us help you decide. Check out our Stock Picker Newsletter now.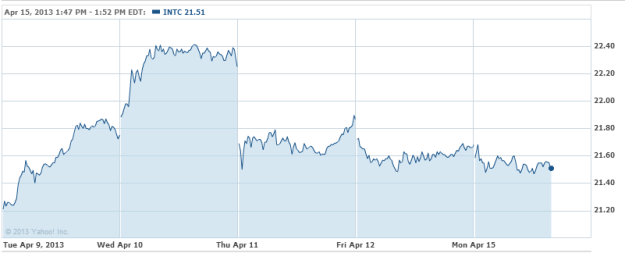 Facebook (NASDAQ:FB): Current price $26.63
On Friday, Facebook debuted its new Home application launcher and home screen for Android, but soon after arriving on Google (NASDAQ:GOOG) Play, initial user reviews suggest that it is not off to a good start. As of 2:10pm Pacific Time, the application had received 398 one-star reviews out of 834, or 47.7 percent, on Google Play, giving it an average rating of 2.3 stars, which compares to an average rating of 4.4 stars for Facebook Messenger and 3.6 stars for the full Facebook app. The Next Web was told by a Google spokesperson that only those who have installed the application are able to leave a review, which only proves that the reviews are from legitimate users who have tried Facebook Home and are not particularly happy with how it turned out.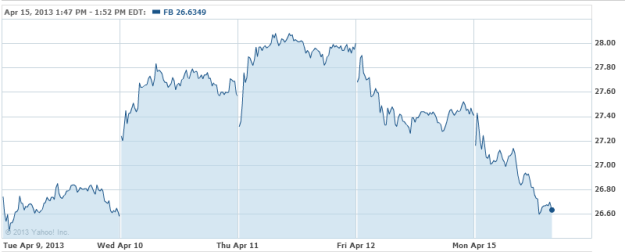 BlackBerry (NASDAQ:BBRY): Closing price $13.80
BlackBerry will request that securities regulators in Canada and the United States investigate what it said is a "false and misleading" report that consumer return rates for its new Z10 smartphone have been high, according to Reuters. The firm has banked its turnaround hopes on its new BlackBerry 10 line of smartphones, and went on the offensive on Friday subsequent to the report from the research and investment firm Detwiler Fenton, which sent its stock tumbling on Thursday. Beyond that, BlackBerry said that return rates for its flagship Z10 devices have been at, or below, its forecasts and in-line with industry norms.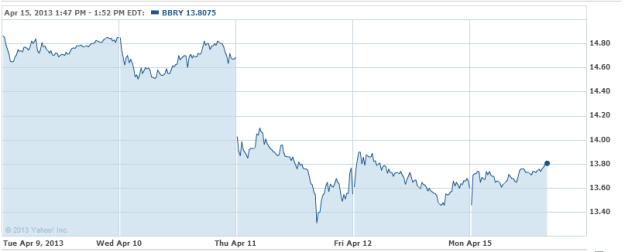 Clearwire Corporation (NASDAQ:CLWR): Current price $3.18
In a proxy filing on Friday, Clearwire said that it is "actively considering" whether or not to make an interest payment on June 1 on around $4.5 billion of outstanding debt.  The firm also disclosed that it had received an unsolicited offer from a "strategic buyer" to buy spectrum leases for between $1 billion and $1.5 billion. The company has been at the center of a battle with its majority owner Sprint Nextel Corp (NYSE:S), the satellite provider DISH Network (NASDAQ:DISH), and worried shareholders ever since Sprint made a deal in December to buy out the rest of Clearwire.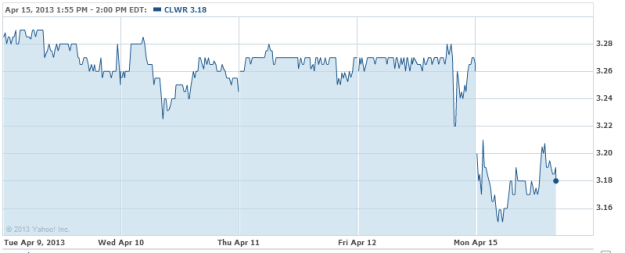 Don't Miss: Mobile Malware: Android Is a Bad Apple.