4 Tech Stock Stories to Start the Week
Ericsson (NASDAQ:ERIC): Current price $12.20
The telecommunications equipment maker has won a $1 billion eight-year contract with Indian mobile phone carrier Reliance Communications to manage its networks in the northern and western states of India. In January, Reliance gave a similar contract worth a bit more to Alcatel-Lucent for its mobile and fixed networks in east and south India.
Are these stocks a buy or sell? Let us help you decide. Check out our Stock Picker Newsletter now.

AudioCodes (NASDAQ:AUDC): Current price $4.47
On Monday, the firm said that more than 70 voice partners have joined AudioCodes One Voice for Microsoft Linc, a unified product and service program designed to simplify and accelerate voice-enablement of Microsoft Lync implementations. AudioCodes offers one source with this program  for voice network elements and one expert team for voice professional services, along with one point of contact for voice support. AudioCodes is a supplier of Voice over IP technologies, products and services.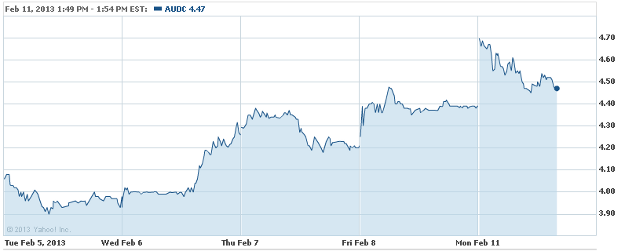 BlackBerry (NASDAQ:BBRY): Current price $15.80
BlackBerry will stop selling smartphones in Japan, said a spokeswoman to AllThingsD. In a statement, the company said that, "We are in the process of launching BlackBerry 10 globally in key markets and we are seeing positive demand for the BlackBerry Z10 in countries where it has already launched. Japan is not a major market for BlackBerry and we have no plans to launch BlackBerry 10 devices there at this time. However, we will continue to support BlackBerry customers in Japan."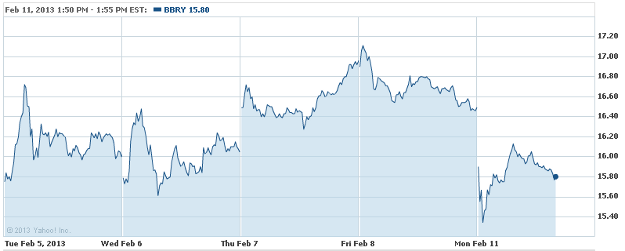 Zynga (NASDAQ:ZNGA): Current price $3.65
Partnering with the Canadian production firm Six Eleven Media, Hercules director Brett Ratner will produce a television version of the successful online game FarmVille. The concept is to make a half hour animated series out of the farming simulation social networking game. Ratner commented that, "FarmVille is one of the most exciting brands out there today and its cross-platform opportunities are endless. I am thrilled to be expanding the brand with existing brands and also engaging a whole new audience."

Don't Miss: Is Microsoft Doing Enough to Stay Relevant?