4 Things That are Worth Buying on Black Friday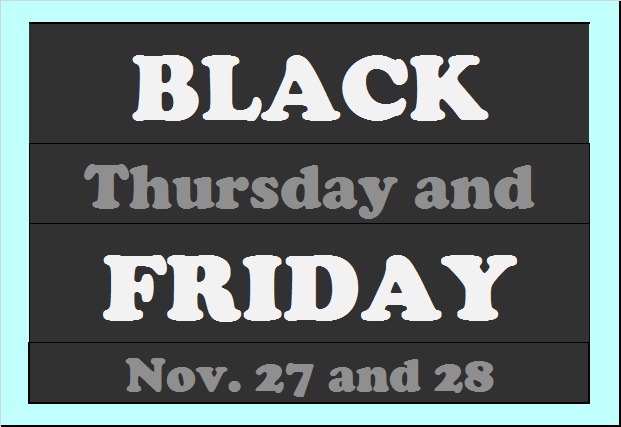 While Black Friday (or Black Thursday, Black Thanksgiving, or whatever you want to call it) doesn't skimp on the stress, it can save you a lot of money. And though it may not be worth it to battle throngs of shoppers to save $10 off of a $20 electric can opener, some other Black Friday deals are more worthy of your time — and wallet. According to the American Research Group, half of Americans (49%) say they'll shop for deals this holiday season, even if it means waiting. Another 34% say that they might shop for deals, but it depends on the gift.
We've created a list of gift items that will save you the most money if you buy them on Black Friday (or Black Thursday). So, if you have any of these items on your holiday shopping list, you can save up to a few hundred bucks if you're willing to brave the craziness.

1. Toys
Most people who have children — or have children to shop for this holiday season —  will be buying toys. From drone-like helicopters that really fly to diaries that have voice recognition, toys are expensive. A few Christmas seasons ago — back in 2011 — parents planned to spend $271 on each of their kids, which is pretty high. This seasons, if parents follow the same trend as they did a few years back, they'll spend around $286 per kid.
If you have little ones on your list, you can probably cut this cost at least in half by shopping on Black Friday for toys. Here are a few Black Friday deals on toys to check out:
At Kohl's from 6 p.m. on Thursday to 1 p.m. on Friday: 50% off select toys from Playskool, Fisher-Price, Little Tikes, Step 2, Barbie, Monster High, Hot Wheels, Matchbox, Nerf, Tonka, and Play-Doh
On Amazon.com from November 21 through November 28, the site has the following deals, plus new deals every 10 minutes: 35% off of Green Toys, 40% off select toys
2. Video Games
A retail release video game is almost always around the same price point of $60. But, on Black Friday, you can buy some of the most anticipated titles for around half of that price. If you really want to go all out, you can buy a new console system, and save at least $50, as these systems include a price drop, plus they often bundle in extras, like games or another controller.
Here are some of the best Back Friday deals on video games and on video game consoles:
At Walmart at 6 p.m. on Thursday, 8 p.m. on Thursday, and 6 a.m. on Friday while supplies last (they do have a one-hour guarantee, though: XBox One Halo Bundle for $329, which comes with the console, controller, and access to Halo Guardians Beta, four classic Halo games, and digital series Halo: Nightfall
At Gamestop from November 28 to November 30: Assassin's Creed XBox One Bundle for $329, Grand Theft Auto PS 4 Bundle for $399, save up to $30 on multiple hit games. For instance, Madden 15 is $39.99 instead of $59.99, and Destiny is selling for $49.99 instead of $59.99
3. Jewelry
A piece of jewelry may cost $20 for something faux, casual, or costume. Or, it can cost hundreds (even thousands) of dollars. If you plan on giving jewelry this holiday season, Black Friday may just be a good time to buy it.
At Macy's: Some watches, bracelets and earrings are going for around 75% off
On Overstock.com: Jewelry items are up to 80% off for Black Friday
4. Electronics
There's a reason retailers place ads for electronics front-and-center. Last year, the top 12 biggest sellers on Black Friday were electronics products, and 18 out of the top 20 were in the electronics category. According to a list published on Deseret News, these were the top 12 biggest sellers last Black Friday:
 Apple iPad Mini 16GB for an average price of $299.91
VIZIO 60-inch television for an average price of $668.15
HP Pavilion 14-inch laptop for an average price of $278.01
Samsung 32-inch television for an average price of $98
Emerson 50-inch television for an average price of $286
XBox One for an average price of $499
Android Tablet — RCA for an average price of $48.86
XBox 360 for an average price of $99
LG Blu-Ray DVD Player for an average price of $37.95
HP Black Licorice 15.6-inch laptop for an average price of $178
Sony Playstation 3 for an average price of $163.52
Call of Duty: Ghosts (XBox 360) for an average price of $39.95
This year will be no different, as retailers like Staples, Best Buy, and Walmart are selling TVs, tablets, computers, and computer supplies for amazing prices. Here are a few of this year's best deals:
Asus Laptop with Intel Pentium processor: $99 at Staples
Samsung Galaxy Tab 3 Lite: $99 at Staples
Apple iPad mini 16GB: $199 at Walmart
50-inch television (brands vary): $218 at Walmart
50-inch television (Panasonic): as low as $199 at Best Buy
So, when you get ready to shop this Black Thursday or Black Friday, lean toward items that you planned on buying anyway, and also items where you can save real money.
Check out Personal Finance Cheat Sheet on Facebook!
More From Personal Finance Cheat Sheet: