5 Good Reasons to Start Volunteering
Volunteering is an important activity for many Americans. According to the Bureau of Labor Statistics, between September 2012 and September 2013, about 62.6 million people volunteered through or for an organization in the United States. The overall volunteer rate declined by 1.1 percentage points, but overall volunteering is still very valued in our culture.
Some people volunteer in order to make a difference for a cause they care about, while others volunteer for other reasons. There are many benefits to volunteering in addition to the actual act of helping other people, including the fact that volunteering can help you network or make new friends. Volunteering is also a great way to build skills, and boost your resume. These benefits are especially true when you establish a consistent schedule and you attempt to stay at the same organization for a while. Here are five specific advantages of volunteering.
1. Make a difference
The most obvious advantage to volunteering is that you can make a difference in the life of someone else. Whether you work behind the scenes preparing mailings for an organization whose mission really matters to you, or you are helping the development team collect donations for an important cause, you will still be making a difference. This is important because when you choose a cause that is important to you, you can help the organization succeed. You also may help fund or complete important work. This can also help your self-esteem, because it feels good to help other people. For many people, volunteering brings a sense of happiness as well.
You could always just pick an organization to volunteer for, and you would still be making a difference. However, choosing an organization where you truly care about the work being done will allow you to be more passionate about your experience, make network connections, and potentially make new friends as well.

2. Network
There's nothing wrong with gaining a few additional advantages by volunteering. You might as well network while you're volunteering. You will spend time with other volunteers, but you most likely will also interact with people who work for the company that you volunteer for, especially if you volunteer long-term. If you just volunteer for a day, you may might some important people, but you won't get the chance to build a lasting relationship, or demonstrate your hard work. If you can spare the time necessary to volunteer on a weekly, or even monthly, basis, you will build relationships that might help you in your career. You may meet someone who can literally help you get a job because they know the right people, or you meet someone who is willing to provide a strong reference for you, or keep you in the loop when they hear about jobs that you might be interested in.
3. Build skills
You can consider volunteering as a free way to advance your job skills. Instead of paying for a class, you might be able to learn valuable skills just by volunteering. Unlike at your job, when you volunteer, people are often willing to teach you a skill (whereas you might only have that luxury at work if the skill is necessary to your current job.) You can also practice improving specific skills. You may be able to give presentations for the organization, learn about fundraising or event planning, or participate in other activities that will lead to more skill building. You can even request to complete a specific task or project if you know that job will help you master a skill you have been wanting to improve or learn, and the person you ask might be more willing to oblige since you are working for free.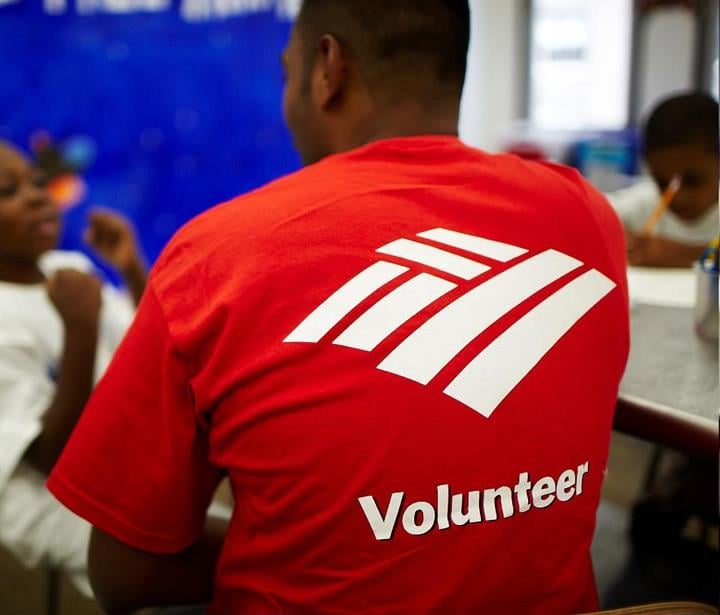 4. Build your resume
Not only does volunteering teach you new skills, but you also can build your resume in the process. If you can't find a job, volunteering is one of the best ways to fill up empty space on a resume, and to explain how you used your time between jobs. According to Monster, volunteer work can even turn into a paid job. If that is your goal, you should look at your time at an organization as a way to gain enough experience to prove that you are worthy of a paid position. You then can propose that you should be paid, and explain why. Of course, this won't work in every situation.
Even if you have a job, volunteering is still a great way to improve your resume. Volunteering shows that you care about a specific cause, and it's possible that your combination of education, work experience, and volunteer experience, may stand out over other job seekers in the future.
5. Other perks
Many companies will allow their employees to take one or more paid days off from work in order to volunteer each year. If you are interested in volunteering for specific events, you may be able to take off work without losing pay; ask your human resources department if your employer offers any such opportunities. Other employers often sponsor events or encourage employees to volunteer together, which can be a great bonding experience with your coworkers and boss.
Many volunteer organizations reward volunteers with specific perks instead of pay. You may be able to participate in events for free or a reduced fee. Some hospitals offer free meals for volunteers; if you decide to volunteer for a performing arts show you might score free tickets; the same is true for sporting events.
There are so many good reasons to volunteer. If you can commit to a regular schedule, you will build very valuable relationships in addition to making a difference. However, if you are extremely busy, even volunteering a few times a year can provide benefits for yourself and others.
More from Personal Finance Cheat Sheet: