5 Important Economic Reports Every Investor is Digesting
Here's your Cheat Sheet to this week's top econ stories:
The euro zone moved deeper into recession in the fourth quarter, dragged by major economies like France and Germany performing below expectations. According to Eurostat, the statistical office of the European Union, economic output contracted 0.6 percent across the euro-area 17, and contracted 0.5 percent across the EU27, following a 0.1 percent contraction across the region in the third quarter. With France and Germany joining Spain, Italy, Greece, and others in recession territory, economists are likely to edit their predictions for when the euro zone will round the bend.
For all of 2012, EA17 GDP fell by 0.5 percent, and EU27 GDP fell by 0.3 percent, with contractions in major economies partially muted by growth in countries like Latvia, Lithuania, and Estonia. The news comes just one day after Eurostat reported that industrial production in the EA17 increased 0.7 percent and increased 0.5 percent in the EU27.
Europe isn't the only region posting bad news, as preliminary data show that Japan's economy also shrank more than expected last quarter. Reduced business investment and falling exports (despite the action of the yen) pulled fourth-quarter GDP down an annualized 0.4 percent in the world's third-largest economy, far below estimates of economists surveyed by Bloomberg for 0.4 percent growth.
This makes for three consecutive quarters of recession for the country, which has made international waves under the leadership of Prime Minister Shinzo Abe. Facing long-term deflation and poor economic output, Abe is pushing for bold stimulus spending and accommodating monetary policy similar to the strategy employed by U.S. Federal Reserve Chairman Ben Bernanke. His efforts also include controversial efforts to weaken the yen.
Don't Miss: Obama Gives a Shout-Out to These Companies.
The number of Americans filing claims for unemployment benefits decreased more than expected last week, indicating that the United States economy is slowly coming back to life.
Economist polled by Reuters had expected claims to fall to 360,000, but instead, the Labor Department reported on Thursday that initial jobless claims dropped by 27,000, hitting a seasonally-adjusted 341,000. Unlike Superstorm Sandy, last week's blizzard in the Northeast appears to have had little effect on the broader claims data, a department analyst told the publication.
While companies may not be laying off workers as aggressively as they have in the past, with consumer demand still soft, hiring has not gathered much momentum. The economy has struggled to grow since the 2007-2009 recession came to an end, and growth has barely surpassed 2 percent, according to Reuters.
Throughout 2012, job growth was sluggish. The economy added 181,000 per month on average, and that figure is far below the 250,000 jobs per month that economists say are needed to reduce the number of unemployed.
A more reliable measurement of unemployment claims — the four-week moving average, which softens week-to-week volatility — rose 1,500 to 352,500. This measurement dropped the previous week, but, as Reuters reported, that decrease was likely exaggerated by difficulties smoothing out the data for seasonal fluctuations that often come at the beginning of the year.
Continuing claims for benefits, those drawn by workers who have been unemployed for more than a week, have stuck around 3.2 million since late November, which economists have said is an indication that the unemployment rate has changed little, although the jobless rate did increase by 0.1 percentage point to 7.9 percent in January.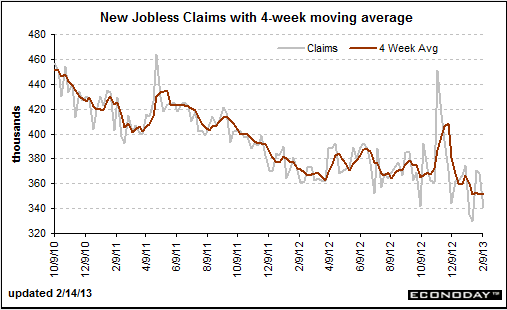 Don't Miss: Obama Gives a Shout-Out to These Companies.
After having posted two solid months of gains in November and December, industrial production edged down 0.1 percent in January, the Federal Reserve reported on Friday. This drop came alongside a 0.4 percent dip in United States manufacturing output.
Ahead of the report, analysts polled by Bloomberg had expected the index to rise 0.2 percent to follow December's gain of 0.4 percent. But manufacturing, which represents 75 percent of the total production, fell and brought down the entire index. Comparatively, revised data for November and December showed the biggest two-month gain since 1984.
The Federal Reserve's monthly index of industrial production, along with the related capacity indexes and capacity utilization rates, cover manufacturing, mining, and electric and gas utilities. Together with construction, the industrial sector accounts for the majority of the variations in national output over the course of the business cycle, and therefore these measurements provide an important reading of the health of the economy…
With 2007 set as the base year, the production index expresses the current level of industrial output in relation to previous output. In order to give a more complete view of the U.S. economy, the Fed also compiles the capacity index, an approximation of the nation's potential output, and the rate of capacity utilization. For the month of January, capacity utilization fell to 79.1 percent from December's four-year high of 79.3 percent.
Both automobile production and mining output, major industry groups that make up the production index, suffered last month. Mining production, which includes oil drilling, fell 1 percent, while the output of motor vehicles and parts decreased 3.2 percent, after increasing 2.9 percent in the previous month. Yet automobiles are still expected to drive economic growth this year; auto sales in the last three months were the strongest the United States has seen in five years, with cars and light trucks selling at an annual rate of 15.2 million in January.
With increases in consumer and business spending coming in late 2012, this year was given a stable foundation for increased industrial production. But at the same time, the higher income and payroll taxes that are cutting into American paychecks and the possibility of across-the-board federal spending cuts could hamper production gains in 2013…
"Manufacturing will advance slowly this year as long as demand keeps growing and nothing knocks the economy off course," RBS Securities economist Guy Berger told Bloomberg before the report was released. In addition, "markets like China and Latin America will help to keep a floor under U.S. exports," he added.
There is evidence that Berger may be correct. A second report issued by the Federal Reserve showed that the general economic index climbed to 10, its highest level since last May and a massive jump from January's reading of minus 7.8.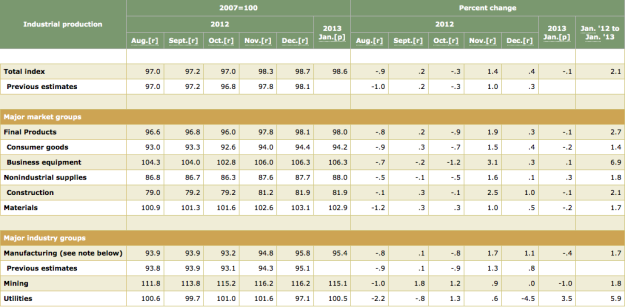 Don't Miss: Spending Cuts and Politicians: Same Story, Different Chapter.
It's clear that Japan needs a real catalyst for growth, but the international concern is that currency devaluation isn't the right choice. Preliminary data released this weak showed that Japan's economy unexpectedly shrank (again) last quarter, as both exports and business investment fell. If a weaker yen is good for anybody, it's Japanese exporters…
Despite all the political rhetoric in Washington D.C. and the fiscal cliff, consumer sentiment in the United States managed to climb higher and beat expectations.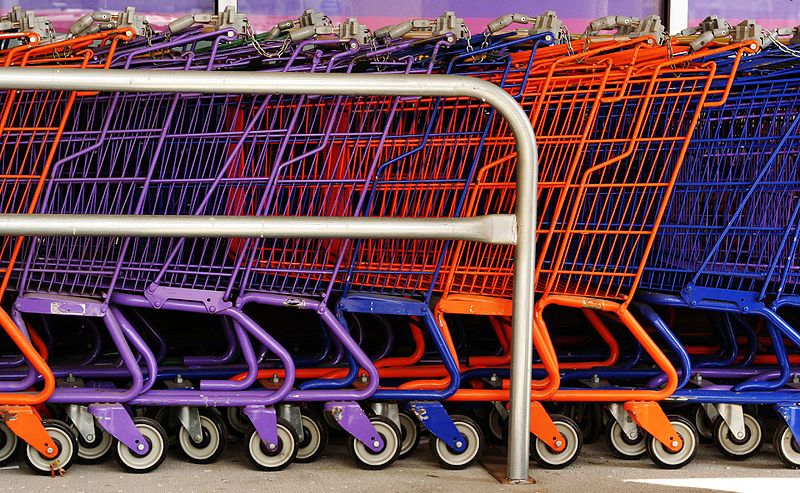 The Thomson Reuters/University of Michigan preliminary February index of consumer sentiment, which is often used to gauge financial conditions and attitudes about the economy, rose to 76.3, compared to 73.8 last month. It is the highest level since November's reading of 82.7.
Consumer sentiment in February was higher than expected. According to a Bloomberg survey, the median forecast was 74.8. Estimates of the 65 economists polled ranged from 70 to 78.
The index of current conditions, which is a barometer on how Americans feel about buying expensive items, increased to 88, compared to a six-month low of 85 in January and 87 in December. Meanwhile, the initial gauge of consumers' expectations regarding future conditions increased to 68.7 from 66.6.
Richard Curtin, survey director, explained in a statement that households with incomes below $75,000 were among the most optimistic, "with expected gains in employment more than offsetting declines in after-tax incomes due to the end of the payroll tax cut."
Although the economy is still weak and dependent on central bank easing, the survey results were a pleasant change form the confidence index last month. In January, the Conference Board Consumer Confidence Index declined to 58.6, compared to 66.7 in December. It was the lowest reading since November 2011 and the worst month-over-month decline since August 2011, when Washington D.C. caused pessimism with its bickering over the debt ceiling.
Here's how the 3 major stock indices finished out the week of trading:

Don't Miss: How Cash-Strapped are Americans?