5 Low-Calorie Thanksgiving Desserts
Many are gearing up for a full day of feasting on Thanksgiving. However, no turkey day dinner is complete without dessert. After overindulging in turkey, stuffing, and mashed potatoes, you won't have to feel guilty about eating one of these five low-calorie desserts.
1. Pumpkin Pie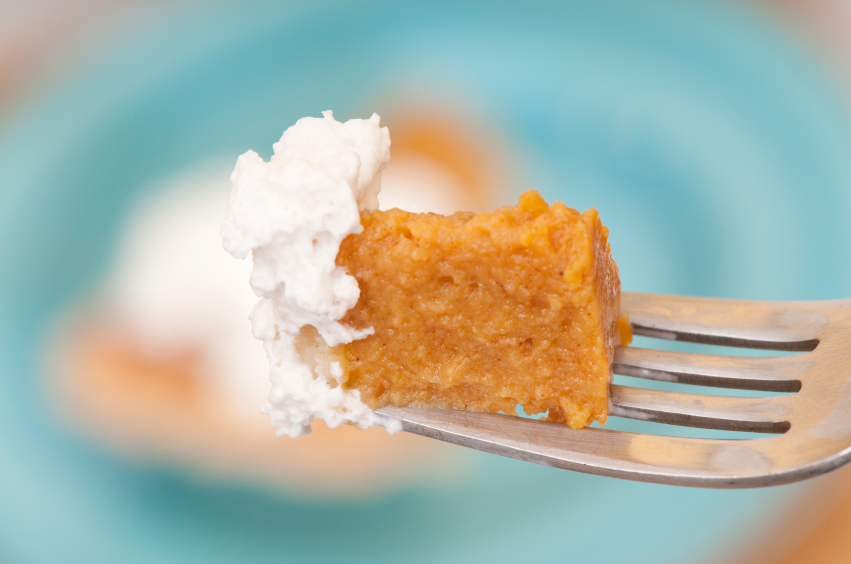 Regular: 323 calories per slice
Without a doubt, one of the most popular dishes you'll find at Thanksgiving dinner tables is pumpkin pie. One way to cut back calories when making this traditional dessert is to use a sugar substitute such as agave nectar in the preparation stage.
Taste of Home provides this recipe for the traditional dessert, which is only 124 calories per slice.
Ingredients:
1 egg

2 egg whites

1 can (15 ounces) solid-pack pumpkin

Sugar substitute equivalent to 3/4 cup sugar

1/2 cup biscuit or pancake mix

1 teaspoon vanilla extract

1 teaspoon ground cinnamon

1/2 teaspoon ground ginger

1/4 teaspoon ground cloves

1 can (12 ounces) fat-free evaporated milk

1 cup reduced-fat whipped topping
Directions:
In a large bowl, combine the egg, egg whites, pumpkin, sugar substitute, biscuit mix, vanilla, and spices until smooth. Gradually stir in evaporated milk.
Pour the mix into a 9-inch pie plate coated with cooking spray. Bake at 350 degrees Fahrenheit for 35-40 minutes or until a knife inserted near the center comes out clean. Finally, cool on a wire rack and dollop with whipped topping before serving.
2. Pecan Pie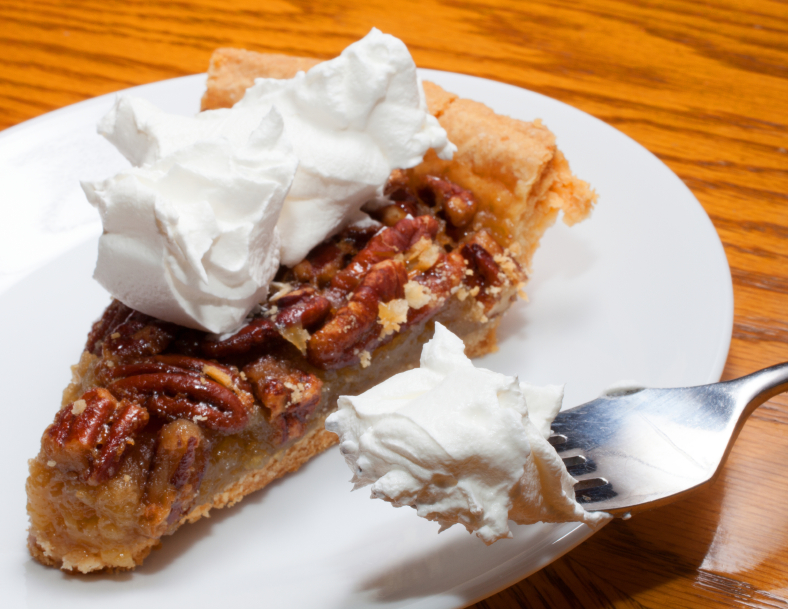 Regular: 456 calories per slice
What Thanksgiving meal would be complete without pecan pie? It's inevitable that this tasty dessert will be on the menu, and Weight Watchers has a recipe promising the same great taste but with less fat. Count me in.
Ingredients:
8 sheets phyllo dough

4 sprays cooking spray (or enough to coat dough)

3/4 cup pecan halves, chopped lengthwise into 3 pieces each

4 large egg whites, lightly beaten

1/3 cup light corn syrup

2/3 cup unpacked brown sugar, firmly packed

6 tablespoons reduced-calorie margarine, melted
Directions: 
Preheat oven to 350 degrees Fahrenheit. Lightly coat a 9-inch round baking pan with cooking spray.
Cut phyllo sheets in half diagonally to form two equal triangles. Place one sheet in prepared pan and lightly coat with cooking spray. Then, top it with another sheet of phyllo, placing corners just to the right of previous corners. Repeat with the remaining sheets so you're covering the pan with a fan of phyllo. Bake for about 10 minutes, or until lightly browned.
Reduce oven temperature to 325 degrees Fahrenheit. Combine remaining ingredients in a medium bowl, then pour into the crust. Let bake uncovered for about 35 minutes or until firm. Cover the pan halfway through baking process if crust becomes too brown. Finally, let dessert cool in the pan.
3. Apple Pie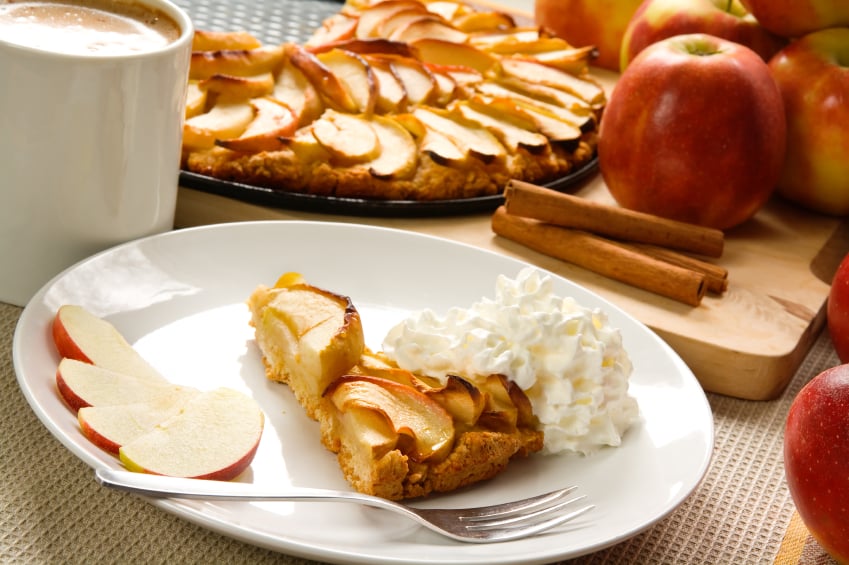 Regular: 411 calories per slice
A slice of apple pie can run close to 400 calories a slice. Ouch! Health offers a recipe for the delectable dessert using whole-wheat flour and low-fat cream cheese for the crust. The recipe below is only 298 calories per serving.
Ingredients:
1 pre-made pie dough crust

2 1/2 pounds mixed apples: peeled, cored, and cut into 1/4-inch-thick slices

1/2 cup light brown sugar

3 tablespoons all-purpose flour

1 tablespoon vanilla extract

1 tablespoon fresh lemon juice

1 teaspoon cinnamon

1 large egg white

2 tablespoons turbinado or raw sugar

2 tablespoons apricot jam, melted
Directions:
Preheat oven to 375 degrees Fahrenheit. Lightly flour your fingers, and with one hand, bring your thumb and index finger together on the edge of the crust of the prepared dough to form small peaks all the way around. Use your other hand to stabilize the pie plate. Freeze for 10 minutes or until firm.
Toss together apples and the next five ingredients including a pinch of cinnamon in a bowl. Arrange the filling in the dough in concentric circles. Brush the top edges of the dough with egg white and sprinkle with turbinado sugar. Bake for 40 to 50 minutes or until crust is golden brown and apples are tender.
Transfer to a wire rack, and brush filling with jam; let cool.
4. Sweet Potato Pie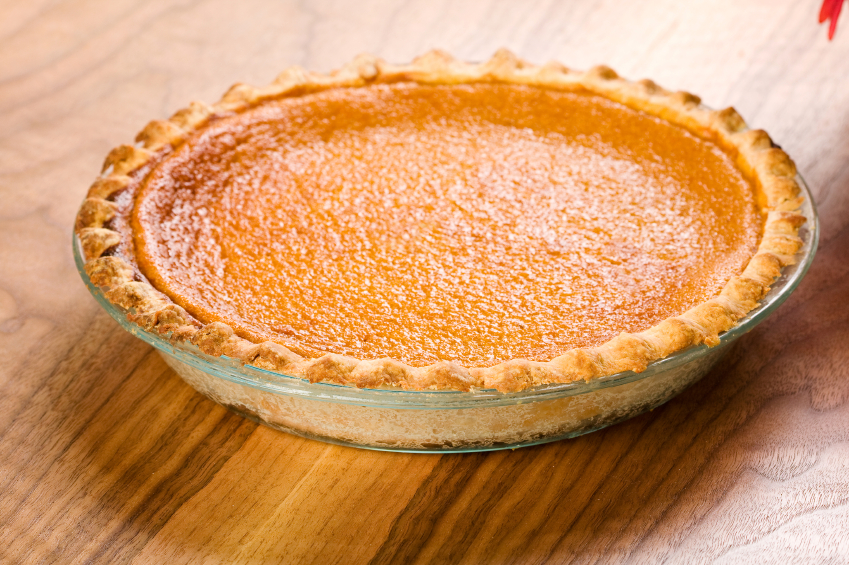 Regular: 340 calories per slice
One thing's for sure: Sweet potatoes in some form will definitely make it onto most Thanksgiving tables this year. Fitness Magazine offers a recipe for sweet potato pie, using a low-fat crust to help shave off calories.
Ingredients: 
Low-fat crust:

1 3/4 cups all-purpose flour

1/4 teaspoon salt

6 tablespoons chilled oil (canola or olive oil)

1 extra-large egg white, lightly beaten

1 1/2 teaspoons vinegar, either white wine or apple cider

Ice water as needed

Sweet potato filling:

16 ounces sweet potatoes, baked untill soft, with skins removed

4 egg whites

1/2 cup sugar or Splenda

1 1/4 teaspoons cinnamon

1/2 teaspoon ginger

1/4 teaspoon cloves

12-ounce can evaporated skim milk
Directions:
Crust:
Preheat oven to 350 degrees Fahrenheit. Mix flour and salt in a medium bowl. Carve a small well in the middle of the flour and add chilled oil to it. Mix with fork until dough is crumbly. Mix in beaten egg white and white wine vinegar. Using your hands, form dough into ball, adding ice water to the dough if it is still a bit crumbly. Refrigerate for 30 minutes.
Roll dough on a floured surface until 1 inch thick. Drape over 9-inch pie pan, being careful not to tear the dough. Trim off the excess pieces and discard. Bake for 7 to 10 minutes, or until golden brown.
Filling:
In a medium-size mixing bowl, mix all of the ingredients. Pour into the prepared crust and bake at 350 degrees Fahrenheit for approximately 30 to 45 minutes, or until a knife inserted in center comes out clean.
5. Peanut Butter Pie
Regular: 419 calories per slice
Concluding our list is Food's low-calorie peanut butter pie. The publication's recipe knocks the calorie count down almost by 300 from the traditional recipe.
Ingredients:
1 (9-inch) low-fat graham cracker crust

8 ounces fat-free cream cheese

2/3 cup powdered sugar

1/2 cup low-fat peanut butter

1/2 cup nonfat milk

1/2 teaspoon vanilla extract

10-12 ounces fat-free whipped topping
Directions:
Using an electric mixer, blend the softened cream cheese and powdered sugar until smooth. Add peanut butter, milk, and vanilla and beat until smooth.
Fold in the whipped topping to the peanut butter mixture. Make sure to add enough to fill the 9-inch pie crust to the top with the mixture.
Finally, freeze the pie, but remember to remove the pie 15 minutes before serving.
Enjoy your Thanksgiving feast!