5 Must-Have Stocks in Your 2014 Portfolio
Investing is as much art as it is science. While quantitative research and technical analysis afford investors keen insights into the market, there are qualitative aspects of a business that are more difficult to measure and analyze. The experience and fit of the executive team, for example, could make or break a company, pushing the business to outperform in a bull market or stay above water in a bear market.
Where a company stands in relation to market and economic trends is also a difficult thing to quantify. Ten years ago, an investment in social media was as much a gamble as playing the lottery, and those who picked correctly — we're looking at you, Facebook (NASDAQ:FB) — were going off more than just data. They were tapping into an indistinct and often ephemeral kind of reasoning that distinguishes great investors from good investors. Or, maybe, they were lucky.
Whether it's through clairvoyance or happenstance, many successful fund managers earn their pay by identifying market trends and the companies that stand to profit as they evolve. This is what Clay Brethour, co-portfolio manager of the Buffalo Growth Fund (BUFGX), did when he decided to invest in Facebook in August 2012, about a month before the stock hit an all-time low. The investment was a bet — a leap of faith — that Facebook would evolve from social network to social institution and that it would figure out mobile monetization.
That bet turned out to be a good one, and the investment has helped the Buffalo Growth Fund outperform the market over the past year. The success caught the eye of Barron's, which interviewed Brethour in March and got him to speak about investment strategy and his thoughts on some of the top holdings of his fund. We don't like to play follow the leader, but it's definitely worth checking out what successful investors have to say.
1. Facebook
It's worth digging into the Facebook story a little more because, in retrospect at least, it's a great example of how an investor can make an intelligent choice about the companies they choose to invest in.
According to his interview with Barron's, Brethour began making purchases of Facebook stock in August 2012, just a few months after Facebook's notoriously botched initial public offering. Shares had fallen about 40 percent since hitting the market and speculation was rampant about whether or not Facebook would be able to right the ship. At the time, PC use was declining and Facebook had not yet figured out mobile monetization. There were very real concerns that if Facebook couldn't take the next big step forward, it wouldn't go anywhere at all.
But it's actually this dramatic decline in Facebook's stock and the negative speculation that attracted Brethour to the company. Brethour had faith in the theory that social media was transforming into a social institution, and if Facebook managed to sort itself out, it would be a clear winner in the long run. If this was true, then Facebook shares were dramatically underpriced in August 2012.
Again, hindsight is 20/20, but it was a good call on Brethour's part. He knew there was momentum in social media, so he looked for a company that was both well positioned and underpriced. He found it with Facebook.
2) Apple (NASDAQ:AAPL)
Mega investors may have shied away from Apple stock in favor of other tech giants like Google Inc. (NASDAQ:GOOG) and Amazon.com Inc. (NADSAQ:AMZN), but not Brethour. Apple was the top holding in the Buffalo Growth fund at the end of 2013.
The big trends that Apple is participating in — leading, arguably — are pretty straightforward. Apple is a member of the pantheon of consumer tech titans and has been one of the industry's innovation leaders. A recent survey conducted by Piper Jaffray analyst Gene Munster found that 39 percent of U.S. consumers planning to purchase a smartphone in the next three months intended to buy an iPhone. A separate survey conducted by market research firm Gartner showed that the iPad maintained a dominant 36 percent share of the tablet market in 2013.
Whether or not Apple is underpriced is a different conversation, but one worth having. Deciding to call this stock cheap depends on how well you expect it to perform in the future. At about 13, Apple's trailing price-to-earnings is high relative to where it sat for most of 2013 but still below the 14 to 15 range that characterized 2012. Apple has averaged a trailing PE of 15.92 over the past five years — so by that measure, the stock is cheap. But the company is also growing more slowly now than it was a few years ago.
3) Walgreen Co. (NYSE:WAG)
Walgreen might have been underpriced at the end of January, but a lot has changed since then. Shares are up more than 16 percent since February, just the latest growth spurt in an insane rally that has lasted at least two years, and they're up more than 100 percent for the period. The stock is now trading at about nineteen times projected earnings, making it more expensive than CVS Caremark Corp. (NYSE:CVS).
The rally was partially fueled by relatively strong sales in the end of 2013. Walgreen reported that same-store sales rose 6.1 percent on the year in December with pharmacy sales up 9 percent. Same-store prescriptions filled increased by 5.3 percent.
Brethour believes that Walgreen is capitalizing on two broad trends. The first is an aging population that will patronize Walgreen pharmacies. The second is a partnership with AmerisourceBergen Corp. (NYSE:ABC), a pharmaceutical distributor that has helped streamline Walgreen's supply chain. The two companies signed a ten-year partnership last September.
It's important to remember that in many ways, Walgreen is a company on the mend. Walgreen will report earnings later this month and analysts are expecting the company to report earnings of 93 cents per share, down from 96 cents per share in the year-ago period. Revenue is expected to increase 5 percent to $19.57 billion.
4) Nike (NYSE:NKE)
Nike's performance this year to date has been less than stellar, but if you're in it for the long haul, that's OK. In fact, the dramatic dip that occurred between the middle of January and the middle of February presented a buying opportunities for investors who believe that Nike can just keeping doing it. Shares are up more than 41 percent over the past 52-week period.
One of the trends that Nike stands to capitalize on is wearable tech. One of the most direct applications for smart watches, for example, is for exercise or athletic training. Nike creates a product called the Nike+ FuelBand SE, which can track a user's sleep schedule, miles walked, and other personal metrics.
It's not all sunshine and happiness for the athletic gear maker, though. Looking ahead to the next quarter, analysts are expecting revenues to climb 10.2 percent on the year to $6.82 billion, but earnings are expected to fall by about 1 percent to 72 cents per share. Speaking with CNBC recently, Nike CEO Mark Parker cited macroeconomic issues and global market volatility as a headwind, although he maintained that there's still room for profitable growth in the near future.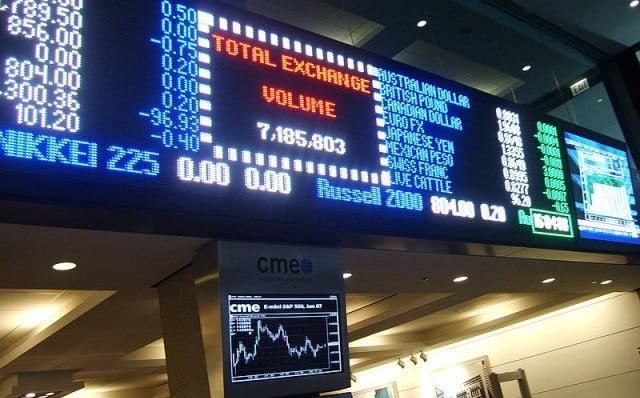 5) CME Group (NASDAQ:CME)
CME Group owns and operates a number of exchanges, including the Chicago Mercantile Exchange. Exchanges make their money on trade volume, and Brethour's bet is that trading volume will increase when interest rates rise. Interest rates were suppressed for most of 2013 because of quantitative easing, but now that the taper has begun, many market watchers believe it's only a matter of time before the downward pressure is relieved and rates begin to rise.
CME Group recently reported that trade volume for February increased 2 percent on the year and 8 percent on the month to 14.0 million contracts per day. The year-to-date average volume of 13.4 million is up 7 percent compared with the same period last year.
More From Wall St. Cheat Sheet: