5 Reasonable Economic Predictions for 2014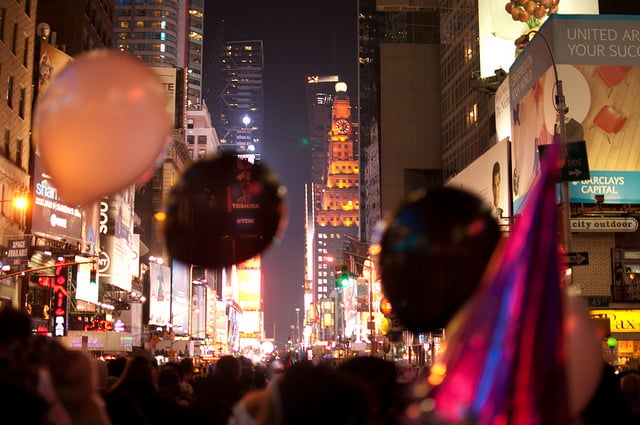 This year has been characterized by political dysfunction, with Capitol Hill once again proving its incompetence. Congress went over the fiscal cliff, enacted a partial government shutdown for the first time since 1996, and pushed the debt ceiling to its breaking point. Through all of the political rhetoric, the economy still managed to grow and stocks climbed higher to fresh all-time highs, but what will 2014 bring?
While crystal balls are never without clouds, 2014 could be the year that 2013 should have been as far as the economy is concerned. Let's take a look at five reasonable economic predictions.
1. Economic Growth Expands
The U.S. Department of Commerce recently reported that the economy grew at an annual pace of 3.6 percent in the third quarter. The rate was better than expected as inventory building was surprisingly strong. Nonetheless, the economy has expanded at an average pace of 2.4 percent this year. Looking ahead to 2014, it would not be too surprising to see GDP growth average closer to 3 percent.
If the economy expands at 3 percent next year, it will be the best performance since 2005, when the economy posted a 3.4 percent growth rate. Even though a pace of 3 percent would represent strong growth compared to the prior decade, it would only equal the average pace of real GDP growth since the end of WWII, according to LPL Financial.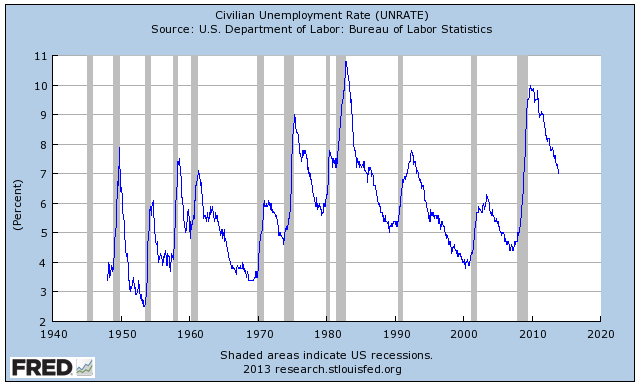 2. Unemployment Rate Falls
The headline unemployment rate is currently set to fall below 7 percent in 2014 for the first time since November 2008. In January, the headline unemployment rate stood at 7.9 percent, and recently hit 7 percent in the latest employment report. However, there are certainly caveats in the labor market.
Many people are not included in the headline unemployment rate. The U6 unemployment rate, which includes everyone in the headline rate — plus people who are employed part-time but prefer a full-time position, or want work but have stopped looking — remains stubbornly high at 13.2 percent. Meanwhile, the labor market participation rate is near historic lows and wages are stagnant.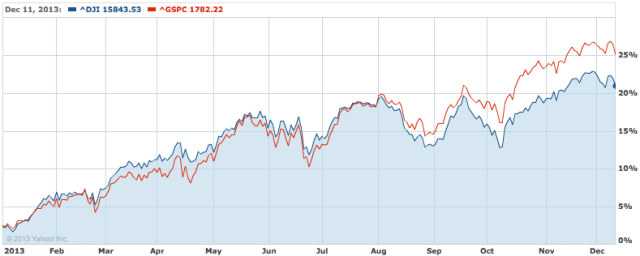 3. Stocks Climbs Higher
With the help of the Federal Reserve, equity prices surged to new highs in 2013. Through the first 11 months of the year, the Dow Jones Industrial Average and S&P 500 gained 23 percent and 27 percent, respectively. The Dow set 44 all-time closing highs in 2013 through November, while the S&P 500 made 38 record highs. The Nasdaq, which is still below its dotcom-bubble peak, crossed above 4,000 in November for the first time in over 13 years.
If history is any guide, stocks are likely to post more gains in 2014. The S&P 500 has averaged a return of 12 percent following a year in which it was up 25 to 30 percent, according to LPL Financial Research. In fact, most of the years were followed by several years of strong gains, as seen in 1943, 2003, and 2009.
"What's in store for 2014? Some experts predict continued growth, while others feel that a significant correction is in order. Those competing viewpoints will likely manifest destiny to a certain extent, but the best bet is that the stock market will continue to rise along with the economy in 2014," explained WalletHub CEO Odysseas Papadimitriou.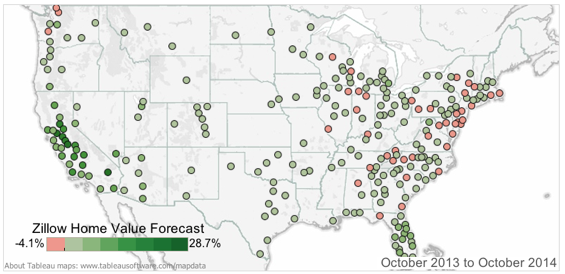 4. Housing Market Slows 
Amid low interest rates and inventory levels, the real estate market was one of the strongest areas of the economy in 2013. On average, home values rose about 5 percent, with some markets surging more than 20 percent. The rapid increase lifted millions of homeowners from underwater status, but the pace is not expected to last. Zillow predicts home values will increase by only 3 percent in 2014.
"Many metros saw appreciation well above historic norms, sometimes 4 or 5 times their historic appreciation levels. This year, home value gains will slow down significantly because of higher mortgage rates, more expensive home prices, and more supply created by fewer underwater homeowners and more new construction," explained Svenja Gudell, Director of Economic Research at Zillow.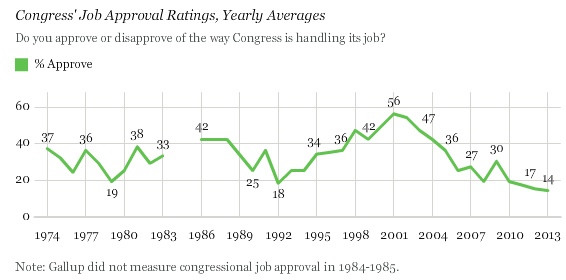 5. Political Bickering Decreases
How much worse can things possibly get in Washington? Americans' job approval ratings for Congress in 2013 averaged just 14 percent, the lowest annual average in Gallup's history. Over the past four years, the approval rate has averaged below 20 percent, well below the historical average. Since Gallup began records in 1974, Congressional approval has averaged 33 percent.
Providing hope of less political bickering in 2014, the budget conference committee — established as part of the stopgap deal that ended the 16-day partial government shutdown in October — proposed a decidedly modest and surprisingly agreeable budget deal that would, if passed, set federal spending levels for a full two years. Co-chaired by Rep. Paul Ryan (R-Wis.) and Sen. Patty Murray (D-Wash.), the deal is a welcome show of cross-aisle cooperation from a Congress. However, let's not get our hopes up too much.
Don't Miss: Top 10 Nations Hoarding Gold
Follow Eric on Twitter @Mr_Eric_WSCS