5 Signs Americans Are Flat-Out Broke
Despite improvement in certain areas of the economy, the Great Recession never truly ended for millions of Americans. Households across the nation are still trying to overcome a sluggish labor market, stagnant wages, and rising living costs. Making matters worse, the struggle does not appear to be ending anytime soon.
The Federal Reserve's wealth effect is in short supply. According to a new report from the central bank, 25 percent of American households say their families are "just getting by" financially, and another 13 percent are "finding it difficult to get by." Compared to five years earlier, 34 percent feel like they are worse off today, while the same number feel about the same. Only 30 percent repot that they were somewhat or much better off financially. The survey polled more than 4,100 respondents between September and October last year.
"Many households in the United States have been tested by the Great Recession. Large-scale financial strain at the household level ultimately fed into broader economic challenges for the country, and the completion of the national recovery will ultimately be, in part, a reflection of the well-being of house- holds and consumers," explains the report.
Let's take a look at fives signs that Americans are broke and struggling in the current economic environment.
1. Higher education
The cost of obtaining a degree and the associated benefits are making some Americans think twice about the college experience. With soaring tuition prices that regularly outpace other forms of inflation, the days of a degree virtually guaranteeing material wealth early in life are over.
The University of Arizona released an update earlier this year on its study of a freshmen cohort group — dating back to 2007. More than half the participants — mostly graduates — reported relying on financial support from family to meet current financial demands. Nearly half of those respondents were employed full-time. In fact, as the chart above shows, only 49 percent of participants reported having full-time jobs after two years of graduation.
"Although a college education has historically been an indication of more career opportunities and higher income, launching a career today is a challenge even for college graduates (Shierholz et al., 2013). Many young adult cohorts who graduate college in weak national economies find themselves taking any job just to pay the bills and may be overqualified for the jobs they take (Kahn, 2010)," explains the report.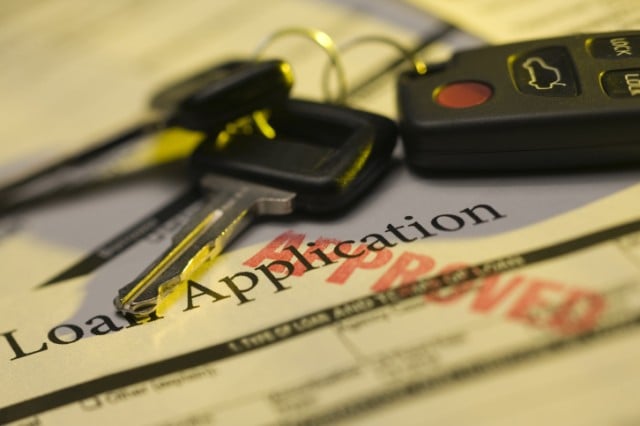 2. Cars
Americans have a long history of obsessing over automobiles, but that relationship may be running on fumes. The average auto loan term increased to sixty-six months during the first-quarter, according to Experian Automotive. That is the highest level since Experian began publicly reporting the data in 2006. Nearly 25 percent of all new vehicle loans originated during the quarter had terms extending out seventy-three months to eighty-four months, representing a 27.6 percent surge from a year earlier. The average amount financed for a new vehicle loan also reached an all-time high of $27,612.
"As the cost of purchasing a new vehicle continues to rise, consumers clearly are stretching the loan term to help lower monthly payments, keeping them at a manageable level," said Melinda Zabritski, Experian Automotive's senior director of automotive credit. "The benefit of a longer-term loan is the lower monthly payment; however, the flip side of that is consumers can find themselves paying more in interest or being upside-down on their loan if they seek to trade their vehicle in early."
The average monthly payment for a new vehicle loan also hit a record high of $474 in the first-quarter, driving more cash-strapped buyers to leases. Of all new vehicles financed, 30.2 percent were leased compared to 27.5 percent a year earlier.
3. Real estate
Home ownership has been a critical component of the American Dream for decades. However, affordability issues and the recent housing-bubble collapse are keeping many buyers on the sidelines.
Last month, the Census Bureau reported that the nation's homeownership rate during the second quarter dipped 0.3 percentage points to 64.7 percent, compared to 65 percent a year earlier. As the chart above shows, that is the lowest level in nineteen years. At the same time, national vacancy rates in the second quarter fell to 7.5 percent for rental housing, representing the lowest level since 1997. Rent prices are not rising as fast as home prices, but Trulia reports that rent prices rose 6.1 percent on a year-over-year basis in July — a sizable increase to those already struggling with their finances.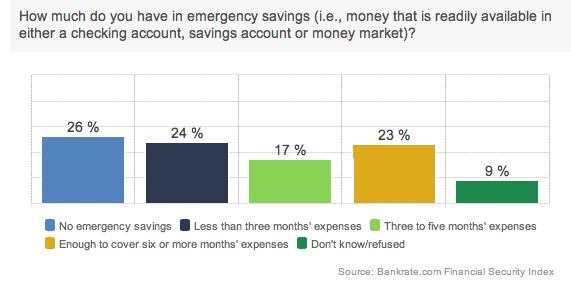 4. Savings
Saving money continues to be a losing battle for many Americans. Twenty-six percent of Americans do not have any money placed aside for emergencies, according to a new survey from Bankrate. In fact, 67 percent have saved less than six months' worth of expenses, and 50 percent have saved less than three months' expenses. Over the past year, the number of Americans with at least three months' expenses in savings declined from 45 percent to 40 percent.
Furthermore, the savings conundrum is not limited to only lower-income households. "Americans continue to show a stunning lack of progress in accumulating sufficient emergency savings," explains Greg McBride, CFA, Bankrate's Chief Financial Analyst, in a press release. "Even among the highest income households — those with annual income of $75,000 or above — fewer than half (46 percent) currently have a six-month savings cushion."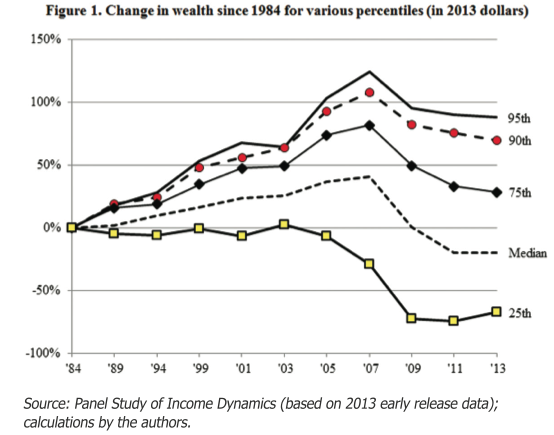 5. Wealth
A brutal combination of falling stock and home prices has decimated wealth gains over the past decade. Net worth at the 50th percentile (median) totaled $56,335 in 2013, down 36 percent from $87,992 in 2003, according to a recent report from the Russell Sage Foundation. In fact, the 90th and 95th percentiles were the only groups to report wealth gains between 2003 and 2013. Although, as the chart above shows, wealth inequality was increasing prior to the Great Recession.
"The American economy has experienced rising income and wealth inequality for several decades, and there is little evidence that these trends are likely to reverse in the near term," the report states. "It is possible that the very slow recovery from the Great Recession will continue to generate increased wealth inequality in the coming years as those hardest hit may still be drawing down the few assets they have left to cover current consumption and the housing market continues to grow at a modest pace."
Follow Eric on Twitter @Mr_Eric_WSCS
More from Personal Finance Cheat Sheet:
Want more great content like this? Sign up here to receive the best of Cheat Sheet delivered daily. No spam; just tailored content straight to your inbox.