5 Stocks Catering to the Super Wealthy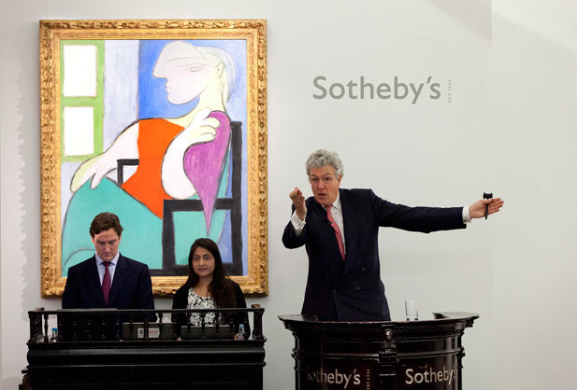 The story of Jay Gatsby is nearly a century old, but his lavish lifestyle is more relevant than ever. The Federal Reserve's attempt at a wealth effect has been successful for some Americans, but the benefits are not being felt by the majority of the nation.
The divide between people who can afford to host extravagant parties every weekend and those who can't is at its widest since the Roaring Twenties. According to a new report from The Associated Press, the wealthiest 1 percent of Americans earned more than 19 percent of the nation's household income last year — that is the biggest slice of the pie since 1928. Furthermore, the top 10 percent of households obtained a record-breaking 48.2 percent of total earnings in 2012.
With the help of a stock market that has more than doubled since the lows of the financial crisis, the top 1 percent of American households had pretax income of almost $400,000 last year, while the top 10 percent had income above $114,000. These figures include wages as well as capital gains from stocks and other investments.
Since stocks are most widely held among the wealthiest households, most Americans have been experiencing a less robust recovery. Yet there are several stocks investors may want to consider in order to benefit from the uneven wealth effect taking place. Here's a look at five stocks that cater to the wealthy.
Michael Kors Holdings Ltd. (NYSE:KORS)
Year to Date: 46.2 percent
The Hong Kong-based company is a rapidly growing global luxury lifestyle brand that has a presence in more than 70 countries.
In the most recent quarter, revenue surged 54.5 percent to $640.9 million from $414.9 million a year earlier. Gross profit increased 58.3 percent to $397.3 million. Shares have easily outperformed competitors Ralph Lauren (NYSE:RL) and Coach (NYSE:COH) this year.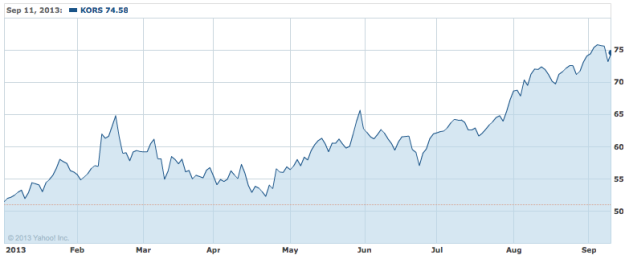 Sotheby's (NYSE:BID)
YTD: 43.8 percent
Going once, going twice, sold! Sotheby's is a New York-based company that has been in the auction business since 1744. It operates as an auctioneer of authenticated fine art, jewelry, wine, and more. With 90 locations in 40 countries, Sotheby's conducts some 250 auctions a year in more than 70 categories.
During the second quarter, Daniel Loeb's Third Point hedge fund added 2 million shares of Sotheby's to its holdings, compared to 500,000 shares at the end of the first quarter.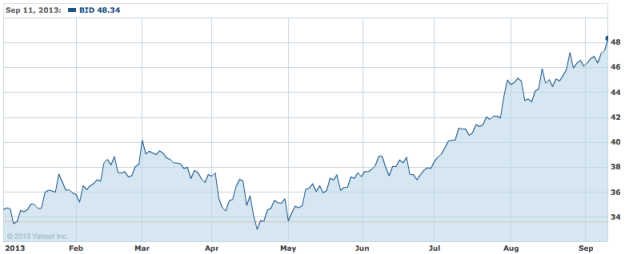 Goldman Sachs (NYSE:GS)
YTD: 29.4 percent
Let's be honest, banks will always play a major role in our society. Goldman Sachs is an American multinational investment banking firm with strong ties to the wealthy. In the most recent quarter, Goldman reported earnings of $1.93 billion on revenues of $8.61 billion.
"The firm's performance was solid especially in the context of mixed economic sentiment during the quarter," said Lloyd C. Blankfein, chairman and CEO. "Improving economic conditions in the U.S. drove client activity and the strength of our global client franchise allowed us to deliver positive performance across a number of our businesses."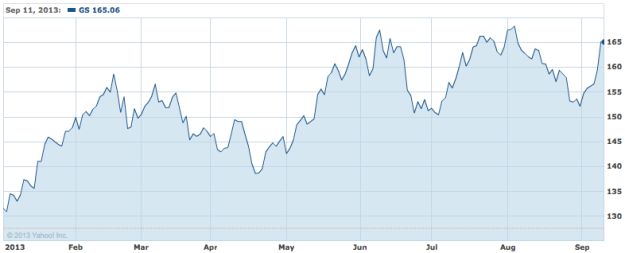 Toll Brothers (NYSE:TOL)
YTD: 0.5 percent
The Pennsylvania-based company is the nation's leading builder of luxury homes. For the three months ended July 31, the average price of homes delivered by Toll Brothers was $651,000, up 13 percent from $576,000 in the same period last year. Shares hit a fresh 52-week high earlier this year but have struggled in the wake of higher mortgage rates.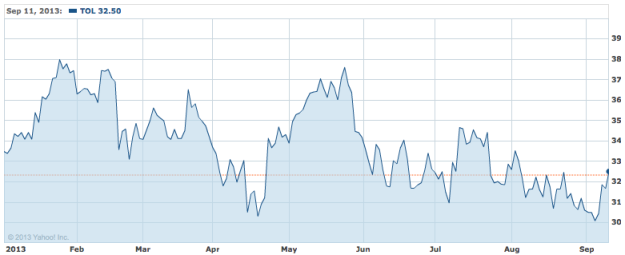 Tiffany & Co. (NYSE:TIF)
YTD: 37.6 percent
A diamond can also be an investor's best friend. Tiffany & Co. is the world's premier jeweler with a history of more than 175 years. It is based in New York City and has more than 200 stores worldwide.
Last month, Tiffany & Co. raised its full-year earnings guidance to between $3.50 and $3.60 from $3.43 to $3.53. For the quarter ended July 31, net earnings jumped 16 percent to $107 million compared to $92 million a year earlier.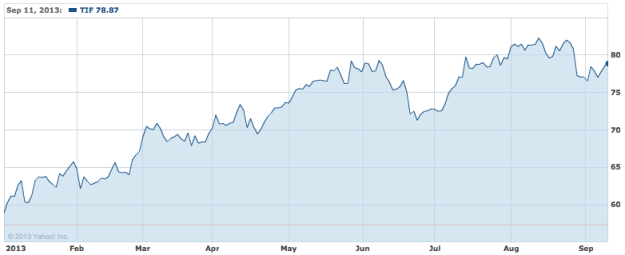 Don't Miss: Fed: Get Used to the Bubble Economy
Follow Eric on Twitter @Mr_Eric_WSCS