5 Stocks Making the Dow Look Good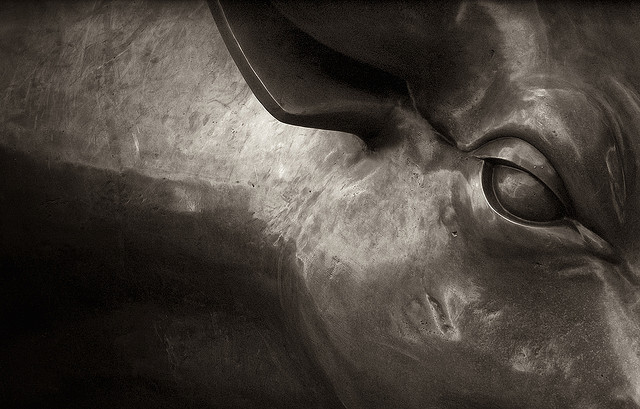 The Dow Jones Industrial Average climbed more than 110 points, or 0.7 percent, Wednesday morning — a jump that pushed the index to an all-time intraday high of 15,634.32.  It didn't stop there, as Friday it went even higher to close at 15,658.36. The gains came on the back of two better-than-expected economic releases: the U.S. Department of Commerce's first reading of second-quarter gross domestic product and payroll processor ADP's jobs report.
The second-quarter GDP figure was not overwhelmingly strong, but the fact that it beat a very dismal projection for 1 percent growth, combined with the higher-than-estimated addition of 200,000 jobs by businesses in the month of July, gave the markets hope for a stronger second half.
"For Main Street, the GDP report is downright frightening. After several rounds of quantitative easing and a somewhat sluggish improvement in the labor market, a 1.7 percent print is ridiculously underachieving for our economy," LandColt Capital managing partner Todd M. Schoenberger told USA Today. But "for Wall Street, this is terrific news. It's hard to fathom the Fed taking its foot off of the proverbial QE pedal with such a low and abysmal growth rate. It should be status quo for the bulls as the rally will continue for the rest of the summer."
The Federal Open Market Committee met Wednesday, and market fears that the central bank would decrease the $85 million monthly asset purchases were slightly eased after Chairman Ben Bernanke said the Fed would remain on track with its stimulus program. After all, the Federal Reserve's stimulus has been the primary driver of the current bull market. While Dow Jones industrials closed down 0.1 percent, failing to gain any substantial direction from the Fed's announcement, the average ended July up 4 percent — its seventh month of gains in the last eight.
At the end of the July, here's a look at the five best-performing stocks in the Dow Jones Industrial Average:
1. UnitedHealth Group (NYSE:UNH): The largest health insurer in the United States ended Wednesday up 0.8 percent, and the company's stock had advanced 34.31 percent from the same time the prior year, though the shares settled down to $72.26 Friday. Two weeks ago, the company released second-quarter earnings, reporting profit that beat analyst expectations thanks to an increase in enrollment that was large enough to overcome higher medical costs. Currently, UnitedHealth is the largest provider of private Medicare Advantage plans, with 3 million members, and the program accounted for about a quarter of the company's earnings last year. While CEO Stephen Hemsley remains "remarkably more bullish" than investors had expected, CRT Capital Group analyst Sheryl Skolnick told Bloomberg after earnings were released, a concern remains: Obamacare. The Affordable Care Act will lower reimbursements for insurers' private versions of Medicare so that they match more closely with what the government pays, and Hemsley did acknowledge that the "severe underfunding" of private Medicare plans will continue to pressure profit margins next year.
2. Walt Disney Co. (NYSE:DIS): Company shares rose 0.73 percent on Wednesday, bringing the stock's year-to-date gain to 29.85 percent. But, it didn't stop there, as it continued upward Thursday and Friday, closing at $66.51 for the week — almost $2 higher than the close Wednesday. While Walt Disney is a diversified media company with operations in five business segments, the company's movie business draws much of investors' attention, and understandably so — it is a high-stakes game. The company's film studio is dealing with the relative unpopularity of The Lone Ranger, but it did make the top-grossing moving of 2013 so far with Iron Man 3, which has raked in $1.2 billion worldwide.
3. Bank of America (NYSE:BAC): After rising as much as 2.1 percent during Wednesday trading, shares of the second-largest U.S. bank closed up 0.55 percent. Shares went even higher toward the end of the week, with the stock posting gains consistently since its second-quarter earnings were reported earlier in July. Benefiting from higher revenue from equities sales and trading, earnings beat analyst expectations. Still, cost-cutting measures were mostly responsible for the bank's rising bottom line, and it will need to find a means to grow its top line in order to maintain earnings growth. "This was a quarter in which Bank of America executed on the strategies it has laid out," Edward Jones banking analyst Shannon Stemm told The New York Times. "But it's still got work to do."
4) Home Depot (NYSE:HD): In order for home improvement stores to do well, consumers have to either buy existing homes to fix up or repair the houses they are currently living in. On that basis, the National Association of Realtors's report on existing home sales in June could be bad news for Home Depot. But despite the 2 percent increase in the inventory of existing homes for sale the report showed, the home improvement retailer's stock gained 2.81 percent in July, ending Wednesday up 0.55 percent; it had advanced 27.78 percent this year to date. Friday, it went even further, taking the stock to $80.23 — one of its highest prices for the past fifty-two weeks.
5) 3M (NYSE:MMM): The manufacturer of a wide assortment of products — from car fuel-system cleaners to Scotch tape to  Post-it Notes – posted a 0.5 percent gain on Wednesday, with an odd spike Thursday that swung back down to a slow climb Friday, closing at $118.26 . The company is known as a fairly reliable profit machine, as operating profit margins are consistently above 20 percent. But in the past few years, sales growth has been sluggish. Nevertheless, profit edged up 2.6 percent in the second quarter, the manufacturer announced Friday, and executives said that the company will pursue high-growth opportunities in the near future.
Follow Meghan on Twitter @MFoley_WSCS
Don't Miss: Watch Out Patent Trolls, Big Business Is Tired of Your Games.