5 Top Dow 30 Healthcare Stories of the Week
Here's your Cheat Sheet to the week in Dow 30 healthcare stock news:
Johnson & Johnson (NYSE:JNJ): Current price $73.92
Johnson & Johnson said that it will present its Medical Devices & Diagnostics division strategy for accelerating growth during its yearly Business Review. MD&D comprised around 41 percent of the company's total sales last year. In addition, the firm announced that it is starting an exploratory process through which to examine strategic options for its Ortho Clinical Diagnostics unit. All options will be explored to choose the best opportunity to push future growth and maximize shareholder value. The available options include a possible divestiture if it is determined that OCD could have greater potential as part of another organization whose concentration is more closely aligned with its core strengths, or by being run as a stand-alone entity.
The company  is facing somewhere around 10,000 lawsuits and has taken approximately $900 million in charges in regards to to the all-metal hip replacement parts. Analysts predict that the firm's legal liability could surpass $1  billion, says the Wall Street Journal. J&J executives found out about problems with the hip implants in 2008, the year prior to the firm's ceasing production of the joints and two years before recalling them, according to documents which were unsealed in a state court in California.

Pfizer (NYSE:PFE): Current price $27
Pfizer said that a Phase 4 study evaluating the efficacy and safety of Toviaz (fesoterodine fumarate) 8 mg once daily in patients with overactive bladder compared to Toviaz 4 mg once daily or placebo met its primary endpoint, being change in mean number of urge urinary incontinence episodes per 24 hours from baseline to week 12. Toviaz 8 mg decreased urge urinary incontinence in patients suffering with OAB statistically significantly more than Toviaz 4 mg, and the efficacy of both doses was statistically significant versus placebo. The most common treatment-emergent side effects were dry mouth, constipation and urinary tract infection.

Merck & Co. (NYSE:MRK): Current price $43.46
Merck's Oxytrol for Women, the first over-the-counter treatment for overactive bladder in women ages 18 years and older, has been cleared by the FDA. The medication will remain available for men with overactive bladder by prescription only.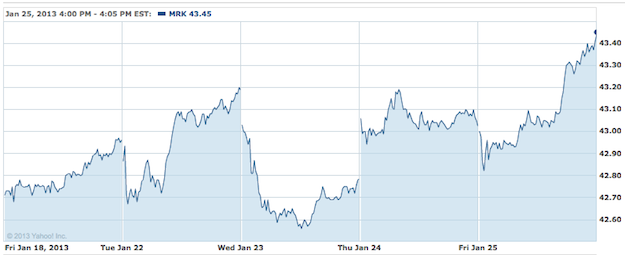 International Business Machines Corporation (NYSE:IBM): Current price $204.97
IBM's nanomedicine program, established only four years ago, has created a new antimicrobial gel designed to supplant antibiotics in combating certain drug-resistant infections, said The Financial Times, which noted that the gel is in early research stages and it is uncertain how well it might work in practical applications.