5 Top Stories Affecting Euro Bank Stocks This Week
Credit Suisse Group (NYSE:CS): Current price $30.26
United States District Judge James Graham said on Saturday that because New York state law governs apportionment of fault in the case of noteholders suing the bank in regards to fraud at National Century Financial Enterprises, Credit Suisse will be liable for 100 percent of its former Chief Executive Lance Poulsen's share of damages. Attorneys for the plaintiffs estimate that damages that could be awarded of a figure at more than $2 billion. The judge commented that "If the jury finds at trial that Credit Suisse and Poulsen each committed fraud that caused plaintiff's losses, then under New York law Credit Suisse will be liable, as to plaintiffs, for 100 percent of Poulsen's share."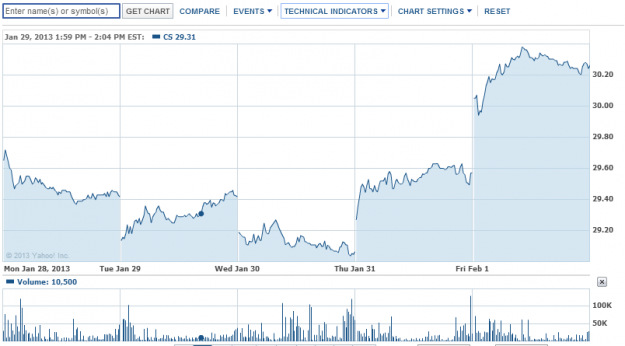 Deutsche Bank (NYSE:DB): Current price $52.70
Europe's largest lender by assets, Deutsche Bank, is altering the employment relationships with its equity analysts based in Dubai by placing them on consulting contracts, so as to avert job cuts in the Middle East, say two knowledgeable sources, who specified that between three and six analysts are impacted by the decision. The analysts will forfeit some benefits, but  they will still be eligible for medical cover and a bonus, and they will continue to provide research exclusively for the bank as before.
Europe's largest bank by assets will tell its employees, probably next week, that it will impose a €300,000 company-wide cap on bonuses being paid in 2013, according to knowledgeable sources, who also said that senior staff ("regulated" employees) will receive up to  €150,000 in cash with the remainder available in shares in August. Banks on the continent are being pressed to pull back compensation and link it more closely to performance, subsequent to large cash payouts being blamed for encouraging the type of risk-taking that led to the 2008 collapse of Lehman Brothers Holdings and the financial crisis.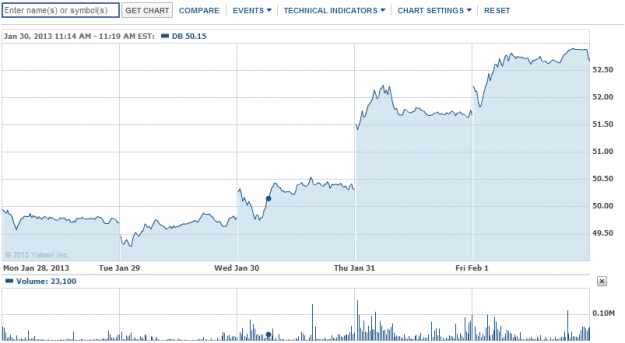 Are these stocks a buy or sell? Let us help you decide. Check out our Stock Picker Newsletter now.
The Royal Bank of Scotland Group (NYSE:RBS): Current price $10.79
American authorities want a resolution of interest-rate-rigging claims with The Royal Bank of Scotland which would result in its division pleading guilty to criminal charges along with paying a penalty, say sources briefed on the negotiations. However, RBS executives are against any sort of guilty plea, worrying that it could put off the bank's clients and also that it could increase its exposure to expensive litigation. At the same time, the negotiations show a newly tough stance by United States authorities, who do not want to be criticized for softness on white-collar crimes.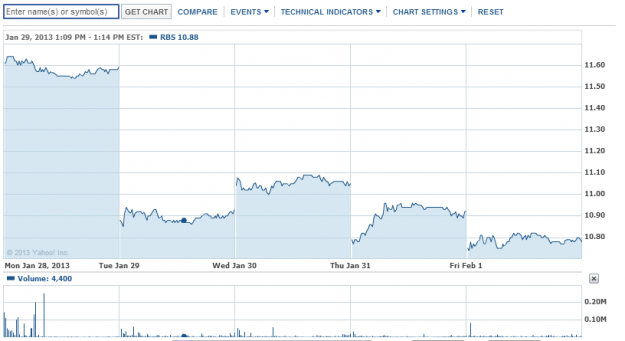 Barclays (NYSE:BCS): Current price $18.88
Authorities in the United Kingdom are examining an claim that Barclays loaned money to Qatar to invest in the bank as part of its cash call at the peak of the financial crisis in 2008, which subsequently permitted it to avert a UK government bailout. The allegations related to a loan to Qatar marks a new twist to inquiries into Barclays that the Financial Services Authority and the Serious Fraud Office have been making since the summer, according to two inside sources  to the Financial Times. If the new charges are upheld, such an arrangement could contravene market regulations if it was not properly reported at the time.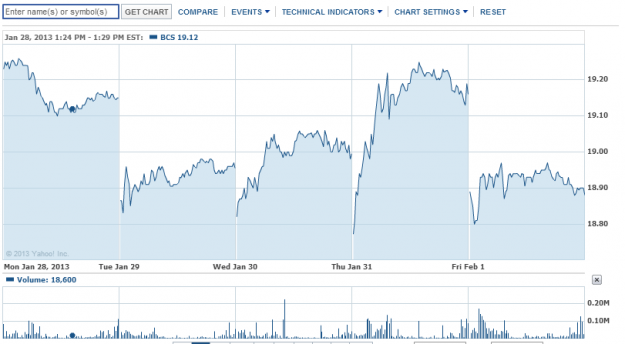 Don't Miss: Don't Expect Tightening from the Federal Reserve.