5 Ways to Eat Fast Food and Not Break the Bank or Scale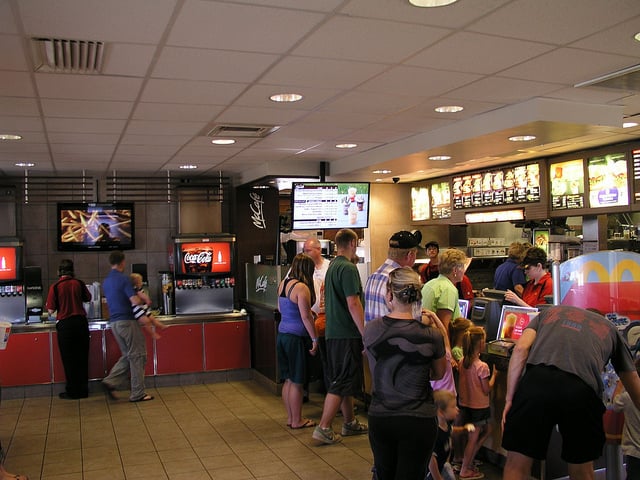 Fast food gets a bad rap, but giving in to a fast food restaurant doesn't have to mean committing to a 700 calorie-plus meal. Fast food can be many things, but it's nothing if not convenient, and sometimes pulling through the drive thru at these ubiquitous locations is unavoidable. Fast food chains are largely known for their greasy burgers and salty fries, but whether you want to believe it or not, places like McDonald's (NYSE:MCD) have things on their menus other than Big Macs.
In fact, thanks to an evolving consumer base and an increased demand for healthy food, fast food menus are now populated with healthful options more than ever, so if consumers want to eat healthy at these locations, all they have to do is ask (at the pickup window).
Today we're outlining some of the aforementioned healthy options you can now take advantage of at fast food chains like McDonald's and Burger King (NYSE:BKW), along with those at convenient restaurants like Panera (NASDAQ:PNRA), Chipotle (NYSE:CMG), and Starbucks (NASDAQ:SBUX). Next time you're in a time crunch but are still looking for some nutrition-laden fare, try these options as you roll around the drive-thru.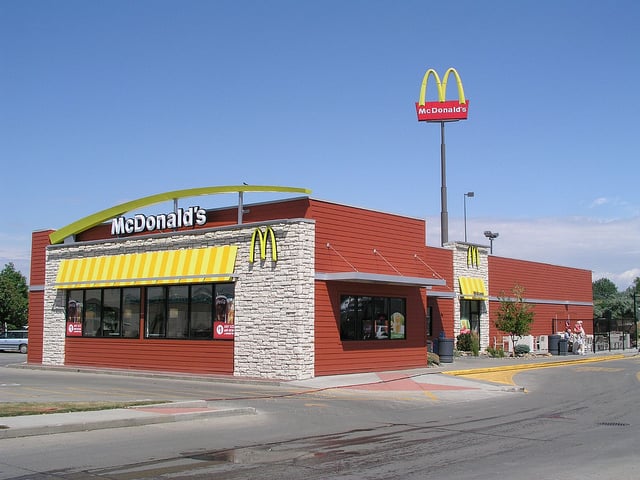 1. McDonald's
Let's pull up a chair at McDonald's first. The burger joint is most well-known for its crunchy french fries and juicy burgers, but those burgers that ooze juice also ooze calories. It's pretty obvious that no one is visiting Ronald McDonald to get in their protein requirement for the day, but one Big Mac splurge still equates to 550 calories and 29 grams of total fat — and that's quite a calorie bomb for a single hamburger.
So, if you happen to be watching your waist line the next time you frequent a McDonald's store, consider trying a premium grilled chicken classic sandwich, or a simple grilled chicken ranch snack wrap. Both sandwiches can satisfy your craving for some bread plus a piece of meat, and both come in at under 400 calories, with the chicken sandwich clocking in at 350, and the wrap making a bold statement at 270. As for the vegetarians, all of McDonald's salads come customizable, and can also be served up sans meat. The Premium Bacon Racon Salad, Premium Chicken Caesar Salad, and Premium Southwest Salad can just about cater to anyone's taste buds, and do so without making a fool out of anyone's diets. For example, taking the chicken and bacon off of the Premium Bacon Ranch with Chicken Salad equates to a 90-calorie meal, and that leaves room for more nutritious sides like apple slices and yogurt.
What's more, if you're lucky enough to visit McDonald's during breakfast time, the chain now has an Egg White Delight McMuffin that can satisfy any craving for a morning McDonald's fix, but does so with half the calories. The Egg White Delight comes in at 250 calories, and packs a significant protein punch thanks to its egg whites. If you're looking for an even lighter option, you can go for the Fruit & Maple Oatmeal or the Fruit N' Yogurt Parfait, as both boast impressive nutrition profiles and come in at 290 and 150 calories, respectively.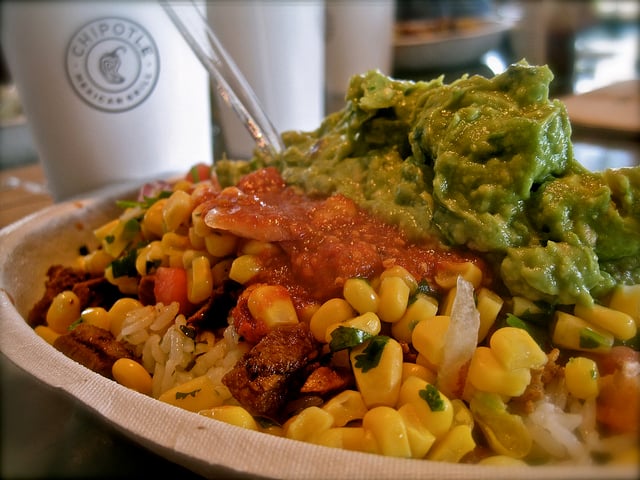 2. Chipotle
Next, we'll talk about Chipotle, as this trendy restaurant chain has enjoyed significant attention as of late, taking the fast food industry by storm. Much of the Chipotle hype centers around the chain's packed burritos and tangy guacamole, but ditching the tortilla and loading up on the veggies also makes the Denver, Colorado-based restaurant a haven for nutrition lovers as well.
The key to eating well at Chipotle is practicing restraint and passing up the calorie killers while taking advantage of the nutrition stars. Chipotle tortillas, for example, come in at 290 calories and 670 milligrams sodium, making them something to avoid if you're trying to go the low-carb route. Instead of a burrito, go for a burrito bowl or salad, as these offerings allow you to fill up on the fresh toppings and avoid the empty calories of the tortilla.
According to Shape Magazine, if you're in the market for healthy as you make your way down the Chipotle line, ask your server to pack on healthy options like salsa, beans, corn, and lettuce, but go light on the guacomole, as it is a healthy fat, but also packs a calorie punch so should be enjoyed in moderation. Other calorie disasters to look out for include the vinaigrette, cheese, and sour cream. Dressings like vinaigrette have no nutritional profile and can add an additional 260 calories onto your meal. So, Shape says choose one carb (tacos, beans, or brown rice), a protein (meat, beans, or tofu), and then add fajita veggies, lettuce, and/or salsa, preferably the tomatillo-green chili salsa since it has the lowest sodium. Then, consider guacamole or cheese, but do so with moderation.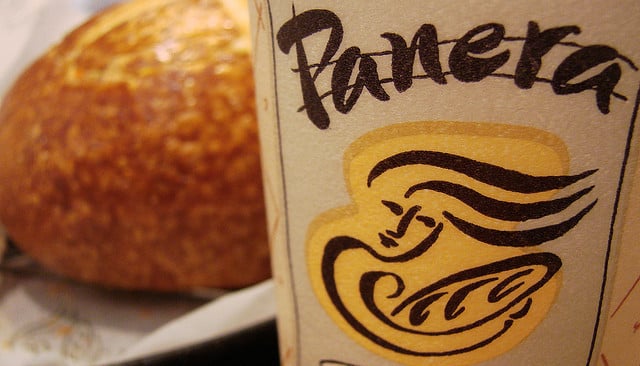 3. Panera
Next up: Panera. Panera is generally a good option when looking for a quick and affordable healthy meal, but the chain still has some calorie-packed offerings up its sleeve. For example, just because a Bacon, Egg & Cheese on Ciabatta bread has the Panera seal, doesn't mean it doesn't pack 540 calories, only 10 less than a Big Mac.
Still, Panera has its "Hidden Menu" to thank for its continued "healthy" reputation, and this food list that can be found online or requested in person boasts many nutritious and healthful offerings, including a Power Breakfast Egg White Bowl, a Power Chicken Mediterranean Salad, and Power Steak Lettuce Wraps. These 'powerful' menu items not only go easy on the calories, but they also carry a considerably impressively nutritional profile, and should be taken advantage of, especially considering Panera is not so good at keeping secrets, and will gladly hand you a Hidden Menu as long as you ask.
Even if you don't order off the Hidden Menu, the restaurant offers a variety of healthy options on its regular menu as well — you just have to be willing to forego the cinnamon bun and ask for them. So, should you be at Panera for breakfast, try their Steel Cut Oatmeal with Strawberries and Pecans. Lunch? Low Fat Garden Vegetable Soup with Pesto and half of a Smoked Turkey Breast sandwich on Country bread. Dinner: Full Roasted Turkey Harvest Wheatberry Salad, a small Rigatoni San Marzano pasta, or a full Tuna Salad sandwich on Honey Wheat bread.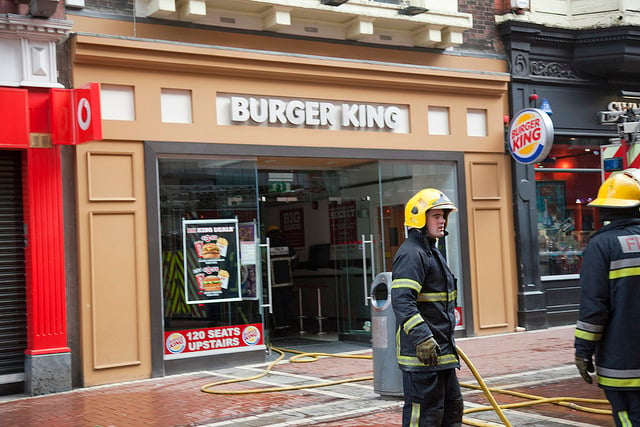 4. Burger King 
Next up we come to another iconic fast food restaurant that isn't exactly known for its healthy offerings. Burger King is better known for its burger (hence the name) rather than its salads, but as both Burger King and McDonald's have experienced slower sales on account of health conscious consumers making their way over to competitors, the chains have worked to bolster their healthy options and offer lower-calorie alternatives. Burger King made headlines earlier this year when it came out with Satisfries, the fries that have 40 percent less fat and 30 percent fewer calories than that of its rival, McDonald's, and along with the "healthier" fries, the chain now has a Veggie Burger (340 calories), a Specialty Chicken Sandwich (460 calories), a Garden Salad (25 calories without dressing), and a TenderGrill Chicken Garden Salad (220 calories).
Even if you're not in the mood for some greens or a veggie burger, the best thing you can do at Burger King is order small. The Whopper Jr and Hamburger without mayo come in at 290 calories, 12 g fat and 500 mg of sodium, while their older counterpart packs in 520 calories.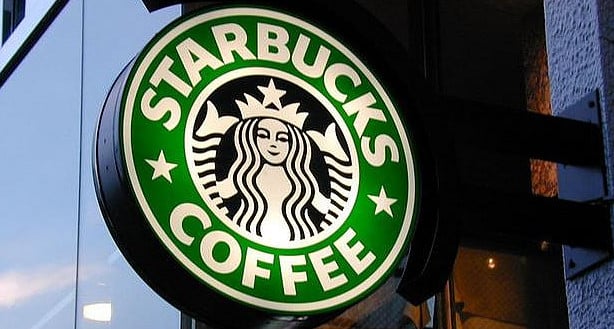 5. Starbucks
Lastly, Starbucks. More consumers visit this chain for its caffeine rather than its breakfast, lunch, or dinner offerings, but the coffee giant is still steadily increasing its food items, and more and more caffeine addicts are beginning to kill two birds with one stone by grabbing their lunch or breakfast alongside their latte fix. Starbucks markets its aromatic baked goods in a glass container for a reason, hoping to lure consumers in, but if you're trying to stay healthy, opt out of a thick slice of pumpkin bread and instead go for Starbucks' "Perfect Oatmeal," which totals between 140 and 390 calories depending on toppings.
Or, if you're in the mood for a more savory breakfast, the Spinach, Roasted Tomato, Feta & Egg White Wrap is another good option. The meal is only 280 calories and packs 19 grams of protein, along with a side of antioxidants. The wrap's sodium profile still isn't great, making up 36 percent of your recommended sodium for the whole day, but it still is a significantly better option than a bagel for breakfast or no breakfast at all.
In addition, should you be in Starbucks around the lunch hour, you can also take advantage of the chain's Bistro Boxes, which either include cheese and fruit, chicken and hummus or eggs, fruit, and peanut butter in the "protein" option. Calorie-wise, the second box is your best option, but the protein in the last offering is still hard to beat. And just in case you still have a hankering for a breakfast sandwich, Starbucks's Reduced-Fat Turkey Bacon, Cholesterol-Free Egg White, Reduced-Fat White Cheddar Breakfast Sandwich isn't bad either, coming in for a total of 320 calories.
More From Wall. St Cheat Sheet: