6 Charts to Show Facebook Can Breathe Easy for Now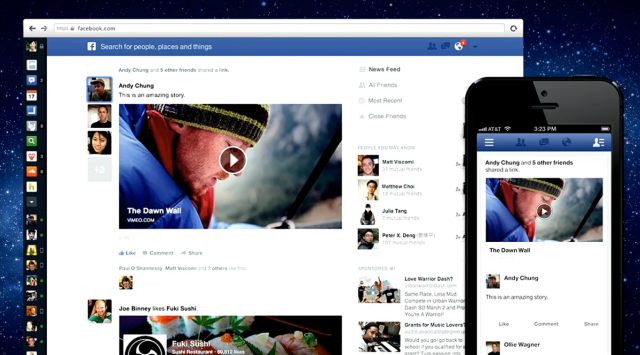 Facebook (NASDAQ:FB) has long been known as the premier social network, boasting 1.1 billion users, endless advertising capabilities, and a proven ability to adapt to the ever-evolving digital media landscape. While it is undeniable that CEO Mark Zuckerberg and his allies still run the social media world, other networks are continuing to pop up and make their presence known.
While some analysts question the longevity of Facebook's future success, others are confident that "the book" is here to stay. Regardless of the party you side with, Gigya's recent report, called The Landscape of Social Login & Sharing, sheds some light on what social media site users are still frequenting the most often, as well as where they distinguish their social identities.
Here are six charts that show Facebook is still very much on top of the game.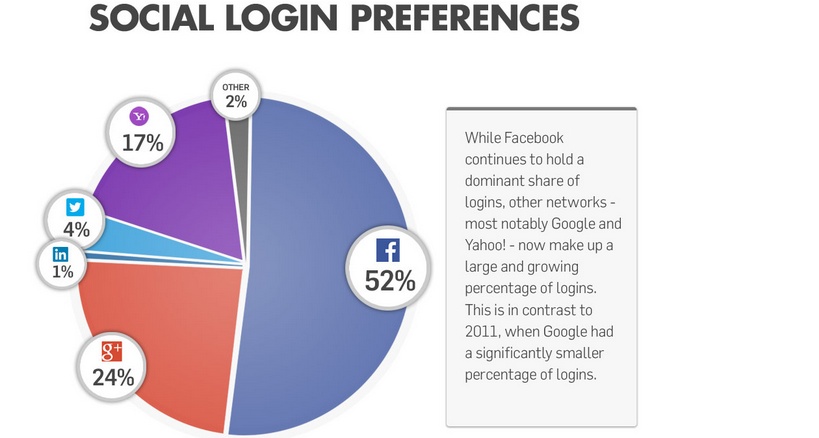 1. Social Login Preferences
Thanks to a rapidly growing digital landscape, more and more businesses are adopting a "social login" mechanism, a tool that allows users to skip the registration step on company websites and instead login with existing social identities that allow the featured companies to automatically gain permission-based data that they need from users.
This not only increases the speed and fluidity with which users can access websites, but it also offers them the chance to choose which social identity they want to be distinguished with.
The chart above reports on data from Gigya clients in the second quarter of 2013, and it reveals that 52 percent of users still choose to employ their Facebook identity when logging in to other sites. But while Facebook can breathe easy knowing it still maintains the highest majority for users' social login preferences, the graphic also illuminates that Google's (NASDAQ:GOOG) Google+ is increasingly expanding its presence in the field — successfully doubling it, in fact.
In 2011, Google had a significantly smaller percentage of logins, posting a 12 percent figure compared to the 2013 report of 24 percent. Yahoo (NASDAQ:YHOO), too, has witnessed significant social login gains, ensuring that Facebook doesn't get too comfortable with its current success.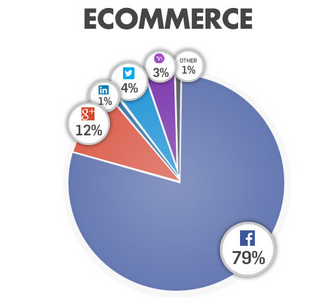 2. E-Commerce Social Login
By breaking down the above chart into smaller sections of e-commerce and media/publishers websites, we get a clearer picture of which businesses require these social logins, as well as which sectors are most likely to see their users relying on their Facebook profile and what drives them to employ other forms of identity.
The e-commerce faction is where Facebook clearly reigns as the dominant identity provider. The chart illuminates that when it comes to online retail, 79 percent of shoppers are logging into their Facebook identity instead of their Google+, LinkedIn (NYSE:LNKD), Twitter, or Yahoo ones.
As you'll soon see, Facebook boasts a much more significant majority in e-commerce traffic compared to media/publishers. However, it is still important to note that Google+ is continuing to rise in the ranks. This will likely increase in the future if Google Wallet is able to effectively take off.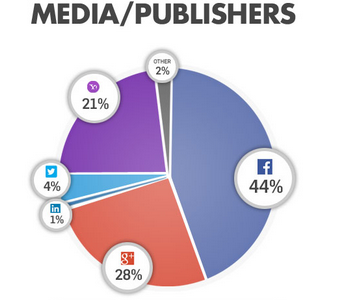 3. Media/Publishers Login
Now you can see that in the media/publishers scheme of things, users are less likely to log into their Facebook account when accessing a conglomeration of sites. While Facebook still dominates, with 44 percent of users choosing that particular social network identity, Google+ is close behind with 28 percent of user logins. Yahoo, too, is much more popular among users accessing media/publishers websites, and the rise of mobile apps will only bolster these percentages.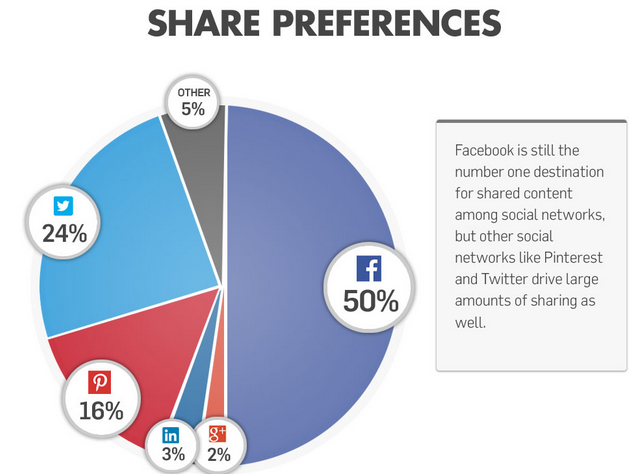 4. Share Preferences
Similar to social logins, social media users are beginning to share more content and products across a variety of social networks. While Facebook and Twitter still take the cake for most content shared vertically, other rising stars, notably Pinterest, are slowly beginning to gain an edge on the competition.
The above graphic illuminates that Facebook still commands the attention of 50 percent of users, but Twitter sits at 24 percent, and Pinterest boasts a respectable 16 percent. Credit must be given where credit is due, and that's why it is important to note that Pinterest is still a relatively new social destination — so while it doesn't yet drive large amounts of sharing as well as Facebook does, the platform is still gaining traction, while Facebook is possibly starting to slip.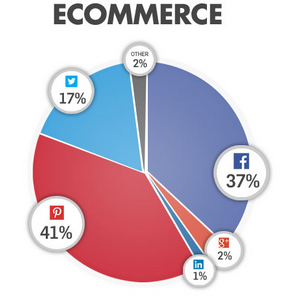 5. E-Commerce Sharing
If we break this chart down into the same sections as before, we'll actually see the opposite trends occurring in regards to e-commerce and media/publishers sharing. E-commerce sharing is the only sector where Facebook is forced to forfeit the dominant spot to Pinterest. Pinterest leads the e-commerce game with 41 percent of users sharing content and products through its site, compared to Facebook's 37 percent.
As you can imagine, this pop of sharing potential has led online retailers to view Pinterest as retail gold, and has motivated many of them to add the "Pin it" button on their sites.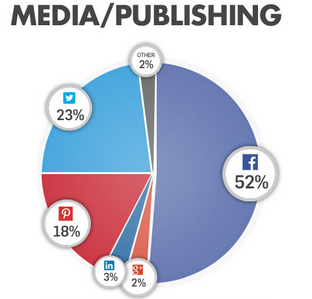 6. Media/Publishing Sharing
With the final graphic, Facebook reclaims its lead as the dominant sharing destination for media/publishing companies. Over 50 percent of clients use their Facebooks to share products and content, while 23 percent rely on Twitter, and 18 percent use Pinterest. As Pinterest continues to expand, the social media site could increase its presence in the media/publishing field — but for now, Facebook continues to command the majority.