6 Clear Signs the Housing Recovery Is Real
The real estate recovery story certainly comes with caveats such as low interest rates and inventory levels, but a number of indicators all point in the same direction: Home prices are recovering, more mortgages are emerging from underwater, and sales remain strong.
We'll go through some evidence of the recovery, but it's worth pointing out that several industry watchers are growing cautious of all the upward movement. "Enjoy it while it lasts," commented Zillow Chief Economist Stan Humphries in a press release in June, "because the housing market will undoubtedly look very different a few years down the road from how it appears now… While we believe the housing recovery will remain strong, home value appreciation will slow down, and buyers in it for the short term could get burned if they assume home values will continue rising as they have unabated."
With that in mind, here's how the housing market is doing:
1) New home sales are rising
The U.S. Census Bureau reported at the end of June that purchases of new homes, measured by contracts signed, increased 2.1 percent to a seasonally adjusted 476,000-unit annual pace in May, compared to the revised April rate of 466,000 units. That was the best level since July 2008. Home sales were up 29.0 percent compared to a year earlier.
The seasonally adjusted estimate of new houses for sale at the end of May was 161,000 units. This represents a supply of 4.1 months at the current sales rate, near record lows. The all-time high for supply hit 12.1 months in January 2009.
The Commerce Department also reported that the median sales price of new houses sold last month was $263,900, higher than $239,200 a year earlier, but down from the record high of $271,600 in April. The average sales price came in at $307,800 for May. Although low interest rates and inventory levels have been supporting the real estate market, the average sales price of $279,900 in March was the lowest since June 2012.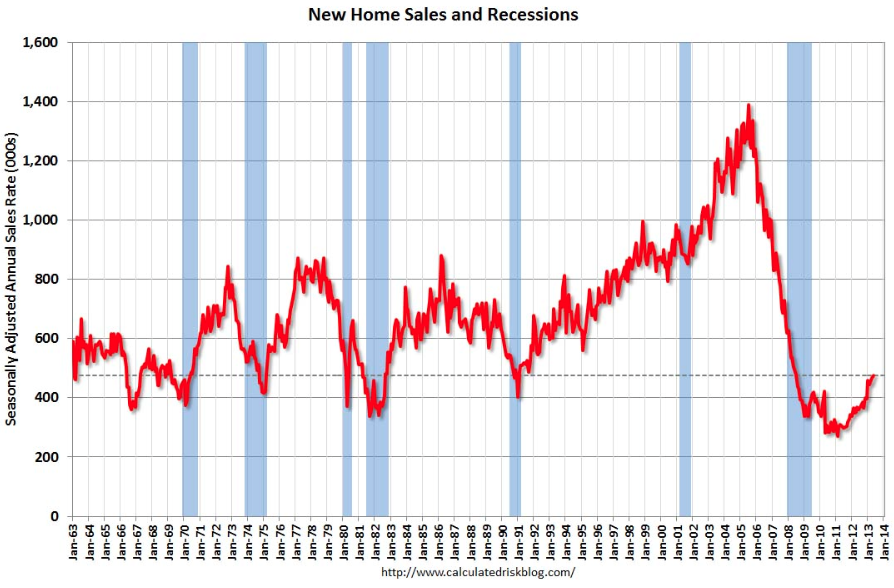 2) Home prices are increasing rapidly
Short supply, record-low mortgage rates, and an improving job market combined to boost housing demand and spark a resurgence in home prices in April. Home prices increased more than expected in the twelve months through April, posting the highest annual gain in more than seven years and showing further strength in the United States housing market.
The latest reading from the Standard & Poor's/Case-Shiller Home Price Index showed a 12.1 percent increase from April 2012, the biggest year-over-year gain since March 2006. April's gain built on the 10.9 percent increase reported the previous month, evidence of the growing strength in that sector of the economy.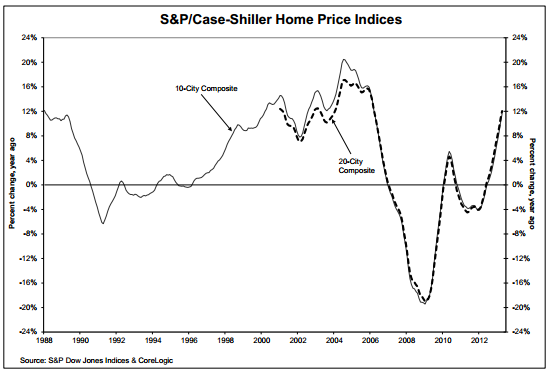 3) Encouraging Federal Housing Finance Agency numbers
According to the latest Federal Housing Finance Agency report, prices increased 0.7 percent on a seasonally adjusted basis in April, compared to the previous month. The agency also revised March's 1.3 percent gain to 1.5 percent. The House Price Index has now logged 15 consecutive monthly price increases.
For the 12 months ending in April, domestic home prices jumped 7.4 percent. The FHFA index is back to January 2005 levels, but still remains 11.7 percent below its April 2007 bubble peak.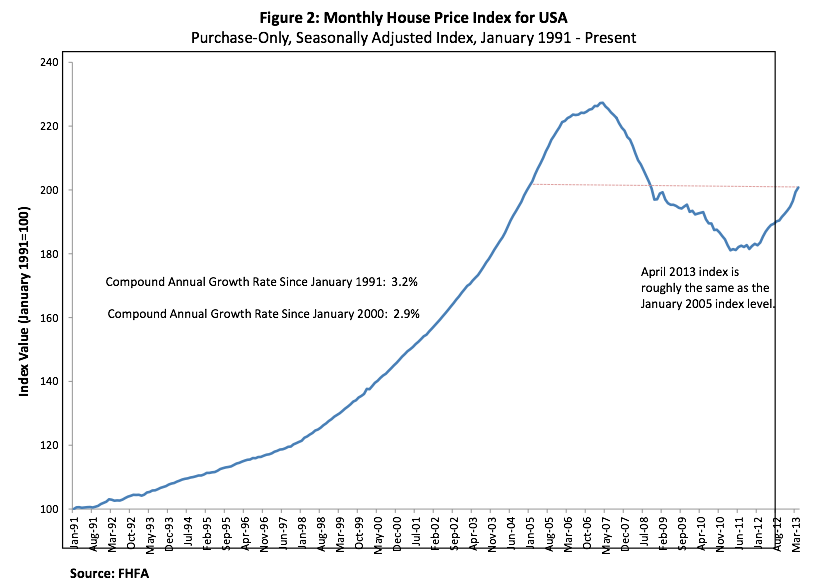 4) Existing home sales are going up
Total existing home sales — completed transactions that include single-family homes, townhomes, condominiums, and co-ops — increased 4.2 percent on the month in May to a seasonally-adjusted annual rate of 5.18 million. May's SAAR is 12.9 percent above the year-ago period, and is the highest level since November 2009.
The NAR report points out that distressed homes — foreclosures and short sales — still accounted for 18 percent of sales in May. This is unchanged from April, but is even with the lowest rate of distressed sales since October 2008, when distressed sales tracking began. The overall reduction in distressed home sales has also played a role in median price increases.
5) Pending home sales are jumping

The Pending Home Sales Index, a forward-looking indicator based on contract signings, jumped 6.7 percent to 112.3 in May, compared to 105.2 in April, according to the National Association of Realtors. The index is now at its highest level since December 2006, and topped estimates calling for an increase of only 1.0 percent.
Compared to last year, the index is 12.1 percent higher. Pending sales have now been above year-ago levels for 25 consecutive months. An index reading of 100 equals the average level of contract signings during 2001.
6) Fewer homes have underwater mortgages
To round it all out, CoreLogic, a leading residential property information, analytics and services provider, reported recently that the number of underwater homes declined by 850,000 in the first quarter.
A home is underwater or upside down when borrowers owe more on their mortgages than their homes are worth. If people borrow money against the equity in their homes, a decline in the value of their home can quickly drive them underwater. This was a major problem during the financial crisis and the collapse of the housing bubble.
But now that home prices are increasing, more and more people are emerging from negative equity. At the end of the first quarter, there were 9.7 million properties with negative equity, or 19.8 percent of all residential properties with mortgages. This is down from 10.5 million, or 21.7 percent of properties, at the end of the fourth quarter.
Don't Miss: Manufacturing Outlook Darkens as Growth Slows.