6 Earnings Reports You Need to Know on Wednesday
Time Warner (NYSE:TWX) shares jumped 4.10 percent today after a strong earnings report that showed net income up a whopping 51 percent in the last three months of 2012, even with revenue largely unchanged.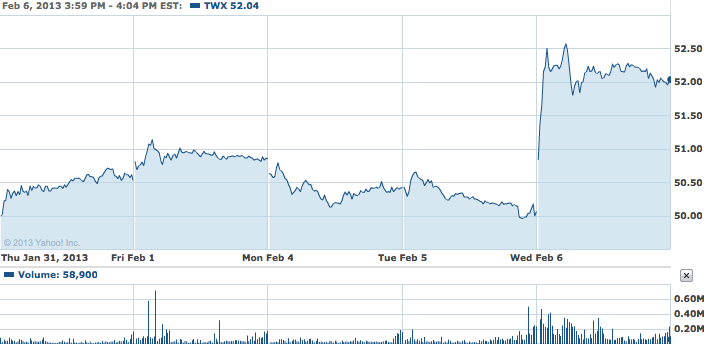 Marathon Oil (NYSE:MRO) didn't have as strong a showing — after reporting that fourth-quarter net income fell 41 percent, thanks to higher exploration costs and taxes, shares fell 0.92 percent.

Green Mountain Coffee Roasters (NASDAQ:GMCR) shares plunged over 9 percent in after-hours trading today following the company's earnings report, forfeiting recent gains after climbing 3 percent during regular trading just on Wednesday. Net income was up from the year-ago period, as were sales, and the company raised its full-year forecast for adjusted income, while adjusted earnings beat analysts' expectations at 76 cents, versus 65 cents. The one dark cloud were sales, which came in only slightly above expectations. Apparently investors were looking for a bigger win than they got.

Ralph Lauren (NYSE:RL) shares surged today after the clothing company reported a 27 percent increase in income this morning. It seems the recession hasn't hit the designer label's affluent clientele, as U.S. sales were strong and trends improved in Europe.

Disney (NYSE:DIS) rose 0.4 percent to a record high of $55.50 after posting profits that exceeded Wall Street's expectations.

News Corp. (NASDAQ:NWS)(NASDAQ:NWSA) shares tumbled in after-hours trading, continuing a trend established during regular market hours today. Citing strong growth at its cable networks, the media conglomerate said revenue rose 5 percent to $9.43 billion for the October-December quarter, beating Thomson Reuters I/B/E/S analysts' expectations for $9.28 billion.

Investing Insights: Will Disney's Magical Ride Continue?