6 Sobering Facts That Have Beer Makers Worried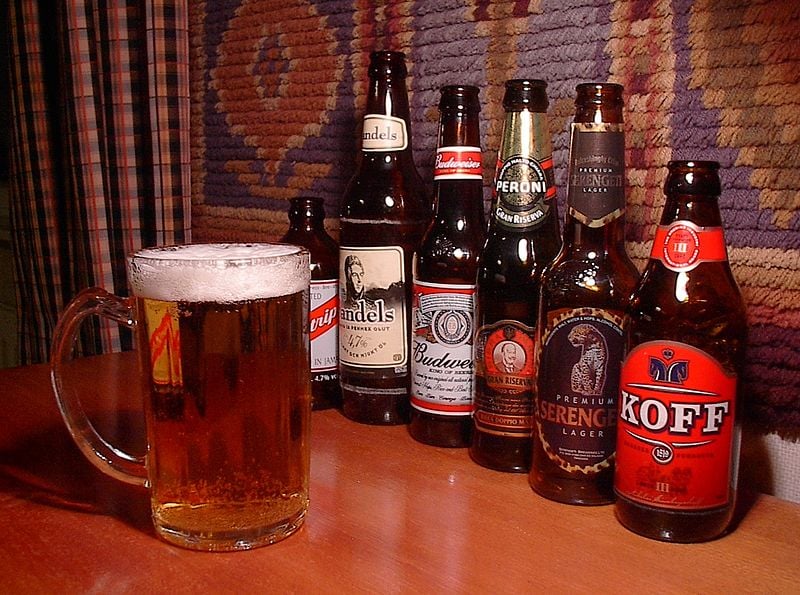 Poor earnings reports and allegations of bribery from the beer industry's largest brewers are enough to make any investor crack open a cold one. Although there have been many reasons put forward for this year's less-than-lucrative spring and summer sales figures, some statistics are wearing on beer makers more than others. But while bad weather and a recovering economy have been the primary factors cited for consumers reporting themselves as less willing to pay for their beer buzz, new reports from Consider Edge Insight and Gallup are offering other insights that are beginning to sober up brewers even further.
Here are six facts uncovered by these reports that can spoil just about any good party:
1. Bye Bye Light Beer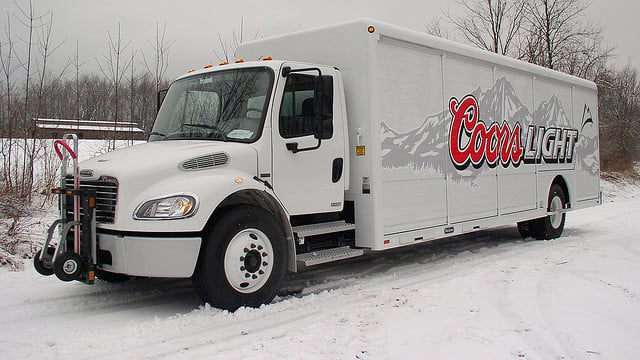 Light beer maintains a dominant grip on the beer industry, as CNBC highlights that the top two best-selling beer brands, Anheuser Busch's (NYSE:BUD) Bud Light and Molson Coors's (NYSE:TAP) Coors Light make up 27 percent of the market. But while the premium light segment has long attracted both male and female carbonation fans after a light buzz, a new report from Consider Edge Insight illuminates that drinkers are now shifting away from that segment, not necessarily because they can't afford it or because they don't think it's good for their health, but because they are "getting tired of the taste."
Well, shoot.
It is then obviously of concern to light-beer brewers that 27 of the respondents from Consumer Edge's survey report that they are losing their taste for the light offering, and the second most popular reason cited, that they are "consuming more of other types of beer," is just slightly less disconcerting.

2. Taste Test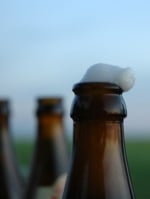 Other reports from that same survey also illuminate how beer drinkers' taste buds are changing, and not for the benefit of brewers.
While 28 percent of beer drinkers noted a premium light brand as their favorite in June 2013, 32 percent named one in the same month a year earlier. That reflects the change in belief that beer in the premium light segment once "[tasted] great," but now tastes "watery." Thirty-seven percent of drinkers now describe the premium light segment as "watery," compared to 34 percent last year.
And to make matters worse, now only 30 percent of drinkers think that beer in the premium light segment is "tasting great," according to June 2013 data, while 33 percent of drinkers believed so last year in June.
So is the taste of beer really changing, or are consumers' taste buds to blame? David Decker, President of Consumer Edge Insight, believes the latter explaining, "After a long period when these domestic premium light brands dominated the US beer industry, many beer drinkers, particularly younger ones, are finding that they prefer the stronger and more varied tastes of imports and craft beers instead."
3. Downward Spiral
Unfortunately for brewers, another report by Gallup doesn't soften the blow to beer makers much better than what Consumer Edge Insight had to offer.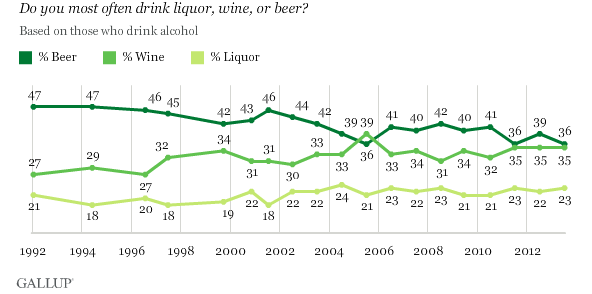 Its most recent poll found that 36 percent of American alcohol drinkers check beer as their beverage of choice, while 35 percent choose wine. And though this might seem like a narrow victory for brewers, close inspection of Gallup's chart illuminates that this percentage actually represents anything but a victory for the beer industry.
Back in 1992, 47 percent of alcohol consumers chose beer as their drink of choice, while only 27 percent chose wine. That reflected a 20 percentage-point advantage that brewers held over vintners, so now that beer only holds its ground with a 1-percent lead, brewers might have more and more reason to worry. And it looks like they should focus on the younger generations to make sure the current trend isn't perpetuated…
4. Young Winos
…but they might be a little late, because while 71 percent of young adult drinkers used to report that they drank beer most often, now only 41 percent of that age group makes the same claim. And while only 14 percent of adults under age 30 in the early 1990s checked off that they preferred wine, that number is now up 10 percentage points to 24 percent.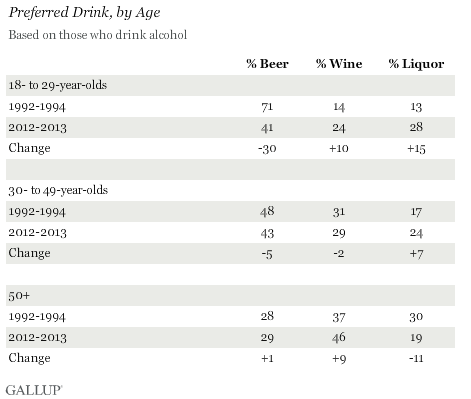 Young adults also now really seem to like their drinks strong, as only 13 percent were down for the hard stuff in the 1990s, but now 28 percent of them are more than game.
5. Male Loyalty on the Decline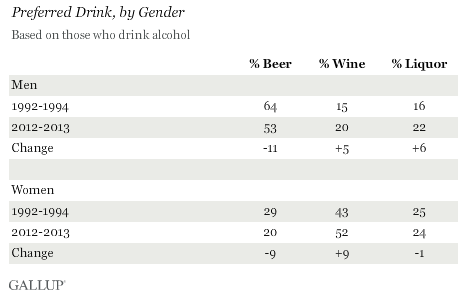 In addition, despite brewers counting on their loyal male comrades to keep them in the game, more Gallup statistics demonstrate that they shouldn't bet all their money on this gender, because even men's tendency to report beer as their drink of choice has been on the decline since the early 1990s. About 64 percent of men were loyal to the brew in the 1990s, while that figure is now down 10 percentage points to 53 percent. Women are also less likely to reach for a beer, as 29 percent preferred the carbonated beverage over wine or liquor in the 1990s, while now only 20 percent make the same claim.
6. Poor Earnings Reports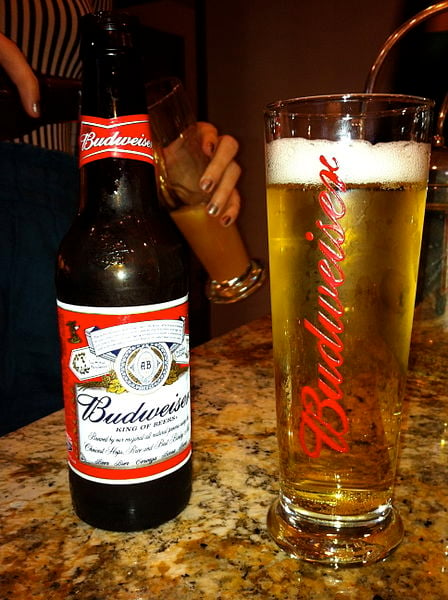 And as sobering as these survey reports are, they at least provide explanation as to why the big name brewing companies such as Anheuser-Busch and Molson Coors Brewing saw such significant declines in their second-quarter earnings reports.
CNBC highlights that Anheuser-Busch suffered a 2.8-percent sales decline in U.S. sales in the second quarter, and U.S. domestic sales were also down 4.4 percent for Molson Coors Brewing. And while both brewers have been able to offset greater losses with higher profits, their forecasts are continuing to suffer. To round it all out, Mexico has impost sales caps on sales of certain beer brands.
Don't Miss: From Payroll to Payday Loans, Wal-Mart Wants to Be in Your Wallet.