7 Board Games That Help Kids Understand Money
Board games are a great go-to when families are looking for a rainy day activity. But they can do much more than provide your family with a night of entertainment. In fact, while your kids are having fun, they could be learning important financial lessons without even realizing it. Looking for a game that'll show your child money doesn't grow on trees? Check out these seven games designed to teach your kids about money management and the value of a dollar.
1. Cashflow 101
This game's financial lessons include teaching players how to take charge of their personal finances, understand cash flow and learn about the importance of investing. Cashflow 101 delves into some of finance's more complicated topics, so play this with kids ages 14 and older.
There's also Cashflow for Kids, which can be played by kids as young as 6 years old, according to Money Crashers. What can you expect your kids to learn while playing this game? They'll start to learn about the basics of investing, the difference between assets and liabilities, the importance of understanding a financial statement, basic personal accounting, and advanced investment techniques, including real estate investment strategies and short-selling stocks.
2. Monopoly
The ultimate Monopoly goal is to accumulate properties and become the richest player. How do you get to that point? Similar to real life, you can only win if you invest right, budget and spend smart.
The Simple Dollar writes that it teaches kids about investments, emphasizing investments earn income. In order to win, players must spend money on a property. As the game progresses, they witness that property generating income, allowing them to continue purchasing more properties. It also forces them to plan. They can't spend all of their money on properties, because they can easily land on a spot that requires they pay taxes or some other expense. It's a great way to start instilling in your kids the importance of an emergency fund.
3. The Allowance Game
The Allowance Game by Lakeshore Learning Materials teaches kids the basics of counting, earning, and spending money, according to Answers.com. It's designed for kids between the ages of 5 and 10. As the kids play, they're able to earn money when they land on spaces that say "mow the lawn" or "walk the dog."
It then teaches responsibility with scenarios such as "I forgot to do my homework," which causes the player to lose a turn. It also teaches kids just how quickly their hard-earned money can go when they're forced  to spend some of it buying a gift or paying for an overdue library book.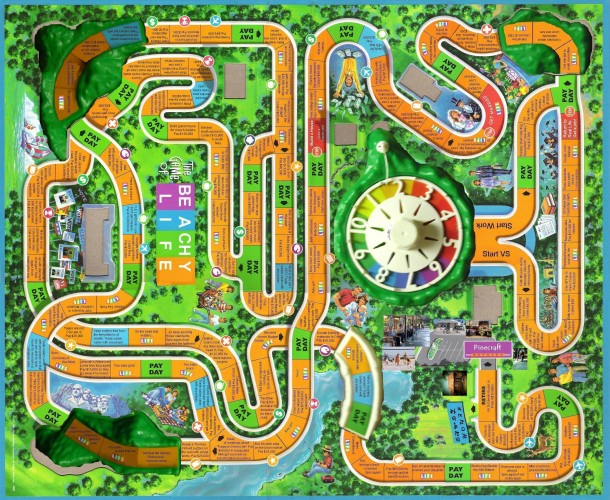 4. The Game of Life
If you think your kids need a lesson in real life finances, this game will educate them on the various expenses that pop up throughout life, per U.S. News & World Report. Players witness life's expenses first hand as the game walks them through major life events such as going to college, getting married, having kids, working, and retirement.
Ally Bank writes that this is a great way to teach kids about the importance of planning for the future. At every turn, the board game forces players to make decisions that directly impact their route and the outcome of the game. For example, at the beginning of the game, players can choose between taking the business route or going to college. Kids are then forced to weigh the pros, cons, and long-term impacts of each choice.
There are also many opportunities to discuss insurance throughout the game. Your child will have to choose whether they want auto, fire, and life insurance. Have them carefully consider the benefits and risks of each while playing, using it as an opportunity to educate them on insurance.
5. Millionaire Maker Board Game
For kids 10 and up, this game teaches kids (and adults) about real world wealth-building skills. This game boasts it can make players a millionaire in three to five years, per Kasasa.  You don't need to play it in hopes your child will become rich overnight, but you can use it to teach them about being an entrepreneur and making sound financial decisions.
The game describes itself as an opportunity to live as the wealthy do. According to its description, "You can kiss your W-2 job goodbye and live the life you want to live, not have to live. Model your dream business after a successful mentor's. Buy a six-unit apartment building. Purchase a share of an oil well. Get sued by a disgruntled employee. Like real life for an entrepreneur, the game is filled with opportunities and challenges."
6. Payday
This is a great way to teach your kids the low-down on budgeting and monthly expenses. The board is set up like a 31-day calendar, and players move around it, all while dealing with loan payments, bills, unexpected expenses, cash windfalls, and other financial issues that pop up on any given month, writes Money Crashers.
Made for kids ages 8 and older, this game can be played for as many "months" as you'd like. The player with the highest net worth wins. While playing, kids begin to understand the importance of evaluating cash flow, totaling expenses, making payments, budgeting, and the importance of establishing an emergency fund. Who knows? Maybe after a round or two, you'll see them budgeting out their weekly allowance.
7. Puerto Rico
For ages 12 and up, the goal is to collect the most assets before the island runs out of workers, the capital is civilized, or the market has geared up to full capacity, according to The Simple Dollar. The game is set up so each player is a capitalist on the island nation of Puerto Rico, back when it was first discovered by Europeans.
What will your child learn? First, they'll begin to understand that a successful business always has some cash on hand. In order to develop the city, you have to invest. But if you invest in everything, there are sure to be some failures along the way. It's their job to figure out if an investment is worth the risk, while ensuring they still have some back-up cash.
The Simple Dollar writes that it also teaches players a successful business invests in itself at the right time. For example, early in the game you may need buildings that will support farms. But later on, you may need to purchase buildings that will serve an entirely different purpose. Basically, it teaches everyone how to manage changes in the marketplace. Through it all, your child will gain a sense of what it takes to get a full economy up and running.
More from Wall St. Cheat Sheet: