7 of the Highest-Paying Jobs in the Highest-Paying Fields
Curious about the highest-paying careers in the U.S.? The most recent Occupational Employment Statistics survey conducted by the Bureau of Labor Statistics reveals just who is rolling in the big bucks. The BLS survey reflects May 2013 salary and employment data that was gathered from more than 1 billion businesses. Medical professionals lead the way by a long shot, filling four of the top-five highest paying gigs; however, those in dentistry also seem to be holding their own. Here is a snapshot of seven of the highest-paying careers in the U.S.
Anesthesiologists
While many physician and surgeon positions found a place on the Bureau of Labor Statistics highest-paying jobs list, anesthesiologists were ranked as the No.1 paying job, with an average annual salary of $235,070, according to a Bureau of Labor Statistics' Occupational Employment and Wage Estimates survey. The 30,200 anesthesiologists in the U.S. earn, on average, $113.01 an hour. An anesthesiologist is responsible for the safety and well being of patients before, during and after surgery, according to the American Society of Anesthesiologists. It requires a four-year undergraduate college degree, four years of medical school, and a four-year anesthesiology residency program. More than 40 million anesthetics are administered every year in the U.S., and anesthesiologists participate in about 90 percent of those procedures, according to the ASA.
Surgeons
Ranking second on the list of highest paying jobs, they have an average annual salary of $233,150 and earn an hourly wage of $112.09, according to the survey. Defined as physicians who treat diseases, injuries, and deformities by invasive, minimally-invasive or non-invasive surgical methods, there are 41,030 surgeons employed within the U.S. But, the comfortable income does come with a price. According to Medscape, burnout, known as a syndrome of emotional exhaustion, is a serious problem among U.S. surgeons.
In June 2008, members of the American College of Surgeons were sent an anonymous survey, which evaluated demographic variables, practice characteristics, career satisfaction, burnout, and quality of life. Of the approximately 24,922 surgeons surveyed, 7,905 (32 percent) responded. "Responders had been in practice 18 years, worked 60 hours per week, and were on call 2 nights/wk (median values). Overall, 40% of responding surgeons were burned out, 30% screened positive for symptoms of depression, and 28% had a mental QOL score > 1/2 standard deviation below the population norm," according to the Medscape survey. Only 36 percent of the surveyed surgeons felt their schedule left enough time for a personal life.
Orthodontists
Defined as those who examine, diagnose, and treat dental and facial irregularities and oral cavity anomalies, a career as an orthodontist is another high-paying gig. Ranked fifth on the BLS survey (slots three and four were filled by other physician careers), orthodontists have an average salary of $196,270, making $94.36 an hour. There are 5,570 employed throughout the U.S.
What are some of the perks of the job? You get to help improve your patients' appearance by helping to fix the shape of their lips, neck and jaw, which improves their confidence and makes it easier for them to maintain proper dental hygiene, according to eHow. In addition, you can expect a fairly reasonable work schedule, working between 35 to 40 hours a week on average, says eHow. Keep in mind: A few must-have qualities for an orthodontist is being a people person (since you'll be working with them all day) and being able to work well with your hands – you'll being using very specialized tools on the job, according to Healthcare Careers.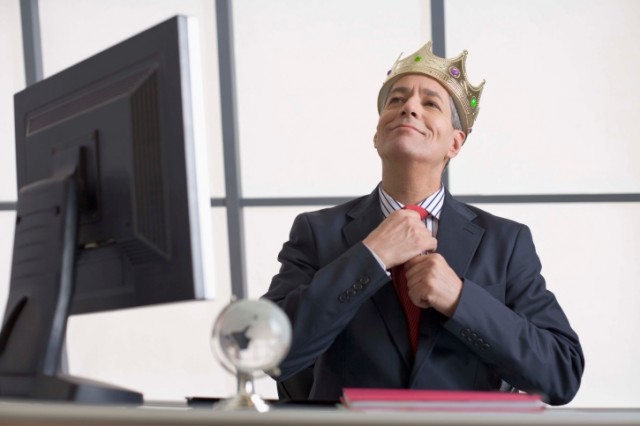 Chief executives
Following an additional smattering of other physician and surgeon positions, chief executives rank No. 11 on the BLS survey. The BLS describes a chief executive as one who determines and formulates policies and provides an overall direction for a company using a set of guidelines typically set by a board of directors or similar governing body. On average, the 248,760 executive's make $178,400 annually, or $85.77 an hour.
What does it take to be a chief executive? "There are no laws stipulating that chief executives must have attended college or that they must have a master's degree. However, very few people make it to the top of the corporate ladder these days without some sort of formal education," writes Investopedia. Typically, chief executives will have a business degree, or one in economics, management, finance or another business-related discipline. They're also good communicators, able to present a well-thought out company vision to employees, according to Investopedia. This is also a position that requires experience – be prepared to work your way up the ladder, gaining senior-level management experience as you go.
General dentists
As a comparison to orthodontists ($196,270), the 96,000 general dentists in the U.S. make $164,570 on average each year, or $79.12 an hour, according to the BLS. What's the difference between an orthodontist and general dentist? General dentists help to resolve problems and oversee preventative and customary oral care, according to the Houston Chronicle. They "provide routine periodic teeth cleaning, checkups, X-ray reviews and instruction on how to care for teeth. They also remove problem teeth, fill cavities, repair cracked and broken teeth and make models for dentures."
General dentists often refer patients with alignment issues to orthodontists. Both careers require a bachelor's degree at a four-year college, as well as dental school, which are four-year doctorate programs. However, orthodontists are also required to serve a residency in orthodontics for two or more years, the Houston Chronicle writes.
Petroleum engineers
The 34,910 petroleum engineers make, on average, an annual salary of $149,180, or $71.72 an hour. They play a huge role in the drilling process, ensuring everything runs smoothly and no mishaps take place. CNN Money writes that petroleum engineers have become "hot commodities as new oil and natural gas production sites open up across the U.S." As for quality of life ratings, CNN Money gives it an "A" for personal satisfaction, a "C" for low stress, a "B" for benefit to society and a "C" for flexibility.
Interested in this fast-growing career? You'll need a bachelor's degree in petroleum engineering, which takes four years and involves classwork, fieldwork and lab work. According to the Houston Chronicle, some engineering schools also offer a five-year combined bachelor's and master's degree program, while others offer a six-year program that involves some work experience.
Architectural and engineering managers
The 183,430 managers are responsible for planning, directing and coordinating activities in the architecture and engineering fields. They make an average annual salary of $136,540, or $65.65 an hour. You'll regularly apply math and science to solve problems, and you'll help oversee a team of engineers, architects, and construction workers, writes Education Portal.
This is also a career that should provide ample opportunities for those hoping to enter the field. According to Diploma Guide, architectural engineering is subdivision of civil engineering, a field that is expected to see employment growth of 19 percent though 2020. It also offers flexibility – engineers trained in one area typically have access to jobs in related areas as well.
More from Personal Finance Cheat Sheet: