7 Reasons Amazon's Beating Retailers (And What Retailers Can Do About It)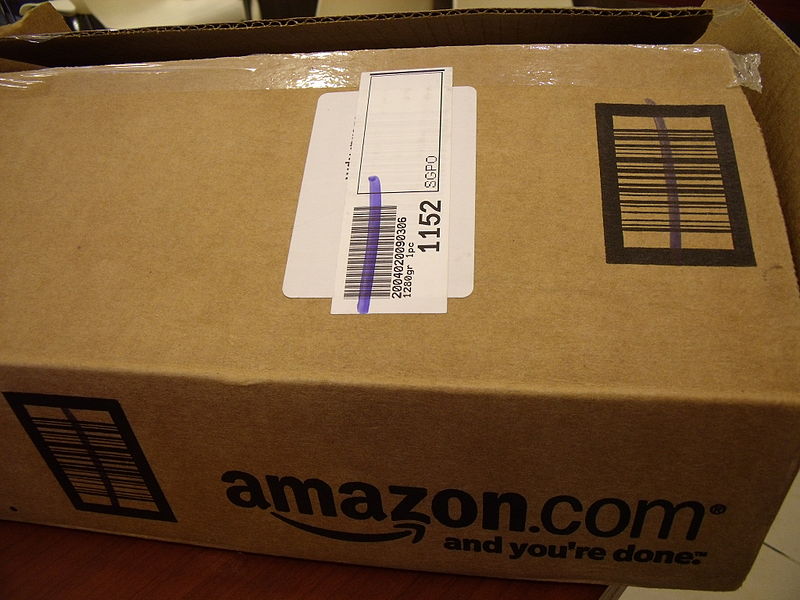 A recent study from Parago on the practice of "showrooming," or looking up items on Amazon (NASDAQ:AMZN) to price compare while shopping in brick-and-mortar stores, shows the practice has risen 400 percent in the past year. Here are seven reasons Amazon's been so successful at stealing business from physical stores and what retailers can do to combat it.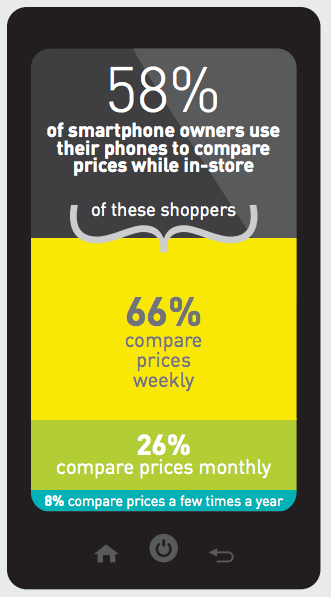 1. The Rise of Smartphones
According to a Pew Internet Study cited by Parago, 56 percent of adults now own smartphones, the tools allowing people to showroom while shopping.
The Parago study found that 58 percent of the people surveyed said they regularly look up products they're thinking of buying online while shopping, and if there's a discount — even one as small as $5 — they're more likely to buy the item using their smartphone than they are to pay extra for the one in store.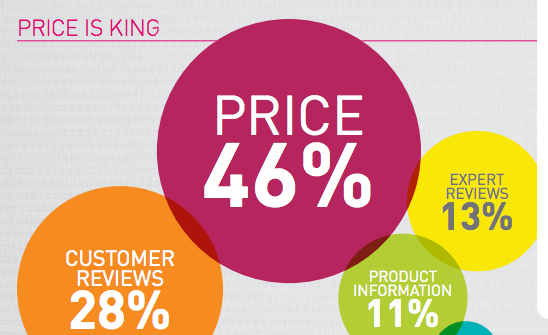 2. Price
A huge corporation like Amazon can afford to offer discounts on products that traditional stores cannot, in addition to offering free shipping to Amazon Prime members or on any order over $25. Forty-six percent of customers said that price was the No. 1 reason they comparison shop online while in a physical store.

3. Customer Reviews
Customer reviews came in as the second most important reason consumers comparison shop using Amazon, with 28 percent saying reviews were the biggest reason they chose to comparison shop online. Amazon takes advantage of the site's popularity by encouraging customers to write reviews on an item they've purchased, and potential customers take those reviews into account when thinking about purchasing an item.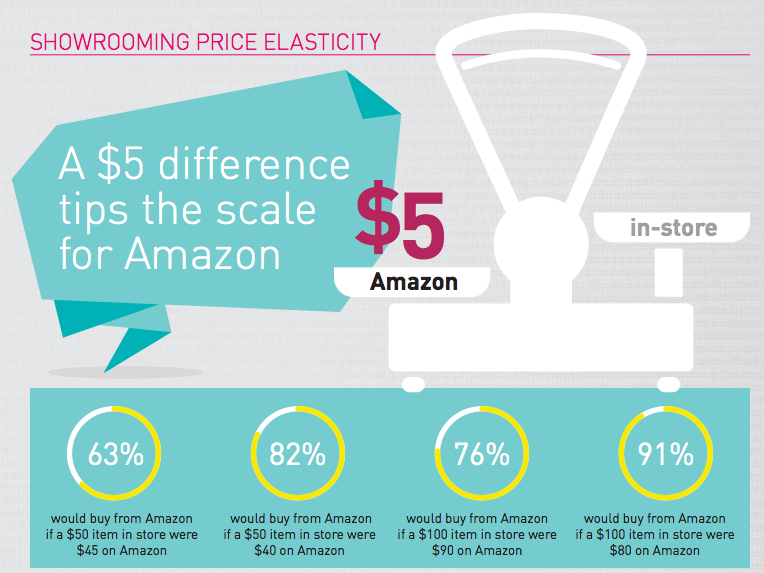 4. The $5 Difference
It only takes a price difference of $5 to tip the scale in favor of Amazon. Sixty-three percent of customers surveyed said they'd rather purchase an item from Amazon for $45 than pay $50 in-store, and 91 percent said they'd rather pay $80 for an item from Amazon than purchase that same item for $100 in-store.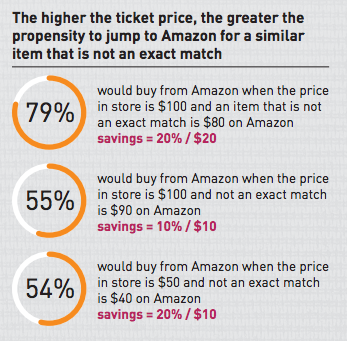 5. Customers Will Buy an Item From Amazon That's Not an Exact Match
In addition, the study found that customers were willing to purchase a cheaper item from Amazon that was not an exact match for the item they looked at in store. The more expensive an item is, the more likely customers will jump to Amazon for a product even if they can't find an exact match. Eighty-eight percent of customers surveyed said they'd rather buy a similar item from Amazon for $475 than pay $500 for the exact match in store, a savings of just 15 percent.

6. Amazon Is King
Amazon dominates the e-commerce industry, and customers are twice as likely to comparison shop using Amazon than they are the next most common option, Google (NASDAQ:GOOG). Fifty-six percent of customers said they most frequently comparison shop using Amazon, compared to 26 percent who use Google most frequently. Social media came in last place, with just 11 percent of customers saying they used social media sites like Facebook (NASDAQ:FB) to comparison shop.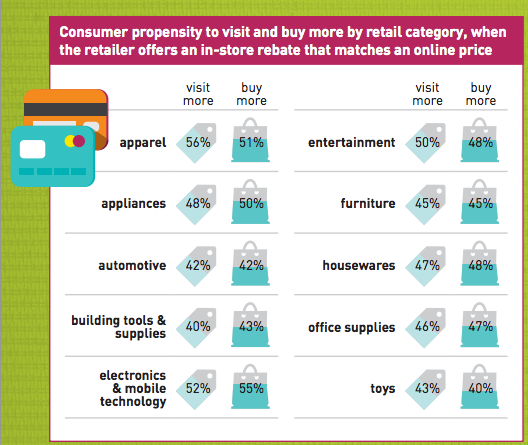 7. Rebates
Retailers can combat all these factors by offering Amazon price-match rebate guarantees. Sixty-five percent of shoppers said they'd rather buy an item for $100 with a $25 rebate in store than pay $75 on Amazon. Sixty-two percent said they'd rather buy a $500 item with a $100 rebate in store than buy the same item on Amazon for $400. Customers were also found to both visit and buy more often from stores that offer these types of rebates.
Follow Jacqueline on Twitter @Jacqui_WSCS