7 Top Stories Affecting Dow Consumer Stocks This Week
Wal-Mart Stores (NYSE:WMT): Current price $78.85
On Saturday, Wal-Mart reported the introduction of a national television and digital advertising campaign, plus an accompanying website. The campaign will show how people across the country rely on Wal-Mart to save money on the things they want and need. It will also show how the giant retailer provides career opportunities for its associates, as well as how it forms efficiencies and works directly with manufacturers to help provide low prices. President and Chief Executive Bill Simon of Wal-Mart U.S. said that "we have wanted to do this for a long time because we know that people trust Walmart even more when they understand the opportunities we provide our associates, who the customers are that shop with us, and how we deliver low prices."
The retailing giant once again leads Fortune's list of the 500 biggest domestic companies by revenue, as Wal-Mart posted impressive growth in the face of a challenging economy for its customers. Revenue jumped almost by 6 percent last year to $469.2 billion. Exxon Mobil Corp. (NYSE:XOM) slipped to the number-two spot, with revenue of $449.9 billion, but it was still the most profitable.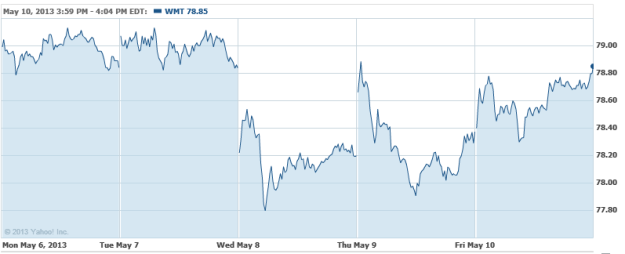 Procter & Gamble Co. (NYSE:PG): Current price $78.71
On Monday, P&G's Orgullosa program introduced The Orgullosa Project, which is an initiative meant to showcase organizations which are positively affecting the Hispanic community throughout the country, and to inspire Latinas to give back through a donation on the Orgullosa Facebook page. Orgullosa will give its online community, mujeres con LA FALDA BIEN PUESTA, a vote for the organization they feel most deserves the donation. The Orgullosa Project will feature the Puerto Rican Family Institute; Mujeres Latinas en Accion; MECA; La Liga Contra el Cancer; and the Mexican American Opportunity Foundation, which are organizations across the United States that have a long-standing reputation of servicing Hispanic communities with dedicated resources.
The company has debuted The Gift My Mother Gave Me, which is a digital video featuring Maria Shriver honoring her mother, the late Eunice Kennedy Shriver, who founded the Special Olympics in 1968. The video will include a tribute to Maria's mother, and will also help to raise funds for Special Olympics. For every share of the video from P&G's Thank you, Mom Facebook page during May, P&G will donate $1 to support Special Olympics programs and services, up to $50,000.

The Walt Disney Company (NYSE:DIS): Current price $78.67
Electronic Arts (NASDAQ:EA) and Disney have reached a multi-year licensing deal, through which the former will create games based on the Star Wars movies for mobile devices, PCs, and consoles. Disney acquired George Lucas's Lucasfilm and the sci-fi franchise for $4.05 billion in October, and will keep the rights to develop online and mobile games, said both parties said in a statement on Monday. They did not reveal the financial terms of the arrangement.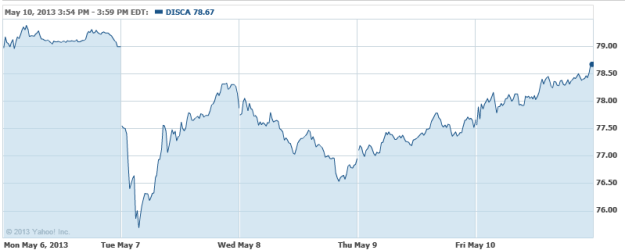 Don't Miss: Gun Control: Will 3D Guns Be Obama's Latest Headache?
The Coca-Cola Company (NYSE:KO): Current price $42.11
Coke is supporting Florida's most extensive citrus planting in 25 years, agreeing to buy roughly $2 billion worth of oranges grown in new groves. Working jointly with Cutrale Citrus Juices and Peace River Citrus Products, the investment by Coca-Cola will permit the growers to plant some 25,000 acres of orange trees. Through this deal, Coca-Cola will procure all of the fruit produced by these trees during the coming 20 years. A 25-year study conducted by the Florida Department of Citrus calculates that this initiative will contribute over 4,100 direct and indirect jobs to the state's economy.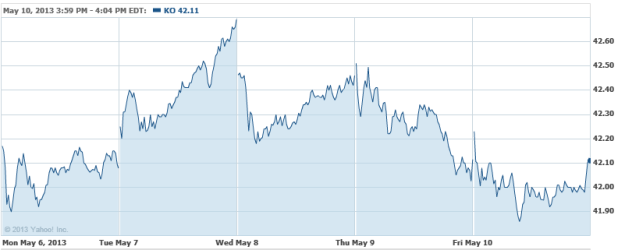 McDonalds Corporation (NYSE:MCD): Current price $100.15
The fast food behemoth intends to hike prices in India for the second time in 2013, in reaction to increasing inflation, which it expects to slow demand growth to a minimum in the next 7 months. McDonald's said it would raise prices by between 5 and 6 percent, which will follow a 5 percent hike after the government raises the service tax rate in February.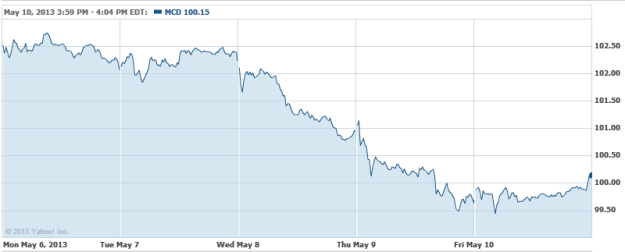 Don't Miss: Why Does Germany Want More Austerity From EU Counterparts?