7 Tricks Wal-Mart Is Using to Make You Buy More Beer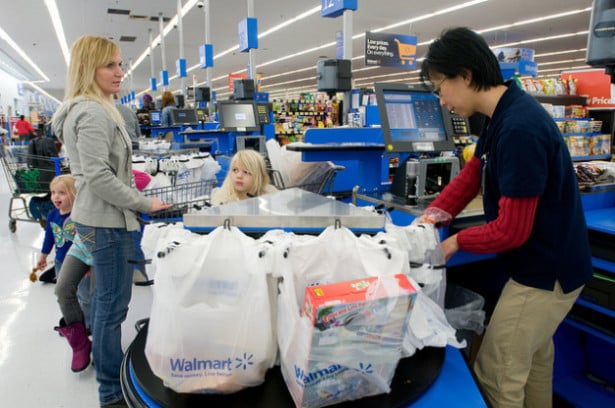 When consumers think of Wal-Mart Stores (NYSE:WMT), the first thing that pops into their minds likely isn't beer. Good deals? Possibly. Cheap clothes? Definitely. But beer? Highly unlikely — and founder Sam Walton presumably wanted to keep it that way.
But nevertheless, Wal-Mart can't deny that an increased share in the $45 billion U.S. beer market is becoming increasingly appealing, and while the retail giant doesn't necessarily have plans to publicize its greater investment in the carbonated adult beverage industry, a new report from Bloomberg illuminates the Bentonville, Arkansas-based company is undoubtedly shifting its attention to the booze, and hoping its consumers do as well.
Don't Miss: 6 Sobering Facts That Have Beer Makers Worried
In the report that Bloomberg published Thursday, Renee Dudley deep-dives into Wal-Mart's big play in giving beer revenue a major boost. Here are seven major takeaways that we know you'll enjoy, and think about the next time you enter a Wal-Mart superstore.
1. Adult Beverage Summit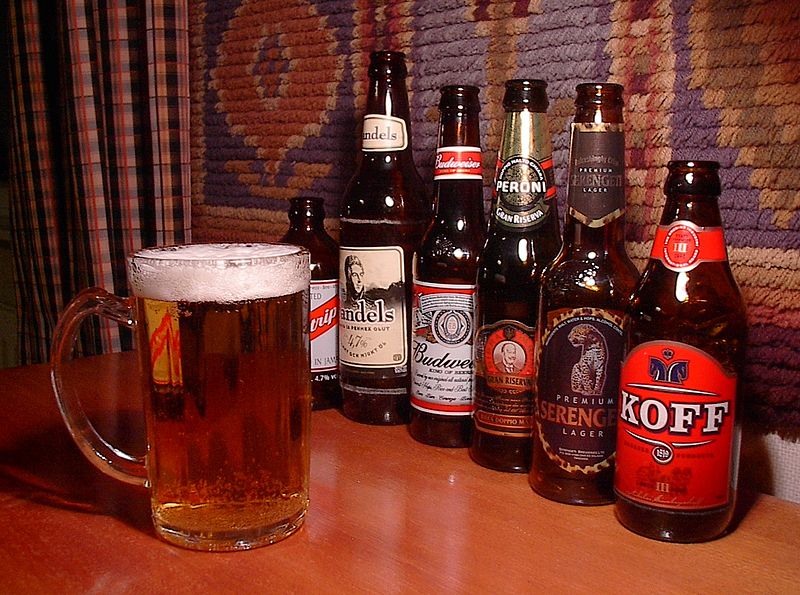 The first thing we learn from the Bloomberg piece is that Walton's like to have fun, too!
Not necessarily, but we do learn that Wal-Mart hosted 500 representatives from the alcohol industry at its Sam's Club auditorium in Arkansas for a little adult beverage get-together last September. At the Summit, the company's executives proved to alcohol buyers how serious they were about increasing Wal-Mart's share in the beer market — and that means doubling its adult beverage sales by 2016.
Looking back over the year's figures, it appears as though the retailer wasn't kidding. Here's how Wal-Mart has worked to make that happen.
2. Discounts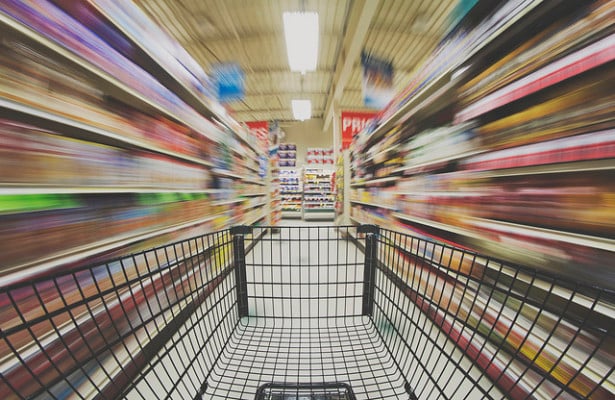 Wal-Mart is the discount king and it proves it again with its beer discounts, especially with those brands that are selling well, including Molson Coors Brewing Company's (NYSE:TAP) Coors, Anheuser Busch's (NYSE:BUD) Bud Lights, and even Deschutes's craft beers. The retailer is almost daring you to liquidate your party with beer from Wal-Mart with its unbeatable prices, and it even doubled its number of alcohol buyers to 12 to ensure it effectively manages to cover every consumer's beer needs.
You'll even find these beer offerings front and center in Wal-Mart stores, and don't worry, other slow-selling products won't get in your way to the gold, because the retail company has already abandoned those bummers to make way for the good stuff.
Check Out: Hey Taxpayers, Here's How You're Subsidizing Wal-Mart
3. Hard Work Pays Off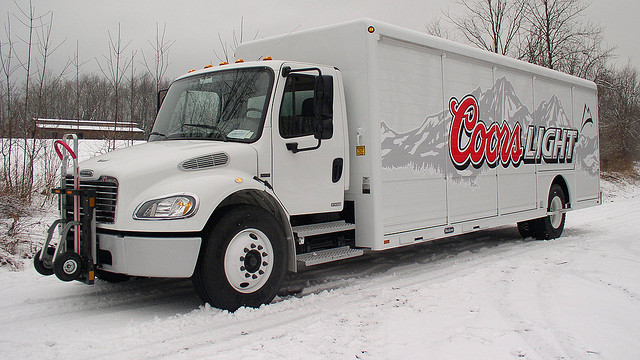 Luckily for Wal-Mart, its adult beverage boost isn't all for nothing, and the retailer is already seeing the fruits of its labor.
Major beer suppliers such as Columbia Distributing are now paying more attention to the retail giant as it recognizes the success Wal-Mart has had in the industry. Columbia Distributing now supplies about 90 Wal-Mart stores in Washington and Oregon, and according to its vice president of chain accounts, Steve Bailey, it recognizes a beer gold mine when it sees it. Bailey explains that the distributor is "seeing dramatic increases in sales" that "has pushed us to pay more attention to Wal-Mart."
4. Shh It's Still a Secret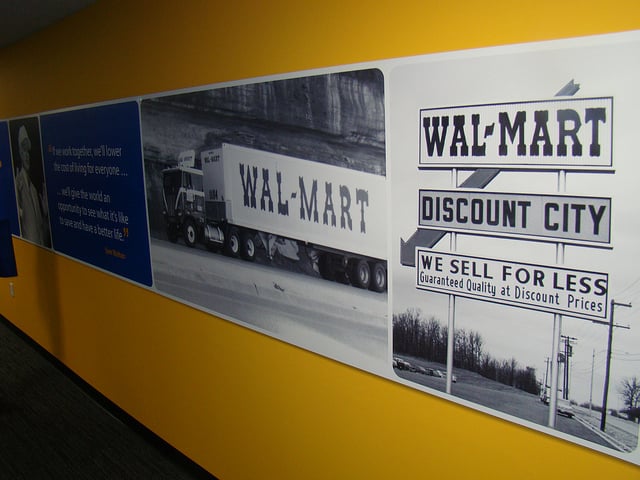 And the best part about Wal-Mart's beer push? It's a secret. Well, at least it was a secret.
Because founder Sam Walton has always been vocal about his distaste for the business of drinking excessively, Wal-Mart has honored its founder's wishes and not heavily advertised its new beer focus. Thus, you haven't seen Wal-Mart commercials advertising its beer offerings for a reason, and it'll likely stay that way.
In fact, many of the retailer's investors and analysts don't even know about the company's new carbonated beverage strategy — and that may be the secret to its success. But no matter how quiet Wal-Mart proves to be about the matter, rest assured its wheels are turning to make certain its beer sector is the most successful it can be, and that includes working to overturn the retail alcohol sales bans that have inhibited Wal-Mart in the past.
Don't Miss: Wal-Mart Is Not Happy with the Economic Recovery
6. Bye Bye Benton Ban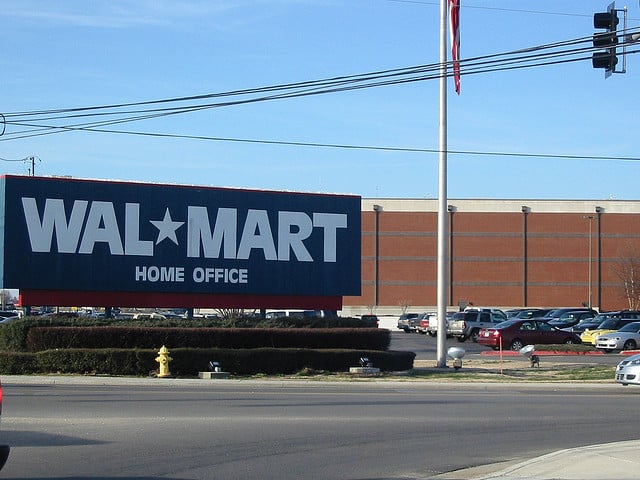 In fact, two Walton grandsons have already successfully reversed a crucial ban in the county that is home to the company's very own headquarters. Last year, the two Walton men led a fruitful campaign through Benton that ended in an overturning of its retail alcohol sales ban. And promotions of alcohol can now even be found in the company's circulars, so if that doesn't demonstrate that Wal-Mart's approach to alcohol is in transition, albeit a quiet one, we don't know what does.
6. Overcoming Regulations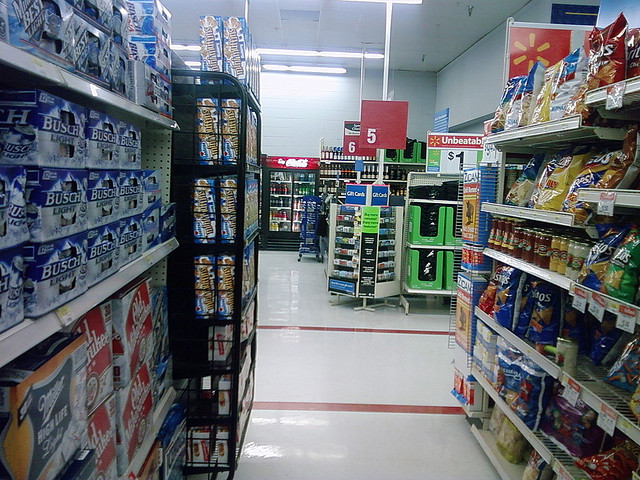 Still, although Wal-Mart was successful in its "home district" with the ban overturn, the company continues to faces pushback from many other states that have regulations prohibiting the retailer from discounting its alcohol. Fortunately for Wal-Mart, the retail giant has been over to outsmart these codes by offering gift cards and mail-in rebates to customers who agree to buy beer with "cross-promoted merchandise" such as outdoor furniture, grills, and lawn chairs.
For example, certain Wal-Mart stores have used summer as an excuse to promote Bud Light's Lima-A-Rita and Straw-Ber-Rita malt beverages with chips, nuts, or other seasonal offerings, and because those deals can be classified as cross-promotional offerings, customers can score up to $10 in gifts cars for them.
7. Beer Here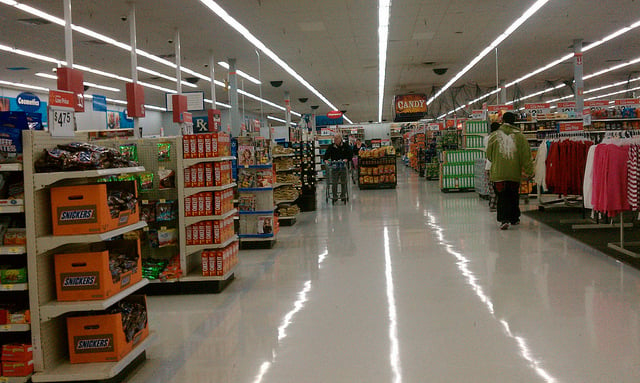 Wal-Mart is also taking the initiative with its new stores to make sure customers know exactly where the beer is, even if that means shacking the adult beverage up right at the front of the store next to the produce. Because who doesn't like a beer to go along with their greens?
One Wal-Mart store even featured a 16-food display of beer in the middle of an aisle during a Fourth of July promotion, illustrating the company's pure dedication.
So, while beer never used to be the highlight of Wal-Mart's stores, the retail company may just be turning in that direction — especially as it works to become the No. 1 beer seller in the world as it has reportedly said is its goal. And beer suppliers are more than happy to help Wal-Mart meet that target, as Cameron Smith, president of Cameron Smith & Associates, explains, "They're getting there quick. Everyone in the supplier community is on cloud nine, riding high and adding to their staff."