7 Ways Sports Is Holding Pay-TV Together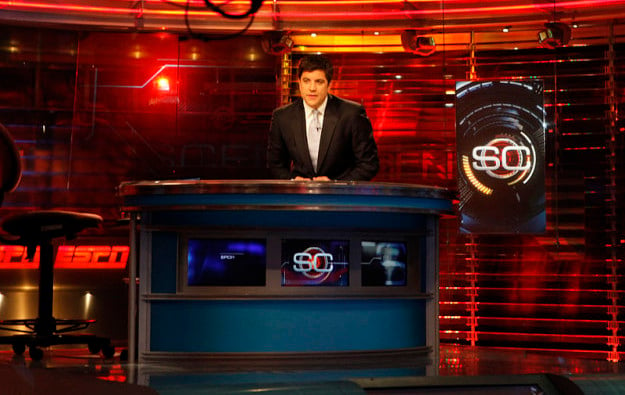 As recently independent News Corp. (NASDAQ:NWS) media arm 21st Century Fox prepares to launch its new 24-hour sports TV cable channel, Fox Sports 1, Walt Disney Co.'s (NYSE:DIS) ESPN head, John Skipper, told The Wall Street Journal that ESPN and sports programming in general are "holding the pay-television model together." As pay-TV comes under more pressure from cheaper, Internet-based TV streaming services, the current pay-TV model comes closer to crumbling. Here are seven ways sports networks and programming are keeping pay-TV on its feet.
1. Ratings
When fielding questions about whether sports programming has become too expensive, co-President of Fox Sports Randy Freer pointed out that sports broadcasts are some of the highest-rated programs on TV, and cited sports as a major reason people chose to stick with pay-TV subscriptions when they have more options than ever for getting their entertainment elsewhere.
2. Live Programming
While cord-cutters can get their TV show fix through services like Netflix (NASDAQ:NFLX) and Hulu LLC – which is jointly owned by Disney, 21st Century Fox, and Comcast (NASDAQ:CMCSA) — online streaming services don't yet offer access to live programming, leaving sports fans in the dark. So for now, at least, sports lovers are basically forced to keep traditional cable or satellite TV if they want to watch live games.
3. Bundles
There's been grumbling in the pay-TV industry about whether it's necessary to charge customers for channels they don't want, especially expensive ones like ESPN. The current system operates on bundled packages of channels, but some have suggested that offering channels on an a la carte basis might be better for consumers. According to a study seen by The Wall Street Journal, ESPN would have to charge its customers $30 a month each to make the same amount of money it does now if the system switched to an a la carte basis.
4. Serious or Fun?
The new Fox Sports 1 sports channel is set to compete with and be a foil for ESPN, which some viewers think takes itself and the sports world too seriously. "We don't take ourselves too seriously," Freer, the Fox Sports co-president, told the Journal. "We are positioning it as something a little more approachable, a little less preachy." ESPN head Skipper has been resistant to criticism that ESPN takes itself too seriously, but has also pointed out that sports news often tackles serious issues like the use of performance enhancing drugs. "It is fraught with peril — the notion that you're just going to have fun with sports," he said to the Journal.
5. Games and Analysis
Sports fans not only watch live broadcasts of games, but also rabidly watch studio shows in which former players and experts discuss and analyze the latest happenings in sports. These shows have even seen success on networks not completely dedicated to sports. Time Warner Inc.'s (NYSE:TWX) TNT does not show sports programming the majority of the time but has seen great success with its "Inside the NBA" studio show.
6. Chemistry
The thing that makes those studio shows so compelling is the chemistry between the hosts. David Levy — president of sales, distribution and sports for Time Warner subsidiary Turner Broadcasting — said to the Journal that the unique dynamic between hosts and former basketball players Charles Barkley, Kenny Smith, and Shaquille O'Neal is what has made the program so successful, calling the chemistry "magic in a bottle."
7. Advertising
Advertisers are willing to pay big bucks to be featured during sporting events. The Super Bowl is famously the most expensive time to advertise on TV every year. For this year's game, a 30-second ad cost $3.8 million, according to Wall Street Journal estimates. Part of the appeal for advertisers is the enormous viewership garnered by events like the Super Bowl, but companies also get a great deal of free publicity just for being part of the Super Bowl lineup, which makes up for the cost of the spot itself. Smaller sporting events also get a great deal of attention from advertisers, who are keen on keeping the current pay-TV model intact, as Netflix and other streaming services are often ad-free.
Follow Jacqueline on Twitter @Jacqui_WSCS
Don't Miss: How Does Chromecast Compare on the Streaming Devices Market?