8 Stories Giving Dow Industrial Stocks a Rollercoaster Ride This Week
Alcoa (NYSE:AA): Current price $8.53
A group of American manufacturers, including Alcoa, The Dow Chemical Company (NYSE:DOW), Celanese Corporation (NYSE:CE), Eastman Chemical Co. (NYSE:EMN), Huntsman Corporation (NYSE:HUN), and Nucor Corporation (NYSE:NUE), wants a more balanced approach to exporting liquefied natural gas, contending that only a few more facilities should be awarded permits to export LNG freely so as to protect jobs and investment in the United States, according to Financial Times.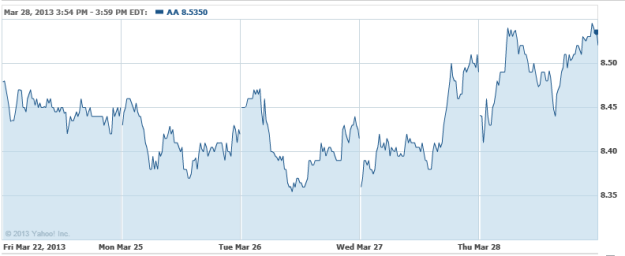 Caterpillar (NYSE:CAT): Current price $86.96
Caterpillar executives have announced the launch of a new facility and the completed expansion of another in Wuxi, China. The company opened its 23,000-square-meter power train facility in Wuxi to manufacture axles, transmissions, and final drives to be employed in an array of Caterpillar earthmoving and mining machinery. The firm has also finished a 17,000-square-meter expansion at an existing component factory in Wuxi to produce hydraulic cylinders for Caterpillar machines. Both facilities form a part of the company's Advanced Components & Systems Division.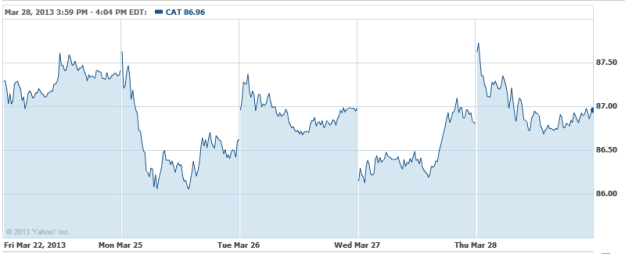 EI DuPont de Nemours & Co. (NYSE:DD): Current price $49.21
DuPont and Monsanto (NYSE:MON) have reported a number of tech licensing agreements for expansion of the range of seed products they can offer to farmers. The accords include a multi-year, royalty-bearing license for Monsanto's next-generation soybean technologies in the United States and Canada. These licenses will enable DuPont Pioneer to offer Genuity Roundup Ready 2 Yield soybeans as soon as 2014, and Genuity Roundup Ready 2 Xtend glyphosate and dicamba tolerant soybeans as early as 2015, upon regulatory approvals. Beyond that, DuPont Pioneer will receive regulatory data rights for the soybean and corn traits previously licensed from Monsanto, permitting it to create a wide repertoire of stacked trait combinations using traits or genetics from DuPont Pioneer or others.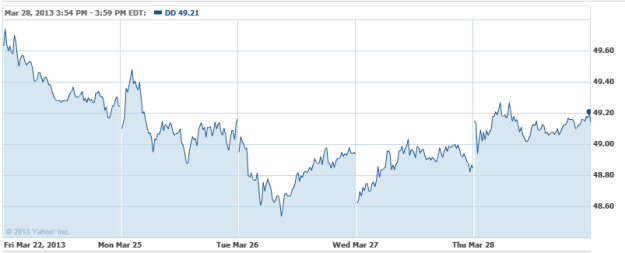 General Electric Company (NYSE:GE): Current price $23.13
GE Capital Retail Bank has extended its multi-year agreement so as to offer the Belk Rewards private label credit card program. Belk, the country's biggest privately-owned retailer, divested the credit card portfolio to GE Capital and debuted the enhanced offering in 2005. GE Capital's Retail Finance unit, which manages the relationship and services the account, is also honoring Belk's 125th anniversary by introducing an updated branded credit card with a 125 years icon to their account holders and being an exclusive, presenting sponsor for Belk's 125 Days of Service initiative, dedicated to improving conditions at 250 Title 1 schools in low-income communities throughout 16 states.
GE Capital, Franchise Finance recently supplied $11.3 million to the Burger King franchisee Ghai Management Services. The funding was used to buy six Taco Bell locations in Northern California.
United Technologies Corporation (NYSE:UTX): Current price $93.46
Sikorsky, which is a subsidiary of United Technologies, will sell two S-76D helicopters to the charter airline firm PT Travira Air, based in Jakarta, to be delivered in 2015. The helicopters will be employed as part of an offshore oil configuration project with which PT Travira Air is linked.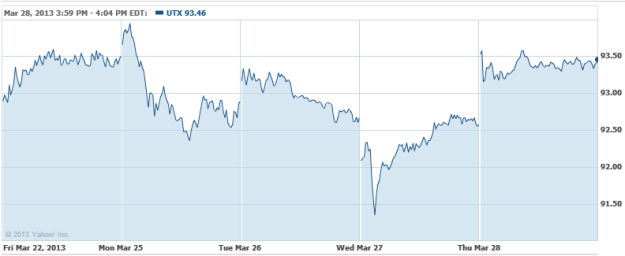 The Boeing Company (NYSE:BA): Current price $85.88
Boeing's  787 Dreamliner cloud face a temporary ban by the FAA from certain long-distance, trans-ocean journeys once it is approved to resume flying, said aviation experts and government officials to Reuters.
Boeing has expanded its alliance with Bharat Electronics, according to The Wall Street Journal. Through the new agreement, the Indian company is contracted to manufacture more components for the F/A-18 Super Hornet fighter jet, and will provide sub-assemblies such as power and cockpit console panels.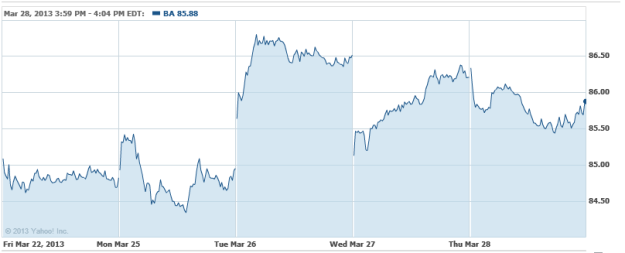 Don't Miss: Is Google Glass Stealing This Apple Partner?