8 Top Stories Pushing Around These 4 Mega-Bank Stocks This Week
Here's your Cheat Sheet to this week's top financial industry business headlines:
JPMorgan Chase & Co. (NYSE:JPM): Current price $47.85
The firm's Chief Risk Officer John Hogan will take a temporary leave for personal reasons starting later this week, according to a memo to staff, saying that, "I'm looking forward to taking this time off to spend with my family and friends." Deputy Risk Officer Ashley Bacon will fill in until Hogan returns in the summer. Hogan, had previously served as chief risk officer for the investment bank, taking that  post a year ago, some three months before JPMorgan reported a large and illiquid trading position at the chief investment office.
Sources report that JPMorgan analysts Yoshiharu Izumi and Nobuhito Owaki, based in Tokyo, are exiting the firm, says Bloomberg. Izumi is an executive director who managed industrial and consumer electronics firms, and Owaki was a chemicals analyst.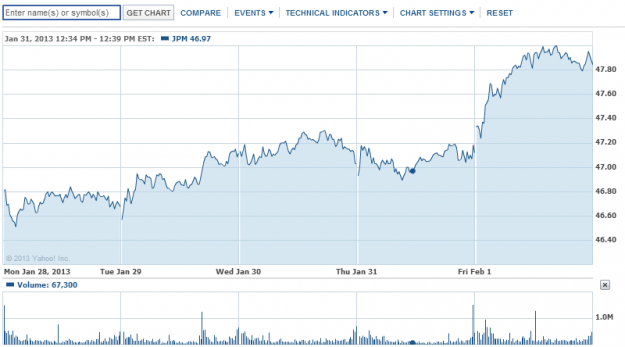 Bank of America Corporation (NYSE:BAC): Current price $11.71
BofA board member David Yost purchased 20,000 shares of common stock in the firm last Thursday, pushing his position to a bit over 44,000, according to a Securities and Exchange Commission Form 4.
The analyst Dick Bove at Rafferty Capital Markets says that shares of Bank of America, Citigroup (NYSE:C), and J.P. Morgan Chase & Co. will grow by more than 30 percent in the next 12 months, due to strengthening economic growth, higher quality of assets, and better liquidity boost their businesses. Bove recently joined Rafferty and made the predictions in a new report set to be released Wednesday. Further, he anticipates impressive growth for the majority of the banking industry and expects to see  many banks significantly hiking their dividends.
Speculators in the firm's shares remain confident, and have extended their long calls to a later series, as two large blocks of the February 12th calls traded at the bid price Thursday morning while two other blocks of the March 12th call traded at the ask price. In sum, nearly 19,000 of the front-month positions exchanged for 5 cents each, and 10,000 of the March calls traded for 21 cents apiece.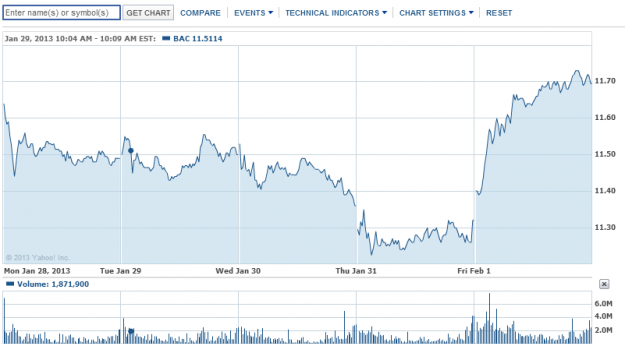 American International Group (NYSE:AIG): Current price $38.86
The Special Inspector General for the Troubled Asset Relief Program has said that the United States Treasury Department signed off on all 18 requests it received in 2012 to raise pay for executives at American International Group, General Motors Company, and Ally Financial, all of which received taxpayer-funded bailouts during the financial crisis. Treasury also approved pay packages totaling $5 million or more for nearly 25 percent of the executives at those firms, according to the report.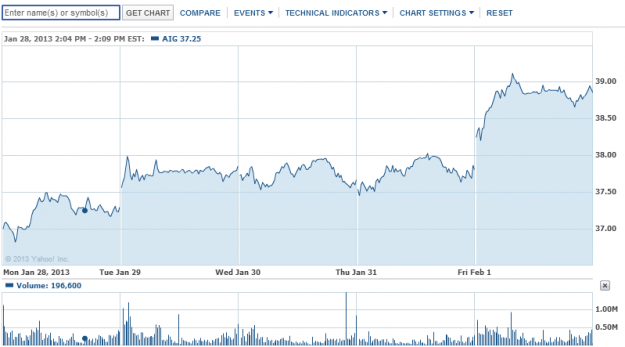 Goldman Sachs Group (NYSE:GS): Current price $149.90
Goldman Sachs wants to divest more of its shares in Industrial and Commercial Bank of China for the fifth time in recent years, says The Financial Times, which added that the firm was offering $1 billion worth of ICBC stock at a 3 percent discount to its close in Hong Kong on Monday, according to an inside source.
John Paulson's hedge fund must now defend against allegations that his firm conspired with Goldman Sachs so as to fraudulently coax a bond insurer to guarantee payments on risky debt, according to court papers. On Thursday, the bond insurer ACA Financial brought an amended complaint which named Paulson & Co and its hedge fund Paulson Credit Opportunities Master II as defendants in a $120 million suit that it lodged against Goldman in 2011. The crux of the suit focuses on a collateralized debt obligation called Abacus, which ACA said was created to fail so that Paulson could reap "huge profits" and Goldman "huge fees."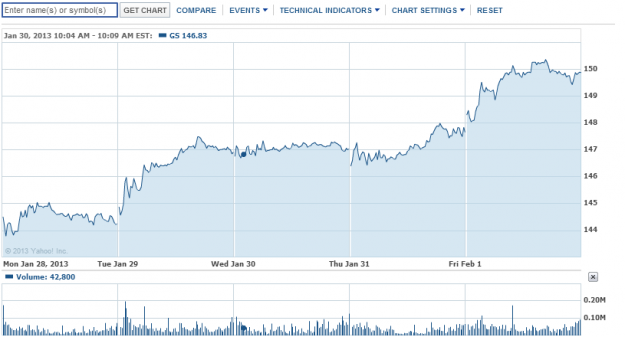 Don't Miss: Here's Why the Unemployment Rate is Back Up.