A Breakup May Be BlackBerry's Only Exit Gate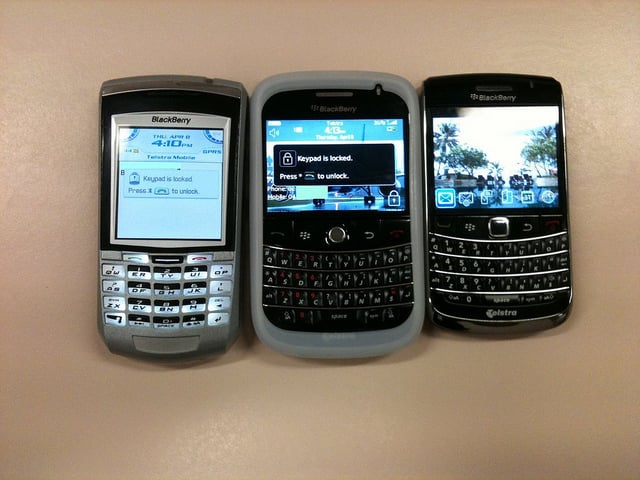 BlackBerry's (NASDAQ:BBRY) "bizarre" bidding process continues to drag on, but the CEO of Canadian pension fund, Alberta Investment Management,  has at least stepped up to explain what is keeping the company on the auction block for so long, and what investors can expect for the future.
Chief Executive Officer Leo de Bever was the subject of an informative phone interview Monday, and clarified why BlackBerry is currently so hard to value, and why the company has faced such a struggle to find interested backers or financing for a buyout. BlackBerry's biggest shareholder, Fairfax Financial Holdings, signed a preliminary $4.7 billion buyout deal earlier in September, but the company's shares are well below the $9-a-share bid that Fairfax offered last month, and it is thus still unclear if it will officially sign off on the deal by the Nov. 4 deadline.
De Bever explained Monday that investors are predicting Fairfax will struggle to find a backer for its deal because it is now so difficult to value each of BlackBerry's particular units and its worth as a whole. Though many companies would like to see BlackBerry stick together, a split may be the only way to effectively gauge its valuation, and thus may be inevitable. In addition, firms such as Alberta Investment need to see the value of the company's units disclosed, and a business plan for developing those units in the future, but BlackBerry so far has been unwilling.
When asked for a comment, a BlackBerry spokeswoman only maintained in an email statement, "We do not intend to disclose further developments with respect to the process until we approve a specific transaction or otherwise conclude the review of strategic alternatives." Thus, many investors believe that a breakup is the only thing in the cards for BlackBerry, but certain pension funds are only interested in a BlackBerry investment if private equity investors are also in the equation.
According to Bloomberg, Alberta Investment, or Aimco, would be one of those willing to consider an investment in the Waterloo, Ontario-based company, but it wants assurance that a strategic buyer is involved, and one that understands the values of the company's units and a plan for the future.
He explains that, "We were looking at the individual assets because that's how you understand the whole company. But it doesn't necessarily mean that we want to take a carving knife to BlackBerry. The odds are that's what's probably going to happen."
So far, though, the only company that has vocalized an interest in BlackBerry is Fairfax, although there were murmurings last week of a potential Cerberus Capital Management LP bid. Reports noted that the firm wants to sign a confidentiality agreement with BlackBerry so it can gain access to its additional financial data before it moves forward with planning, but those rumors have remained unconfirmed, and it is still thus unclear whether BlackBerry is really willing to let any potential company delve into its financial portfolio.
Soon, if more interest doesn't pop up, BlackBerry may have no choice but to more clearly illuminate what it's working with, but for now, it seems as though the struggling Canadian smartphone company would like to keep its financial situation  under wraps.
Investing Insights: Can BlackBerry Be the Stock It Once Was?