A Plastic Pitcher Became Star Witness in J.C. Penney Lawsuit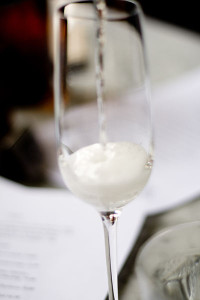 Ostensibly, Macy's (NYSE:M) and J.C. Penney (NYSE:JCP) are fighting over which retailer has the right to sell which Martha Stewart-branded products, with the key question being whether J.C. Penney violated a judge's order not to sell any products from Martha Stewart Living Omnimedia (NYSE:MSO) collection of bath and home goods. But on Tuesday the courtroom battle came down to a simple plastic pitcher.
Macy's lawyer Michael Platt set two plastic pitchers on the bench in front of the presiding judge, Justice Jeffrey Oing of Manhattan's New York state Supreme Court, reported Reuters. Platt urged the judge to pick up both pitchers. "They are both made of plastic," he stated, according to the publication. "They both weigh about the same." But one pitcher was from Macy's Martha Stewart Collection, he said, and the other was from J.C Penney's label, Martha Stewart Celebrations. For comparison, the Macy's pitcher retails online for $30, while Penney's version sells for $12.
The judge gave into the request, and lifted a pitcher in each hand.
Platt launched the demonstration with the aim of having Oing order J.C. Penney to remove the pitcher from its shelves. Macy's claims that its rival violated a temporary order barring it from selling Martha-Stewart-branded tableware, bedding, and other home products, and the lawyer attempted to prove the violation through his comparison…
Oing initially issued the injunction last summer after Macy's sued both J.C. Penney and Martha Stewart Living Omnimedia over their plans to create a boutique featuring Stewart-branded products in the retailer's stores. Macy's claimed the deal breached its exclusive agreement with Stewart.
The non-jury trial over the rights to sell Martha-Stewart-branded products resumed this week after a month-long hiatus.
Former J.C. Penney Chief Executive Officer Ron Johnson was charged with transforming the retailer when he joined the company last year, but his efforts to steer J.C. Penney away from its image as a discounter contributed to a 13 percent drop in customer traffic and a 25 percent fall in revenues in fiscal 2012. Once the retailer was the go-to place for home products like bath towels and window treatments, and, with his plan to redesign J.C. Penney into a cluster of approximately 100 boutiques, Johnson was aiming to recapture that reputation. But Johnson was ousted on Monday, and now it is uncertain whether his successor will abandon his vision…
In addition to the disputed pitchers, Macy's lawyer alleged that the company found that J.C. Penney was selling other items that the retailer was forbidden from stocking on its shelves, including a $12 set of champagne flutes. According to Reuters, these items were discovered on the company's website, and the pitcher was purchased at a J.C. Penney store in New Jersey.
While Penney's lawyer Mark Epstein said he would look into the matter, the judge said he would not immediately decide whether selling the items in question violated his preliminary injunction. But if Oing ultimately decides that Penney was not allowed to stock the pitchers and other stemware, the retailer could be order to pay monetary damages to Macy's.
In conclusion, the judged decided to move on, after "after weighing the pitchers – and Penney's fate – in his hands for a second time," noted the publication.
Don't Miss: Is Apple Done Commanding Premiums?