A123 Systems Earnings: Loss Widens
A123 Systems, Inc. 's (NASDAQ:AONE) first quarter loss widened behind higher costs and declining sales. A123 Systems, Inc. designs, develops, manufactures and sells advanced rechargeable lithium-ion batteries and battery systems for hybrid electric vehicles, or HEVs, plug-in hybrid electric vehicles, or PHEVs and electric vehicles, or EVs.
Don't Miss: Wall St. Cheat Sheet's newest Feature Trades of the Month!
A123 Systems Earnings Cheat Sheet for the First Quarter
Results: Loss widened to $53.6 million (51 cents/diluted share) from $29 million (loss of 28 cents/share) in the same quarter a year earlier.
Revenue: Fell 26% to $18.1 million YoY.
Actual vs. Wall St. Expectations: AONE fell short of the mean analyst estimate of a loss of 46 cents/share. Estimates ranged from a loss of 36 cents per share to a loss of 55 cents per share.
Quoting Management: "Our first quarter results were in-line with our expectations," said David Vieau, CEO of A123 Systems. "Even more importantly, in the first quarter, we commenced volume production of battery systems for Fisker. The ramping of this program reinforces our expectation for a revenue inflection point beginning in the second quarter. We continue to expect strong revenue growth throughout the second half of the year as well, which is supported by our customers already in production, as well as a number of customer programs that are expected to enter production during the year, including BMW, Daimler, and Navistar. Additionally, we advanced our relationship with Smith Electric Vehicles by entering into a production and supply agreement, and we anticipate delivering batteries under this program in the second half of this year."
Competitors to Watch: Valence Technology, Inc. (NASDAQ:VLNC), Ener1, Inc. (NASDAQ:HEV), EnerSys (NYSE:ENS), Advanced Battery Tech., Inc. (NASDAQ:ABAT), C&D Technologies, Inc. (CHHPD), Ultralife Corp. (NASDAQ:ULBI), Arotech Corporation (NASDAQ:ARTX), China Ritar Power Corp. (NASDAQ:CRTP), Johnson Controls, Inc. (NYSE:JCI), and Exide Technologies (NASDAQ:XIDE)
Stock Performance: Shares of AONE are down 0.68% from the previous close.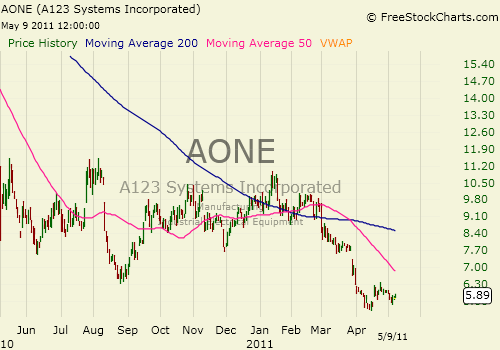 Don't Miss Wall St. Cheat Sheet's newest Feature Trades of the Month!