Aaron's Earnings: Investors are Done Renting Shares
Aaron's Inc. (NASDAQ:AAN) reported net income above Wall Street's expectations for the first quarter. Aaron's, Inc. is engaged in the sales and lease ownership, specialty retailing and rental of residential and office furniture, consumer electronics and home appliances and accessories.
Don't Miss: Wall St. Cheat Sheet's newest Feature Trades of the Month!
Aaron's Earnings Cheat Sheet for the First Quarter
Results: Net income for Aaron's Inc. rose to $44.4 million (55 cents/share) vs. $37 million (45 cents/share) in the same quarter a year earlier. A rise of 20.1% from the year earlier quarter.
Revenue: Rose 8% YoY to $532.7 million.
Actual vs. Wall St. Expectations: AAN beat the mean analyst estimate of 51 cents/share. Estimates ranged from 50 cents per share to 52 cents per share.
Quoting Management: "The numbers speak for themselves and it was an excellent quarter in all aspects of our business," said Robert C. Loudermilk, Jr., President and Chief Executive Officer of Aaron's. "We exceeded our expectations for both revenue and earnings growth, and customer traffic remains strong. Over many years, regardless of the economic conditions, we have delivered excellent results for our shareholders, mainly due to the superior execution of our unique business model. Our customer base remains large, the demand for the basic household furnishings we offer continues, and we believe the potential for further growth still is excellent."
Key Stats:
The company has now seen net income rise in three-straight quarters. In the fourth quarter of the last fiscal year, net income rose 22.8% and in the third quarter of the last fiscal year, the figure rose 6.3%.
Competitors to Watch: Rent-A-Center, Inc (NASDAQ:RCII), McGrath RentCorp (NASDAQ:MGRC), AeroCentury Corp. (AMEX:ACY), CONN'S, Inc. (NASDAQ:CONN), Best Buy Co., Inc. (NYSE:BBY), Williams-Sonoma, Inc. (NYSE:WSM), Pier one Imports, Inc. (NYSE:PIR), GameStop Corp. (NYSE:GME), and RadioShack Corporation (NYSE:RSH).
Today's Performance: Shares of AAN are down 1.73% in after hours trading.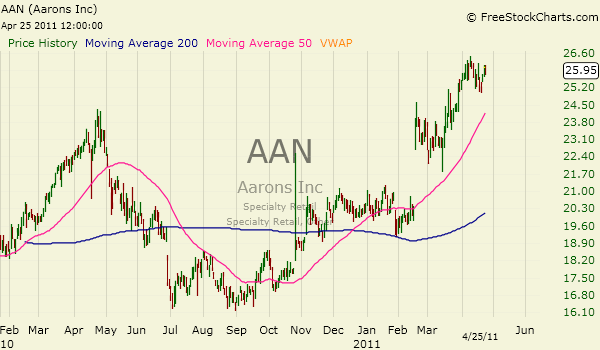 Don't Miss Wall St. Cheat Sheet's newest Feature Trades of the Month!