AB InBev Deal Faces Another Barrier and 3 Other Hot Stocks
Chinese e-commerce giant AliBaba will soon achieve a major landmark by becoming the world's first e-commerce firm to process transactions worth $1 trillion a year. In fact, last year, two of its portals chalked up $170 billion in sales, which is more than eBay (NASDAQ:EBAY) and Amazon (NASDAQ:AMZN) taken together. Yahoo (NASDAQ:YHOO) has a 24 percent stake in the so-far privately held Alibaba, soon expected to go public in a much-anticipated initial public offering that could rival that of Facebook's (NASDAQ:FB). In fact, AliBaba could benefit hugely from the immense growth projected in China's e-commerce market, expected to be bigger than the combined markets of America, Britain, Japan, Germany, and France by 2020.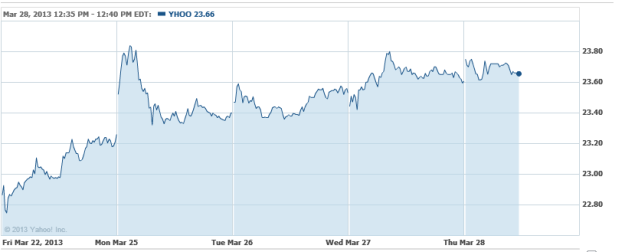 Teen retailer Five Below (FIVE) reports Q4 EPS of $0.39 and revenue of $173.6 million which beats by $0.01 and $3.4 million respectively. Net sales grew 38 percent over the year ago quarter and operating income rose to $33 million from $20.1 million. Net income was reported at $19.2 million versus $12.4 million in the previous year quarter. For the year as a whole, net sales were higher by 41 percent $418.8 million compared to $297.1 million last year, with comparable sales increasing by 7.1 percent. Net income at $20 million was much better compared to $16.1 million in 2011. The company carried cash and cash equivalents of $56.1 million and debt of $34.5 million as at the end of the year.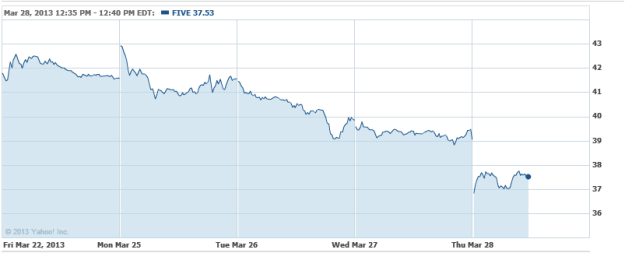 Videogame retailer GameStock (NYSE:GME) reported fourth-quarter EPS of $2.16 and revenue of $3.56 billion which beats by $0.07 and $0.1 billion respectively. Comparable store sales were down 4.6 percent compared to the year ago quarter. Net earnings were up 9.5 percent to $262.3 million compared to $239.5 million in the same period last year due primarily to an improvement in gross margins and an additional 53rd week. For fiscal 2012 global sales were down 7 percent to $8.89 billion compared to $9.55 billion in 2011. Net earnings were $403 million versus $405.1 million  in 2011 resulting in an EPS of $3.17 which was 10.5 percent higher than the $2.87 reported in fiscal 2011.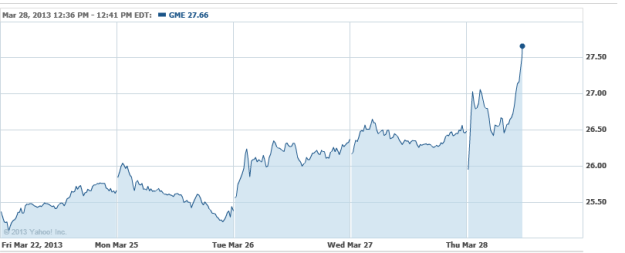 Anheuser-Busch InBev (NYSE:BUD) says in a filing to the U.S Securities and Exchange Commission that a private lawsuit filed by nine individuals and handled by lawyer Joseph Alitoto, that seeks to block the company's $20.1 billion deal to acquire Mexican brewer Grupo Modelo, could further delay the deal or even sabotage it completely, though it intended to "defend against it vigourously." Anheuser-Busch InBev is already facing a lawsuit objecting to the deal from the Department of Justice on the grounds of the deal being anti-competitive. The private lawsuit alleges the deal would impact consumers through higher beer prices, "elimination of quality, curtailment of innovation, and destruction of consumer choice".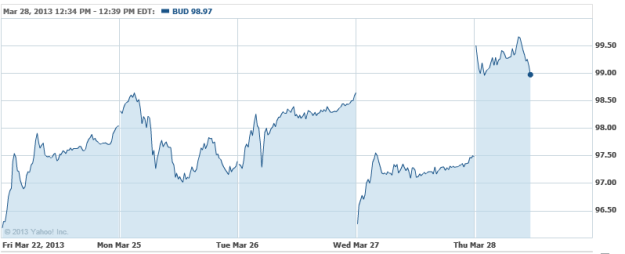 Don't Miss: Is Google Glass Stealing This Apple Partner?