Abbott Laboratories Earnings: Net Income Keeps Falling
Rising costs did not help S&P 500 (NYSE:SPY) component Abbott Laboratories (NYSE:ABT) in the first quarter as profit dropped from a year earlier. Abbott Laboratories is a pharmaceuticals health care company, whose main line of business is in the discovery, development, manufacture, and sale of a broad range of health care products. Its customers include wholesalers, hospitals and commercial laboratories.
Don't Miss: Wall St. Cheat Sheet's newest Feature Trades of the Month!
Abbott Laboratories Earnings Cheat Sheet for the First Quarter
Results: Net income for Abbott Laboratories fell to $864 million (55 cents/share) vs. $1 billion (64 cents/share) a year earlier. A decline of 13.9% from the year earlier quarter.
Revenue: Rose 17.4% to $9.04 billion YoY.
Actual vs. Wall St. Expectations: Estimates for ABT ranged from 89 cents per share to 91 cents per share accounting for adjustments.
Quoting Management: "Stronger-than-expected sales helped us deliver 12 percent ongoing earnings-per-share growth in the first quarter," said Miles White, chairman and chief executive officer. "Growth was balanced across our three key strategic business categories — Durable Growth, Proprietary Pharmaceuticals and Innovation-Driven Devices, reflecting healthy performance across our global operations, including continued rapid growth in emerging markets."
Key Stats:
The company has enjoyed double-digit year-over-year revenue growth for the past five quarters. Over that span, the company has averaged growth of 15%, with the biggest boost coming in the second quarter of the last fiscal year when revenue rose 17.8% from the year earlier quarter.
The company has now seen net income fall in each of the last four quarters. In the fourth quarter of the last fiscal year, net income fell 6.4% while the figure fell 39.8% in the third quarter of the last fiscal year and 0.3% three quarters ago.
Competitors to Watch: GlaxoSmithKline plc (NYSE:GSK), Pfizer Inc. (NYSE:PFE), Eli Lilly & Co. (NYSE:LLY), Bristol Myers Squibb Co. (NYSE:BMY), Merck & Co., Inc. (NYSE:MRK), Johnson & Johnson (NYSE:JNJ), and Sanofi-Aventis (NYSE:SNY).
Today's Performance: Shares of ABT are down 1.25%.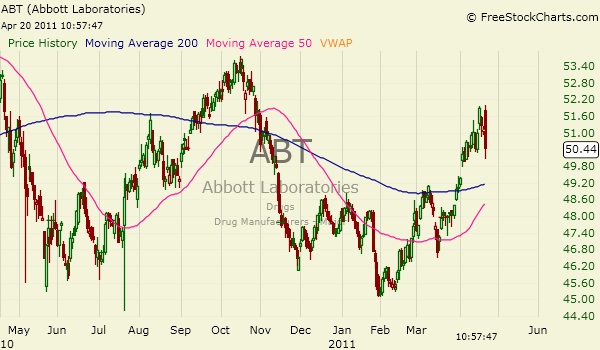 Don't Miss Wall St. Cheat Sheet's newest Feature Trades of the Month!