Abort, Abort! McDonald's Pulls the Plug on Employee Resources Site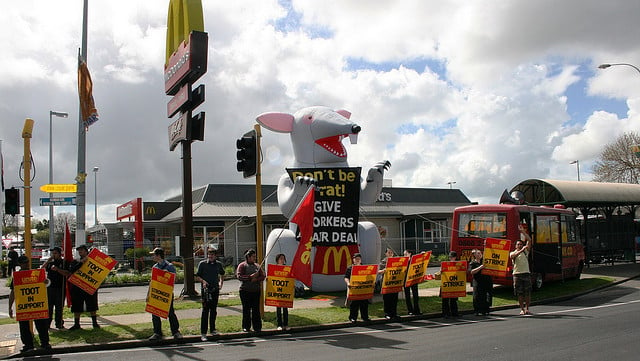 Three strikes and you're out. The infamous McDonald's (NYSE:MCD) employee self-help website has officially been taken down, but not before it managed to do just a little more damage. According to CNN, visitors to McDonald's McResource Line website are now greeted with the statement, "We are temporarily performing some maintenance in order to provide you with the best experience possible," and the company confirmed on its website Wednesday that the site has been taken down for good. It explained in a statement that, "A combination of factors has led us to re-evaluate and we've directed the vendor to take down the website. Between links to irrelevant or outdated information, along with outside groups taking elements out of context, this created unwarranted scrutiny and inappropriate commentary. None of this helps our McDonald's team members."
McDonald's McResource Line has been the subject of significant criticism this year, though it is purposed to help employees manage their budget and their lifestyle. Despite its good intentions, the site has offered questionable and even arguably offensive advice for employees that has hurt McDonald's more than helped it, and some charge that the company's recommendations illuminate just how out of touch it is with its workers. One of the latest problems cropped up in November when the site offered a guide on how much one should tip a pool cleaner, housekeeper, and even an au pair. The advice came on the same day that a massive country-wide strike took place as employees pleaded for higher wages, and the irony wasn't lost on anyone.
More problematic advice came earlier in the year when a McResource budget-planning guide offered a sample budget journal to detail how employees should keep track of spending. The sample budget set aside $20 a month for health insurance and $600 for rent, but no money for food, gasoline, or clothing, making a mockery of how McDonald's expects its employees to live. To make matters even worse, the second line on the sample budget left room for income from a second job, leading many to charge that McDonald's admits that no one could live off of its wages alone.
So now it seems as though McDonald's is ready to admit its own mistakes and take down its internal employee resource website, but not before one more faux pas. According to CNN, before the fast food chain pulled the plug on its website Wednesday, bloggers advised McDonald's employees to avoid fast food fare. The advisor explained, "Fast foods are quick, reasonably priced, and readily available alternatives to home cooking. While convenient and economical for a busy lifestyle, fast foods are typically high in calories, fat, saturated fat, sugar, and may put people at risk for becoming overweight."
How ironic — a McDonald's website advising employees to not support the very industry they work for. Nonetheless, the McResource Line website is now only a thing of the past, employees will be on their own for budgeting their low wages moving forward. We'll have to wait and see how workers will manage without the help of this interestingly offensive self-help tool, but it looks like McDonald's is confident they'll be just fine.
More From Wall St. Cheat Sheet: