Acadia's FDA Breakthrough and 4 Other Hot Stocks
Analysts at Detwiler Fenton report a rising trend in sales returns of BlackBerry's (NASDAQ:BBRY) flagship Z10 handset as buyers complain about its maps, its not-so-intuitive user interface and a lack of apps. Significantly, there are even cases where returns have exceeded sales.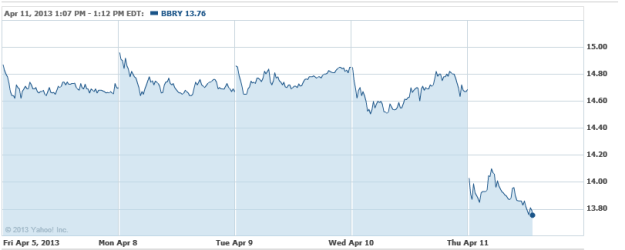 ACADIA Pharmaceuticals Inc. (NASDAQ:ACAD) announces that the US FDA had agreed that available data from a Phase III study of the company's pimavanserin drug for the treatment of Parkinsons' disease psychosis was sufficient to enable the company to file a New Drug Application. Accordingly, the company would no longer need to conduct a confirmatory Phase III trial. Acadia expects to file the New Drug Application by end-2014.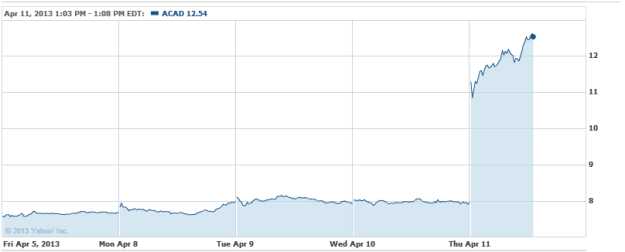 Retailer Ross Stores (NASDAQ:ROST) reports that sales grew 6 percent to $1.036 billion during March 2013 from $980 million in the same period last year. Comparable store sales during the month rose 2 percent whereas they grew 10 percent in the same period last year. The company also refreshed its guidance for the first quarter with EPS expected to be above the high range of $1.00 to $1.04 based on a 5-6 percent increase in April comparable sales.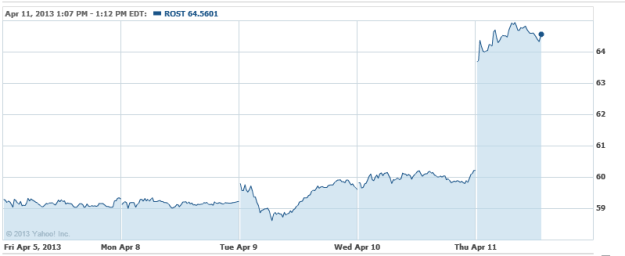 TJX Companies (NYSE:TJX) report that sales for March 2013 grew 5 percent to $2.4 billion compared to $2.3 billion in the year-ago period. Comparable store sales for the month were down by 2 percent. Guidance for the first quarter's EPS is $0.60 – $0.62.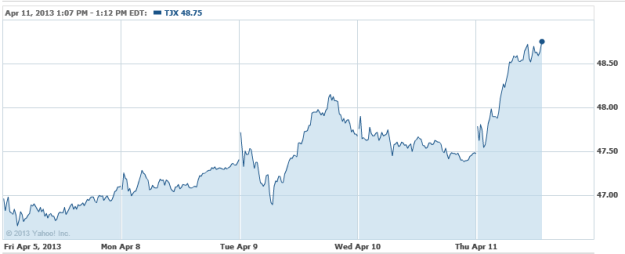 BHP Billiton (NYSE:BHP) chief Jacques Nasser puts perspective on the company's new project approvals, in limbo since last August after a self-imposed freeze: "There is no overwhelming need for us to get ahead of the investment cycle and there is no overwhelming need for us to walk away from opportunities if they arise." Signalling a need to pause, Nasser was clear that the company's chief priorities are to ensure a single-A credit rating and a 'progressive' dividend policy. A key project that is hanging fire is the $10 billion Jansen potash mine in Canada, which is on the drawing board but not yet approved by the Board.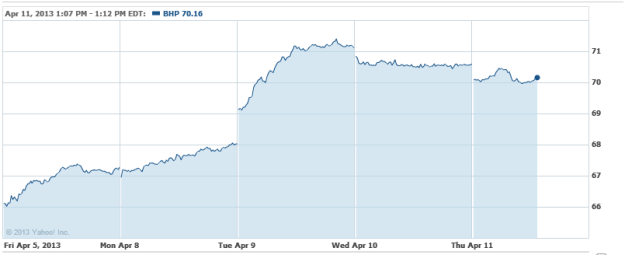 Don't Miss: 3 Reasons Why Tesla Motors Isn't a Loser.