Accenture Earnings Cheat Sheet: Fifth Consecutive Quarter of Double-Digit Growth
Accenture (NASDAQ:ACN) reported higher profit for the third quarter as revenue showed growth. Accenture plc is a global management consulting, technology services and outsourcing company.
Don't Miss: Wall St. Cheat Sheet's newest Feature Trades of the Month!
Accenture plc Earnings Cheat Sheet for the Third Quarter
Results: Net income for Accenture rose to $628 million (93 cents/share) vs. $490.6 million (73 cents/share) in the same quarter a year earlier. A rise of 28% from the year earlier quarter.
Revenue: Rose 20.6% to $7.2 billion YoY.
Actual vs. Wall St. Expectations: ACN beat the mean analyst estimate of 90 cents/share. Estimates ranged from 83 cents per share to 92 cents per share. It beat the average revenue estimate of $6.43 billion.
Quoting Management: "We continue to gain market share, and demand for our services remains robust, as demonstrated by third-quarter bookings in excess of $7 billion. Our focus remains on driving sustainable and profitable growth through technology leadership and industry differentiation, and delivering superior value to our clients and shareholders." Operating income was $949 million, an increase of 18 percent over the same period last year, and operating margin was 14.1 percent. New bookings for the quarter were $7.1 billion, with consulting bookings of $3.7 billion and outsourcing bookings of $3.4 billion." Pierre Nanterme, Accenture's chief executive officer, said
Key Stats:
The company has now seen net income rise in three-straight quarters. In the second quarter, net income rose 25.8% and in the first quarter, the figure rose 20.2%.
The company has now topped analyst estimates for the last four quarters. It beat the mark by 4 cents in the second quarter, by 6 cents in the first quarter, and by 3 cents in the fourth quarter of the last fiscal year.
Revenue has risen the past four quarters. Revenue increased 17.3% to $6.5 billion in the second quarter. The figure rose 12.7% in the first quarter from the year earlier and climbed 6% in the fourth quarter of the last fiscal year from the year-ago quarter.
Competitors to Watch: Intl. Business Machines Corp. (NYSE:IBM), Oracle Corporation (NASDAQ:ORCL), Genpact Limited (NYSE:G), Microsoft Corporation (NASDAQ:MSFT), Hewlett-Packard Company (NYSE:HPQ), Towers Watson & Co (NYSE:TW), Infosys Tech. Ltd. (NASDAQ:INFY), Wipro Limited (NYSE:WIT) and Ariba, Inc. (NASDAQ:ARBA).
Stock Performance: Shares of ACN are up almost 2.5% after hours.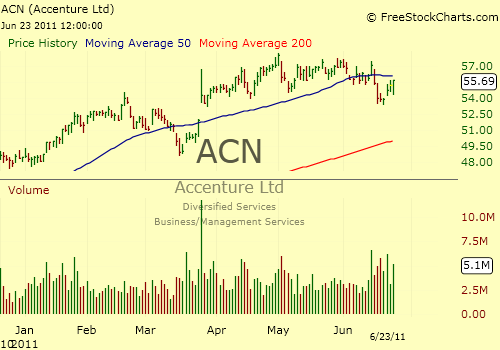 Don't Miss Wall St. Cheat Sheet's newest Feature Trades of the Month!
(Source: Xignite Financials)