Accenture Inks Deal With KPN and 4 Stocks Hitting 52-Week Highs
Accenture (NYSE:ACN): Closing price $72.10
The firm has won a four-year tech and management consulting contract from the Dutch telecommunications and IT services provider KPN to develop, construct and maintain a full range of digital managed services in order to support the latter's online domain and drive integration and standardization. Financials were not reported. Shares closed down 0.15 percent on the day at $72.10, and have been traded in a 52-week range of $54.94 to $72.24.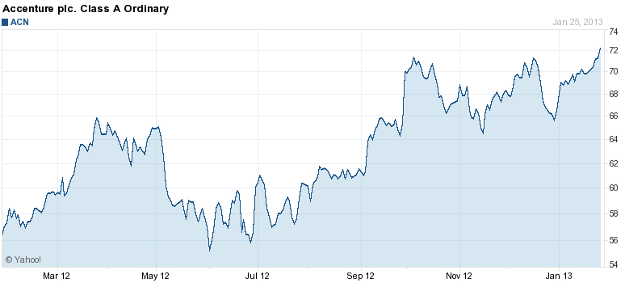 Agrium (NYSE:AGU): Closing price $113.45
Last summer, Jana Partners bought a large position in the Calgary agriculture company Agrium, but its shares had done well, implying less that big changes were needed, and then Chief executive Michael Wilson has fought back, saying that outside proposals for pushing value, including spinning off the firm's retail businesses will not work. Wilson has referred to the matter a "huge distraction" that might erode shareholder value, rather than reinforcing it. Shares closed down 1.03 percent at $113.45, having been traded in a 52-week range of $74.28 to $115.08.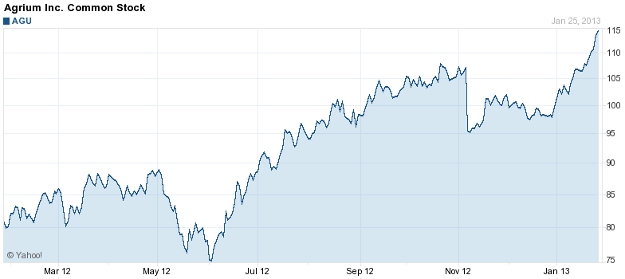 Anheuser-Busch Inbev (NYSE:BUD): Closing price $91.81
Lexmark (NYSE:LXK) has reached a five-year arrangement with Anheuser-Busch that extends its services into Europe to drive improved productivity and cost savings for the brewing giant. The international services contract involves world-class managed print services, a standardized fleet of innovative printers, and smart multifunction products and improved business processes to be supplied to Anheuser-Busch. The breadth of services includes corporate offices, along with breweries. Shares closed up 0.11 percent on the day at $91.81, and have been traded in a 52-week range of $60.52 to $91.78.
HSBC Holdings (NYSE:HBC): Closing price $56.22
American International Group (NYSE:AIG) has made 10-year bancassurance agreements with HSBC Group firms to which AIG will become the exclusive supplier of non-life insurance products to HSBC Group customers in Turkey and France, along with other countries in Continental Europe as may be required. AIG anticipates paying an aggregate amount of about $55 million for the exclusive distribution access in Turkey and France, and expects to initiate the partnerships in the first half of this year. The relationship also includes the purchase of HSBC's French non-life subsidiary, HSBC Assurances IARD, for total price of $14.5 million, consisting of a completion acquisition price of $13.3 million and a contingent deferred payment as much as $1.2 million based upon written premiums in 2013. Shares closed down 0.2 percent at $56.22, having been traded in a 52-week range of $38.56 to $56.35.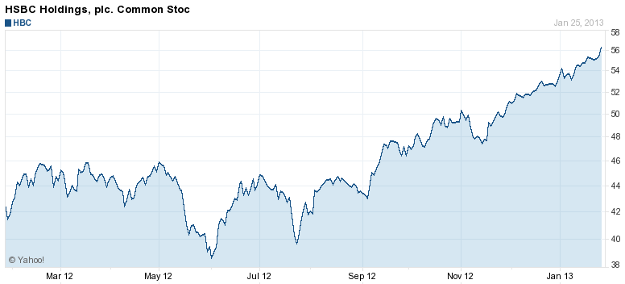 Keryx Biopharmaceuticals (NASDAQ:KERX): Closing price $6.06
The firm reported successful top-line results from the long-term Phase 3 study of Zerenex, its ferric iron-based phosphate binder drug candidate, for the treatment of elevated serum phosphorus levels, or hyperphosphatemia, in patients suffering from end-stage renal disease on dialysis. In this evaluatin, Zerenex attained the study's primary endpoint, indicating a highly statistically significant change in serum phosphorus compared with placebo over the four-week Efficacy Assessment Period of the study. Also, Zerenex met the key secondary endpoints of increasing ferritin and transferrin saturation and reducing the use of intravenous iron and erythropoiesis-stimulating agents versus the active control over the 52-week Safety Assessment Period of the evaluation. This long-term study was the final step of the firm's Phase 3 registration program, which was conducted pursuant to a Special Protocol Assessment with the FDA. Shares closed up 76.68 percent on the day at $6.06, and have been traded in a 52-week range of $1.28 to $5.19.

Investing Insights: Is Caterpillar's Stock Still Attractive?