Accenture Stumbles On Weak Earnings Forecast and 2 Heavily Traded Stocks to Follow
Accenture (NYSE:ACN): Current price $71.96
In late afternoon trading, shares of Accenture are down over 10 percent Friday, subsequent to a disappointing earnings outlook. The firm posted fiscal third-quarter results after the close on Thursday, and although revenue edged up a mere 1 percent to $7.2 billion, the figure actually met expectations on the bottom line with earnings of $1.14 per share. However, the fly in the ointment was the guidance: Accenture lowered its revenue outlook for fiscal 2013 and currently expects top-line growth of between 3 and 4 percent from an earlier forecast for 5 to 8 percent, with revenue in a range of $6.7 to $7 billion in the current quarter. Chairman and Chief Executive Pierre Nanterme said in a statement that "Our third-quarter results were solid overall, although consulting revenues were below our expectations."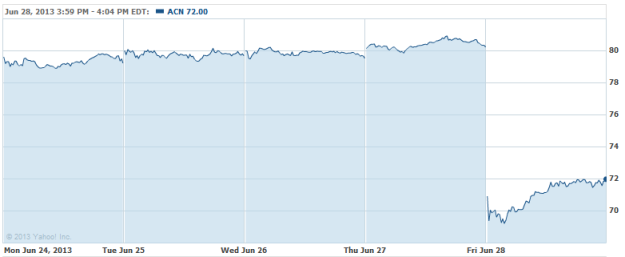 Boston Scientific Corporation (NYSE:BSX): Current price $9.27
The medical device manufacturer said on Friday that it will acquire the electrophysiology business of C.R. Bard at a cash price of $275 million, expanding its repertoire of products that help to treat patients having an abnormal heartbeat. Bard's EP division produces catheters for both therapeutic and diagnostic uses, along with recording devices. Boston Scientific said that on a worldwide basis, the electrophysiology market is estimated at $2.5 billion, and growing at roughly 10 percent per year. Bard EP, which is comprised of around 180 employees globally, generated $111 million in sales in 2012, and will join Boston Scientific's EP division within its Rhythm Management unit.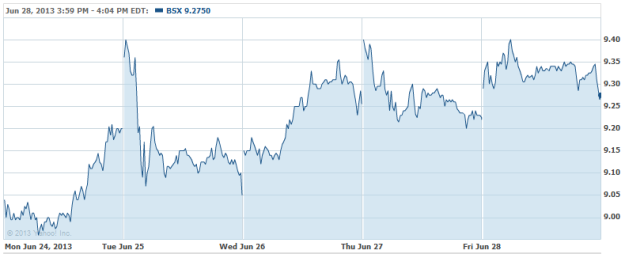 Yahoo! (NASDAQ:YHOO): Current price $25.13
New data-collection provisions of the Children's Online Privacy Protection Act will be effective on Monday, and Yahoo intends to remove users under 13 from its service unless their parents have executed a waiver. On a blog post, Yahoo says that it wants "to make  sure that those of you who are parents or guardians know how this impacts your  child's account." The Federal Trade Commission's amendments to COPPA that were enacted in 2000, were passed in 2011 and 2012, and under COPPA rules, parents have access to some data connected with their children's online activity.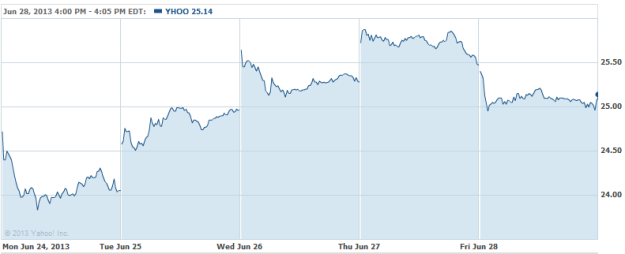 Don't Miss: Yahoo's New News Design Gets Personal!