ACE Limited Earnings: Net Income Down Sixty-Five Percent Year-Over-Year
S&P 500 (NYSE:SPY) component ACE Limited (NYSE:ACE) reported its results for the first quarter. ACE Ltd is a holding company of the ACE Group of Companies. It is a global provider of insurance and reinsurance products, serving the property and casualty insurance needs of individuals and businesses in a range of industries.
Don't Miss: Wall St. Cheat Sheet's newest Feature Trades of the Month!
ACE Earnings Cheat Sheet for the First Quarter
Results: Net income for ACE Limited fell to $259 million (76 cents/share) vs. $755 million ($2.22/share) a year earlier. A decline of 65.7% from the year earlier quarter.
Actual vs. Wall St. Expectations: ACE beat the mean analyst estimate of 63 cents/share. Estimates ranged from 37 cents per share to 82 cents per share.
Quoting Management: Evan G. Greenberg, Chairman and Chief Executive Officer of ACE Limited, commented: "ACE had a very good quarter that was overshadowed by significant catastrophe losses. We produced $268 million in operating income and grew book value 2%. Our ROE and combined ratio were 4.9% and 105%, respectively. Excluding the catastrophe loss impact, our book value growth, ROE and current accident year combined ratio were 4%, 13%, and 91.8%, respectively. I believe this speaks to the health of our business, the strength of our risk management and the benefit of our broadly diversified business."
Key Stats:
Last quarter's profit decrease breaks a streak of four consecutive quarters of year-over-year profit increases. In the fourth quarter of the last fiscal year, net income rose 5% from the year earlier while the figure increased 36.6% in third quarter of the last fiscal year, 26.5% four quarters ago and 33.2% five quarters earlier.
Competitors to Watch: ACE Limited (NYSE:AEX), XL Group plc (NYSE:XL), Allied World Assurance Co Hldgs., AG. (NYSE:AWH), HCC Insurance Hldgs., Inc. (NYSE:HCC), Arch Capital Group Ltd. (NASDAQ:ACGL), American Intl. Group, Inc. (NYSE:AIG), Zurich Financial Services (ZFSVY), American Financial Group (NYSE:AFG), Aspen Insurance Hldgs. Ltd. (NYSE:AHL), and Fairfax Financial Hldgs. Ltd. (FRFHF)
Stock Performance: Shares of ACE are unchanged at $66.47 in after hours trading.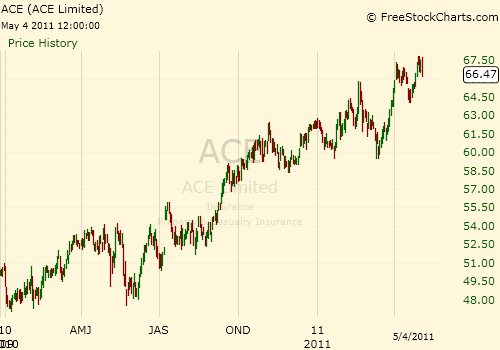 Don't Miss Wall St. Cheat Sheet's newest Feature Trades of the Month!