Ackman Appeals to J.C. Penney, JPMorgan's Iksil Could Avoid Charges, and 3 More Hot Stocks
J.C. Penney (NYSE:JCP): Investor Bill Ackman has penned another letter — his second — to the retailer's board, in which he says he wants to "join arms" and put the conflict behind them. However, Ackman is pushing for current Chairman Thomas Engibous to be replaced with Allen Questrom, indicating that tensions are still thick. Ackman also noted that he has been left out of the hiring decisions of several candidates.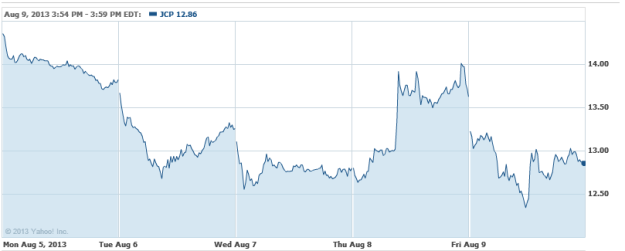 JPMorgan Chase & Co. (NYSE:JPM): Bruno Iksil, better known as the London Whale, will be facing no U.S. charges in his instrumental role in displacing the market for an off-the-run CDX index by placing bets that exceeded $100 billion on a notional basis. Iksil is reportedly "cooperating with government investigators" and will therefore likely not be charged. JPMorgan, where Iksil was working at the time, is nearing a settlement with regulators concerning the substantial trading loss that resulted from Iksil's positions.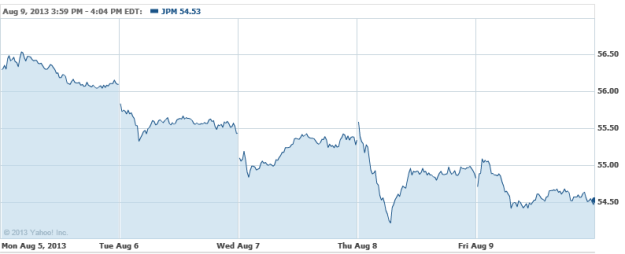 Molycorp Inc. (NYSE:MCP): Molycorp shares are trading down over 10 percent as the company reported a wider second-quarter loss despite revenue gains, while sales prices dropped sharply. Excluding costs associated with its expansion and other items, the loss widened to 36 cents per share from 3 cents a year ago. The selling price for the company's rare metals was $272.14 per kg, against $187.35 a year ago, while rare metals production remained flat; resources, magnetic materials and alloys, and chemicals and oxides all experienced significant price reductions.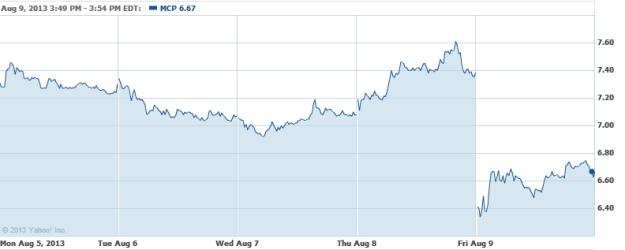 NRG Energy (NYSE:NRG): Despite earnings per share of 39 cents beating by 32 cents and revenue of  $2.93 billion beating by $0.64 billion, shares are trading down, albeit marginally. Profits took a 48 percent nosedive due largely to mild weather during the summer air-conditioning season, while expenses jumped and margins narrowed. The shares are also reacting to a lowered guidance, now at $2.55 billion-$2.7 billion from its prior view of $2.62 billion-$2.82 billion.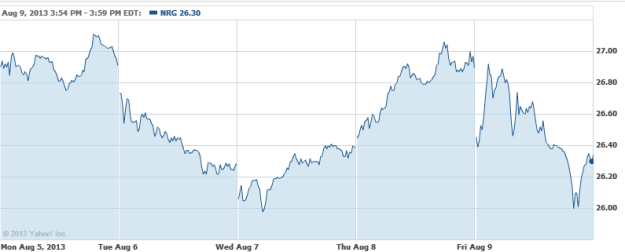 InterContinental Hotels Group (NYSE:IHG): InterContinental is offering to lower room prices that are booked on travel sites for certain types of customers like those who are members of loyalty schemes or have used the sites before. The offer comes in the wake of the U.K.'s Office of Fair Trade Trading accusations last year that said the hotel group was persuading websites not to cut tariffs to below those that the company offered.